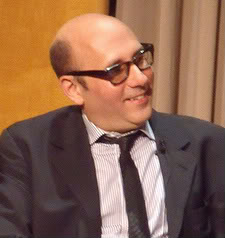 Willie Garson
Birth name:
William Garson Paszamant
Born:
February 20, 1964
Age:
59
Birthplace:
Highland Park, New Jersey, U.S.
Popularity:

Please login to contact Willie Garson...
Biography
William Garson Paszamant (born February 20, 1964) is an American actor.[1] He has appeared in over 75 films, and more than 300 TV episodes. He is known for playing Stanford Blatch on the HBO series Sex and the City and in the related films Sex and the City and Sex and the City 2, and for his role as Mozzie, in the USA Network series White Collar from 2009 to 2014. He appears on Hawaii Five-0 as Gerard Hirsch.
Garson was born in Highland Park, New Jersey, the son of Muriel (née Schwartz) and Donald M. Paszamant.[2] Garson is Jewish.[3] He attended Camp Wekeela in Hartford, Maine as a child for 11 years.[4] In 1985, he received a theater degree from Wesleyan University[5] and also attended Yale Drama School.
Read more...
Career
Television
Garson had a recurring role as Henry Coffield on NYPD Blue and as Stanford Blatch on Sex and the City. His other television appearances include Mr. Belvedere, My Two Dads, Coach ("The Loss Weekend" episode as a clerk), Quantum Leap (once as a newspaper salesman/hack writer, and once as Lee Harvey Oswald), Monk, Boy Meets World, Girl Meets World (playing four different characters in the latter two shows' universe), Ally McBeal, Party of Five, Star Trek: Voyager (in the episode Thirty Days), Special Unit 2, Just Shoot Me!, Buffy the Vampire Slayer, Friends, The X-Files (twice and as two different characters), Cheers (as a waiter in the episode Cape Cad), Yes, Dear, CSI: Crime Scene Investigation, Pushing Daisies, Stargate SG-1 (3 episodes), Wizards of Waverly Place, CSI: Miami, Mental, Spin City, and Taken. He co-starred in the 2007 HBO series John from Cincinnati. He co-starred as Mozzie in the USA Network series White Collar from 2009 to 2014.
Film
Garson has also appeared in three movies from the Farrelly brothers—Kingpin, There's Something About Mary, and Fever Pitch. His other film credits include Groundhog Day, Just Like Heaven, The Rock, Fortress 2: Re-Entry, Being John Malkovich, Freaky Friday, Labor Pains, and Out Cold. He made a cameo in the end credits of Jackass Number Two, with the full context of the cameo being explained in Jackass 2.5.
Personal life
In 2009, Garson adopted a seven-year-old son, Nathen.[6][7]
Filmography
Film
Year
Title
Role
Notes
1986
The Deliberate Stranger
1987
The Price of Life
Father
Short
1989
Troop Beverly Hills
Bruce
Peter Gunn
Rusty
TV Movie
1990
Nowhere Land
Store Owner
Short
Brain Dead
Board Member
The Adventures of Ford Fairlane
Frat Boy
Repossessed
Nerd Student
1991
Across the Tracks
Salesman
The Walter Ego
Egg w/ Glasses
Short
Soapdish
Nitwit Executive
Mobsters
Telephone Operator
1992
Ruby
Lee Harvey Oswald
1993
Groundhog Day
Phil's Assistant Kenny
Untamed Heart
Patsy
When the Party's Over
Vic Montana
Big Al
Ricki
TV Short
Daybreak
Simon
1994
Cityscrapes: Los Angeles
John
Black Sheep
Anthony Guifoyle
Every Breath
Bob
Ray Alexander: A Taste for Justice
TV movie
Speechless
Dick
1995
Things to Do in Denver When You're Dead
Cuffy
The Tie That Binds
Ray Tanton
The Barefoot Executive
TV movie
1996
Alone in the Woods
Lyle
The Destiny of Marty Fine
Jack
The Rock
Francis Reynolds
Kingpin
Purse Snatcher
Mars Attacks!
Corporate Guy
1997
Cyclops, Baby
Willie
1998
There's Something About Mary
Dr. Zit Face/High School Pal
Living Out Loud
Man in Elevator
1999
The Suburbans
Craig
Being John Malkovich
Guy in Restaurant
Come On, Get Happy: The Partridge Family Story
Sam
Play It to the Bone
Cappie Caplan
2000
It's a Shame About Ray
Mr. Schwarzeneggar
Our Lips Are Sealed
Agent Norm
Fortress 2
Stanley Nussbaum
What Planet Are You From?
Brett
2001
Out Cold
Ted Muntz
2002
Luster
Sonny Spike
2003
Harry's Girl
TV movie
Special
Suspicious Wheelchair Guy
short
Freaky Friday
Evan
A Problem with Fear
Erin
2004
The Crux
Man Holding the Rope
Short
Seeing Other People
Suspicious Wheelchair Guy
short
House of D
Ticket Agent
2005
Fever Pitch
Kevin
Just Like Heaven
Maitre D'
Little Manhattan
Ralph
2006
Thank Heaven
Grant Strong
The TV Set
Brian
Zoom
Dick
2007
Hard Four
Orville Chisholm
2008
Beau Jest
Joel Goldman
Sex and the City
Stanford Blatch
2009
Shannon's Rainbow
Richard
Labor Pains
Carl
2010
Ashley's Ashes
Limus
Sex and the City 2
Stanford Blatch
Monster Heroes
Tom Trudell
2012
Fops
The King
short
Periods.
2014
Walk of Shame
Dan Karlin
2017
The Polka King
Lonny
Television
Year
Title
Role
Notes
1986
Family Ties
Walter
Ep: Paper Chase
Cheers
Waiter
Ep: The Cape Cad
You Again?
Clerk
Ep: Quit Is a Four Letter Word
Walt Disney's Wonderful World of Color
Gladstone's Assistant
Ep: The Leftovers (31.7)
1986-87
Newhart
Mr. Whorley / Steve
2 episodes: Desperately Desiring Susan: Part 2; Reading, Writing, and Rating Points
1986-90
Mr. Belvedere
Carl
7 episodes
1987
My Two Dads
Tom
Ep: Crime and Punishment
American Playhouse
Father
Ep: The Price of Life
1988-89
It's a Living
Phil Roman
3 episodes
1989
Coach
Clerk
Ep: The Loss Weekend
Chicken Soup
Waiter
Ep: Double Date
1989-92
Quantum Leap
Alik Idell / Lee Harvey Oswald / Seymour
3 episodes
1990
Thirtysomething
Ray
Ep: Good Sex, Some Sex, What Sex, No Sex
Booker
Mac Larson
Ep: Mobile Home
1991
Twin Peaks
Heavy Metal Roadie
Ep: Episode #2.20
1993
Moon Over Miami
Ep: Watching the Detectives
L.A. Law
Jay Berg
Ep: Odor in the Court
Flying Blind
Leech Boy
Ep: The Bride of Marsh Man 2: The Spawning
A League of Their Own
Ep: Marathon
1993-99
Boy Meets World
Leonard Spinelli / Mervyn / The Minister
4 episodes
1994
Renegade
Tommy
Ep: Once Burned, Twice Chey
1995
Pig Sty
Hansen
2 episodes: Mr. Nice Guy; Leap Into an Open Grave
MADtv
Lee Harvey Oswald
2 episodes: Mr. Nice Guy; Leap Into an Open Grave
Partners
Larry
Ep: Do We Have to Write You a Check?
Mad About You
Randall
Ep: New Year's Eve
1995, 1999
The X-Files
Quinton 'Roach' Freely / Henry Weems
2 episodes: "The Walk"; "The Goldberg Variation"
1996
Touched by an Angel
Eddie Brenner
Ep: Dear God
1996-99
NYPD Blue
Henry Coffield
7 episodes
1997
VR.5
Strange Guy
Ep: Sisters
Caroline in the City
Annoying Guy
Ep: Caroline and the Monkeys
The Practice
D.A. Frank Shea
2 episodes: Trial and Error; Dog Bite
1997-98
Melrose Place
Dr. Mosley
2 episodes: Secrets and Wives; Coop de Grace
Ally McBeal
Alan Farmer / Frank Shea
2 episodes: Compromising Positions; These Are the Days
1998
Ask Harriet
Ronnie Rendall
All 13 episodes
Buffy the Vampire Slayer
Security Guard
Ep: Killed by Death
Conrad Bloom
Spencer
Ep: Gone with the Re-Wind
Party of Five
Mr. Kroop
3 episodes
Star Trek: Voyager
Riga
Ep: Thirty Days
1998-2004
Sex and the City
Stanford Blatch
27 episodes
1999
Friends
Steve Cera
Ep: The One with the Girl Who Hits Joey
Just Shoot Me!
Kurt
Ep: Miss Pretty
Early Edition
Willie Dretler
Ep: The Out-of-Towner
Nash Bridges
Leonard Voss
Ep: Crosstalk
2000
City of Angels
Norman Lewis
Ep: Cry Me a Liver
Hollywood Off-Ramp
Ep: And on Your Left...
Level 9
Bones
2 episodes: Mail Call; DefCon
Spin City
Ned
Blind Faith
2000-06
Stargate SG-1
Martin Lloyd
3 episodes
2001
Going to California
Percy Utley
Ep: A Pirate Looks at 15 to 20
2001-02
Special Unit 2
Amphorian / Cupid / Little Brother / Ross Bowman
2 episodes: The Brothers; The Love
2002
Taken
Dr. Kreutz
2003
Greetings from Tucson
Mr. Gargan
Ep: Counseling
CSI: Crime Scene Investigation
Bud Simmons / Sexy Kitty
Ep: Fur and Loathing
2004
All About the Andersons
Bud Barber
Ep: Get Out of Dodge... Ball
Yes, Dear
Gordon
Ep: Kim and Gordon
The Division
Deke
Ep: The Box
Monk
Leo Navarro
Ep: Mr. Monk and the Panic Room
Wild Card
Alan Farmer / Brad Pitt
Ep: Die, Die, Who Am I?
2005-06
CSI: Miami
Ian Sutter / Ian Sutton
2 episodes: Sex & Taxes; If Looks Could Kill
2006
Las Vegas
Pete Natelson
Ep: Bait and Switch
2007
John from Cincinnati
Meyer Dickstein
All 10 episodes
2008
Chocolate News
Larry Turner
Ep: Episode #1.1
2009
Imagination Movers
Pants Armstrong
Ep: Second Chance Pants
Wizards of Waverly Place
Mr. Frenchy
Ep: Fashion Week
Pushing Daisies
Dick Dicker
Ep: Window Dressed to Kill
Medium
Alan Hitchens
Ep: The Talented Ms. Boddicker
Mental
Leonard Steinberg
Ep: Rainy Days
2009-14
White Collar
Mozzie
Main Cast
2011-12
Whole Day Down
Willie
All 6 episodes
2012
Hot in Cleveland
Dr. Brotz
Ep: God and Football
2013
Two And A Half Men
Dr. Steven Staven
Ep: Run, Steven Staven! Run!
Wendell and Vinnie
Jury member
Ep: Mock Law & Order
2014
Girl Meets World[8]
Harrison Miller
Ep: Girl Meets Popular
2015-18
Hawaii Five-0
Gerard Hirsch
Recurring role; 6 episodes
2016
The Mysteries of Laura
George Tilieu
Episode:The Mystery of the Downward Spiral
2017
Scandal
Protestor
Episode: Day 101
2018
Salvation
Episode: Get Ready
[ Source: Wikipedia ]