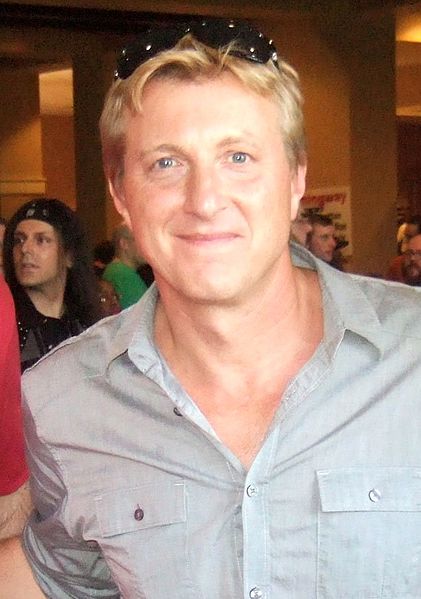 William Zabka
Birth name:
William Michael Zabka
Born:
October 20, 1965
Age:
58
Birthplace:
New York City, U.S.
Popularity:

Please login to contact William Zabka...
Biography
William Michael Zabka (born October 20, 1965) is an American actor, screenwriter, director and producer. He is best known for his roles in several iconic 1980s films, such as his role as Johnny Lawrence in The Karate Kid (1984).[1] In 2004, he was nominated for an Academy Award for co-writing and producing the short film Most.
Zabka was born in New York City, the son of Nancy (Heimert) Zabka, business liaison, producer, and production assistant, and Stanley William Zabka, a director, writer and composer.[2] He has a brother and a sister. His father, Stan Zabka, was assistant director of
The Tonight Show Starring Johnny Carson
during the first two years of Carson's tenure, and worked as production manager on a number of motion pictures, including the
Chuck Norris
film
Forced Vengeance
(1982).[3]
Read more...
Career
Zabka's breakout acting role came in his first movie, The Karate Kid (1984). He played Johnny Lawrence, the main antagonist to the title character played by Ralph Macchio. He had no previous martial arts experience at the time but was an accomplished wrestler. His participation in the film inspired him to learn the martial art of Tang Soo Do and he later earned a second degree green belt.[1]
During the 1980s, Zabka appeared in the comedy movies Just One of the Guys (1985) and Back to School (1986). Zabka also co-starred on the CBS television series The Equalizer as the son of the title character (1986-89). He also played Jack, Audrey's jock boyfriend, in National Lampoon's European Vacation (1985). He later tried to step away from playing the class bully character. He mentioned in an interview how he was sometimes hassled in public by random people because of the villainous characters he was best known for.[4][5]
During the 1990s and 2000s, he acted mostly in independent films while studying to be a filmmaker. In 2003, he wrote and produced the short film Most, shot on location in the Czech Republic and Poland. Most (aka The Bridge) had its world premiere at the Sundance Film Festival 2003 and won numerous awards at prestigious film festivals, including Best of Festival at the Palm Springs International Festival of Short Films in 2003. In 2004, he was nominated for an Academy Award for Most in the Live Action Short Film category.[4][5][6]
In 2007, Zabka directed and starred in a music video for the band No More Kings entitled "Sweep the Leg". The video stars Zabka as a caricature of himself, living in a trailer in the desert and obsessed with his role in The Karate Kid. The video includes cameos by several of the original Karate Kid cast members, including Martin Kove and Ralph Macchio. In 2010, Zabka directed Rascal Flatts in their music video for the song "Why Wait". That same year, Zabka made a cameo appearance in the comedy movie Hot Tub Time Machine. In 2013, Zabka, along with Macchio, guest starred in the season 8 episode of How I Met Your Mother, "The Bro Mitzvah". Zabka also appeared in several episodes of the sitcom's ninth season. Zabka also directed commercials for clients including Little Tikes and Verizon at Heresy in Venice, California.[7]
Zabka in 2015
On August 4, 2017, it was announced that Zabka would reprise his role as Johnny Lawrence in a 10 episode Karate Kid revival series for YouTube Premium titled Cobra Kai that debuted in 2018. He also co-executive produces the series with Ralph Macchio. The series is set 34 years after the events of the first film, and revolves around a down and out Johnny who, seeking to rebuild his life reopens the Cobra Kai dojo. It reignites his rivalry with a now-successful Daniel LaRusso (Macchio), who has been struggling to maintain balance in his life without the guidance of his deceased mentor, Mr. Miyagi.[8]
Filmography
Film
Year
Film
Role
Notes
1984
The Karate Kid
Johnny Lawrence
1985
Just One of the Guys
Greg Tolan
National Lampoon's European Vacation
Jack
1986
Back to School
Chas Osborne
The Karate Kid Part II
Johnny Lawrence
1988
A Tiger's Tale
Randy
1991
For Parents Only
Ted
Alternative title: Mean Parents Suck
1992
Shootfighter: Fight to the Death
Ruben
Alternative title: Shootfighter
1994
Unlawful Passage
Howie
1995
Shootfighter II
Ruben
The Power Within
Raymond Vonn
Alternative title: Power Man
1997
High Voltage
Bulldog
1999
Interceptors
Dave
Alternative titles: Interceptor Force
Predator 3: Intercepters
The Last Line of Defence
2000
Falcon Down
Security Guard John
2001
Ablaze
Curt Peters
Mindstorm
Rojack
Alternative titles: Artificial Telepathy
Project: Human Weapon
2002
Gale Force
Rance
Hyper Sonic
The Executive
Landspeed
Bob Bailey
Dark Descent
Marty (Opening credits only)
Alternative title: Descent Into Darkness
Antibody
Otto Emmerick
2003
Most

-

Alternative title: The Bridge, screenwriter & producer
2004
Roomies
Slick Salesman
Alternative title: Wild Roomies
2007
Smiley Face
Prison guard
Cake: A Wedding Story
Sam
Alternative title: Cake: A Wedding Comedy
Starting from Scratch
Bill Bowman
2010
Hot Tub Time Machine
Rick Steelman
Mean Parents Suck
Detective Ted Clement
2014
Where Hope Grows
Milton Malcolm
2015
The Dog Who Saved Summer
Officer Johnny
2016
The Man in the Silo
Kevin
Television
Year
Title
Role
Notes
1983
The Greatest American Hero
Clarence Mortner Jr.
1 episode
1984
Gimme a Break!
Jeffery
1 episode
CBS Schoolbreak Special
Rick Peterson
1 episode
1984-1985
E/R
Druggie Kid/Thief
1 episode
1985-1989
The Equalizer
Scott McCall
9 episodes
1996
To the Ends of Time
Alexander
Television movie
2000
Epoch
Joe
Television movie
Python
Greg Larsen
Television movie
2002
Python II
Greg Larsen
Television movie, credited as Billy Zabka
2013
Robot Chicken
Johnny Lawrence, Colonel Steven Shay, Werewolf (voice)
Guest, Season 6, Episode 15, "Caffeine-Induced Aneurysm"
2013-2014
How I Met Your Mother
Clown/Himself
Guest Star (Season 8), Recurring Role (Season 9)
2014
Psych
Coach Bagg
Guest (Season 8)
2015
Gortimer Gibbon's Life on Normal Street
Sensei Jeff
Guest, Season 2, Episode 9, "Stanley and the Tattoo of Tall Tales"
2018—present
Cobra Kai
Johnny Lawrence
Also executive producer
Award nominations
Year
Award
Category
Film
Result
1985
Young Artist Award
Best Young Supporting Actor in a Motion Picture Musical, Comedy, Adventure or Drama
The Karate Kid
Nominated
2004
Academy Awards
Best Short Film, Live Action
Most (shared with Bobby Garabedian)
[ Source: Wikipedia ]