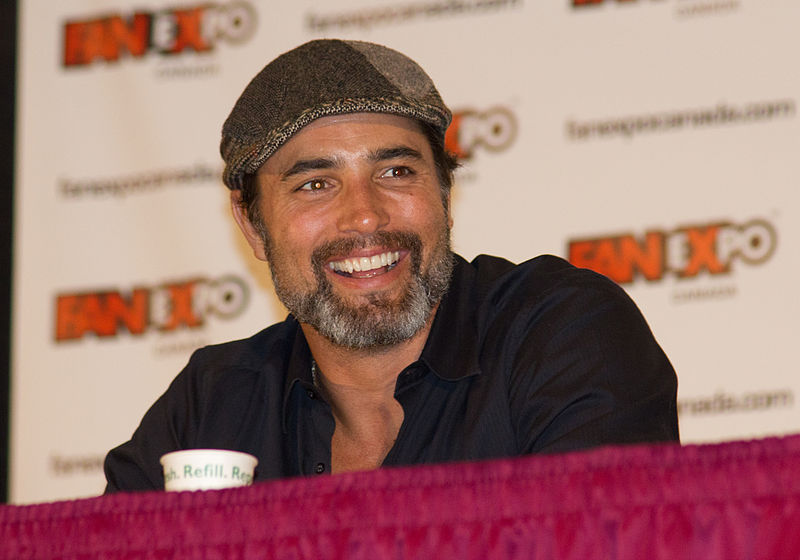 Victor Webster
Born:
February 7, 1973
Age:
50
Birthplace:
Calgary, Alberta, Canada
Popularity:

Please login to contact Victor Webster...
Biography
Victor Webster (born February 7, 1973) is a Canadian actor. He is known for being the second actor to play Nicholas Alamain on the NBC daytime soap Days of Our Lives from 1999-2000, the mutant Brennan Mulwray in Mutant X, Coop the cupid on Charmed and detective Carlos Fonnegra in Continuum.
Victor Webster was born in Calgary, Alberta, the son of Roswitha, a hair stylist, and John ("Jack") Webster, a police officer.[1] As a teenager, his behavior often got him into trouble. To find a more productive outlet, he started studying martial arts and eventually became a teacher of this, earning an undefeated record as an amateur kickboxer and a heavyweight black belt. Meanwhile, his early interest in acting was demonstrated in his involvement with numerous school plays and theater classes.[
citation needed
]
Read more...
Career
Webster worked as a stockbroker and in import/export.[citation needed] He appeared in Cosmopolitan magazine's "All About Men" 1998 special issue. He began to pursue acting opportunities in the late 1990s. In 1999 he landed a part on the NBC daytime soap opera, Days of Our Lives. After leaving Days, he was cast as one of the leads in the nationally syndicated SF-action series Mutant X (2001), which ran for three seasons. In 2002, he was listed as one of People magazine's "50 Most Eligible Bachelors".
Webster appeared in the film Bringing Down the House and made guest appearances on other TV shows, including a 2003 role on HBO's Sex and the City, while working on Mutant X. Since Mutant X, Webster has continued to alternate between television and theatrical film roles. In 2006 he appeared in the final episodes of Charmed, portraying Coop, a cupid who married Phoebe Halliwell (played by Alyssa Milano) in the final episode of the series.
In 2009, Webster had a recurring role as Caleb Brewer on the Melrose Place relaunch. He appeared on the season 5 episode "Parasite" of Criminal Minds playing a con artist-turned-serial killer. He also guest-starred in the 2009 murder mystery Harper's Island. He had a small role in the 2010 Tyler Perry film Why Did I Get Married Too. In 2011, he had a recurring role on Castle as Kate Beckett's boyfriend, Josh Davidson. In the 2013 remake of Embrace of the Vampire, he played the lead male vampire Stefan. On Girlfriends' Guide to Divorce, he played Carl, a gigolo. In the 2016 Hallmark original movie Summer Villa, he's a chef.[2]
Filmography
Year
Title
Role
Notes
1997
Sunset Beach
Roger
3 episodes
1999
The Lot
Victor Mansfield
1999-2000
Days of Our Lives
Nicholas Alamain #2
2000
Gangland
Joey
2000
The Chippendales Murder
Marco Carolo
2001
Baywatch
Lyle Garrett
2001
Becker
Craig
2001
V.I.P.
Dean McGee
2001-2004
Mutant X
Brennan Mulwray
66 episodes
2002
Wishmaster: The Prophecy Fulfilled
Hunter
Direct to video
2003
Bringing Down the House
Glen
2003
Sex and the City
Chip Kil-Kinney
Episode: "To Market, to Market"
2005
Dirty Love
Richard
2005
Las Vegas
Estefan
2005
Must Love Dogs
Eric
2005
Inconceivable
Sam Marrak
2005
Noah's Arc
Brett
2006
Man vs. Monday
Paul
2006
Emily's Reasons Why Not
Stan
2006
Related
Marco
4 episodes
2006
Life Happens
Chuck
2006
Charmed
Coop
7 episodes
2006
Reba
Jordan
2007
CSI: Miami
Roberto Chavez
2007
NCIS
Dane Hogan
2007
Sands of Oblivion
Mark Tevis
2007
Lincoln Heights
Dr. Christian Mario
6 episodes
2007
Moonlight
Owen Haggans
2007
Primal Scream
Jesse
2008
Heart of a Dragon
Rick Hansen
2009
Killer Hair
Vic Donovan
2009
Hostile Makeover
Vic Donovan
2009
Harper's Island
Hunter Jennings
3 episodes
2009
Melrose Place
Caleb
8 episodes
2009
Surrogates
Lopez
2010
Criminal Minds
Bill Hodges
1 episode
2010
Burning Palms
Paulo
2010
Bones
Brad Benson
1 episode
2010
Castle
Josh Davidson
4 episodes
2011
Drop Dead Diva
Gary Rice
1 episode
2011
NCIS: Los Angeles
Stanley King
1 episode
2011
CSI: Crime Scene Investigation
Bill Pernin
1 episode
2012-2015
Continuum
Carlos Fonnegra
4 seasons; 42 episodes
2012
The Scorpion King 3: Battle for Redemption
Mathayus
Direct to DVD
2012
White Collar
Eric Dunham
1 episode
2012
Puppy Love
Ben
Television film (Hallmark)
2013
Embrace of the Vampire
Professor Brendan Cole / Stefan
Direct to DVD
2014
A Good Man
Sasha
Theatrical film
2014
Christmas Icetastrophe
Charlie
Television film (SyFy)
2015
The Magic Stocking
Scott Terrill
Television film (Hallmark)
2015
The Scorpion King 4: Quest for Power
Mathayus
Direct to DVD
2015
The Dying of the Light
Theatrical film
2015
Mom
Dr. Harris
1 episode
2015-2016
Girlfriends' Guide to Divorce
Carl
2 episodes
2016
Dead Rising: Endgame
Chuck Greene
Crackle original movie
2016
Summer Villa
Matthew Everston
Hallmark original movie
2017
Love Blossoms
Declan "Dec" Granger
Television film (Hallmark)
A Harvest Wedding
David Nichols
Television film (Hallmark)
Home for Christmas Day
Jackson
Television film (Hallmark)
[ Source: Wikipedia ]