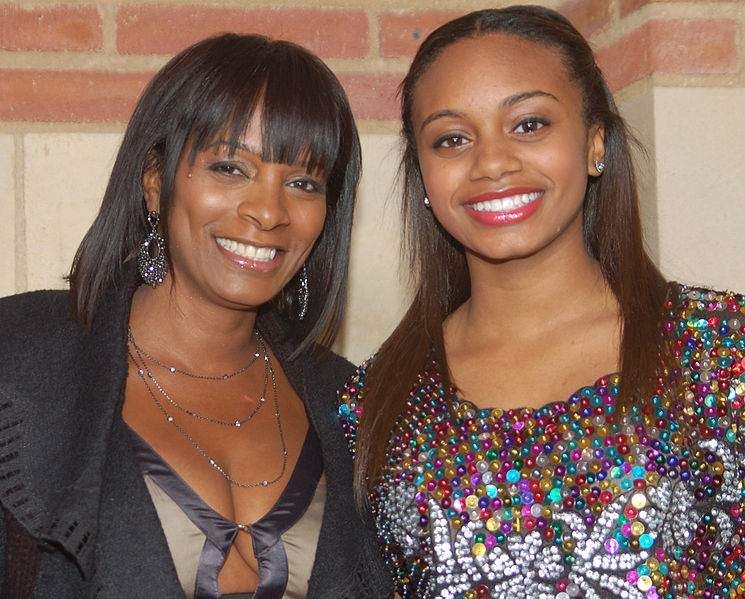 Vanessa Bell Calloway
Born:
March 20, 1957
Age:
66
Birthplace:
Cleveland, Ohio, U.S.
Popularity:

Please login to contact Vanessa Bell Calloway...
Biography
Vanessa Bell Calloway (born March 20, 1957) is an American actress and dancer. Beginning her career as a dancer, Bell Calloway is perhaps best known for her role as Princess Imani Izzi (Eddie Murphy's arranged wife) in the 1988 comedy Coming to America. In the following years, Bell Calloway appeared in What's Love Got to Do with It (1993), The Inkwell (1994), Crimson Tide (1995), and Daylight (1996). Bell Calloway had several starring roles on television series and movies, include first African American prime time soap opera, Under One Roof (1995). She later played recurring roles on Hawthorne and Shameless. In 2016, she appeared in comedy-drama film Southside with You, and began starring as Lady Ella Johnson in the Bounce TV prime time soap opera, Saints & Sinners. Bell Calloway is an eight-time NAACP Image Award nominee.
Bell was born in Toledo, Ohio.[1] She received a Bachelor of Fine Arts from Ohio University, where she became a member of the African-American Alpha Kappa Alpha sorority. Calloway also studied dance with Alvin Ailey, George Faison, and Otis Sallid. Calloway began her career as a dancer in
Michael Bennett
's original Broadway production of
Dreamgirls
.[2][3] It was during this time period that Calloway directed the music video "Angel Man" for soul singer Rhetta Hughes. She also was in the ensemble of the short-lived musical Bring Back Birdie.[4]
Read more...
Career
Bell Calloway began her acting career in the ABC daytime soap opera, All My Children in 1985. After moving to Los Angeles in 1986, she began appearing in episodes of prime time shows such as The Colbys, Falcon Crest, 227, China Beach, A Different World, and L.A. Law. She made her film debut on Number One with a Bullet (1987), before supporting role of Eddie Murphy's character's arranged wife in the 1988 comedy Coming to America. In 1990, Bell Calloway co-starred alongside Joe Morton in the ABC drama series, Equal Justice. During the 1990s, Bell Calloway had number of supporting roles in films, including What's Love Got to Do with It (1993) opposite Angela Bassett, The Inkwell (1994), and Crimson Tide (1995) as Denzel Washington's character wife. She also voiced main role in the 1992 animated comedy, Bébé's Kids.[5] Bell Calloway also had number of leading and supporting roles in the made for television movies. In 1995, she co-starred opposite James Earl Jones and Joe Morton in the short-lived CBS prime time soap opera, Under One Roof, the first drama series that feature an African-American lead characters.[6] For her role on the series, Calloway was nominated for the NAACP Image Award for Outstanding Actress in a Drama Series. She also had the leading roles on the short-leved NBC sitcom Rhythm & Blues (1992-93), and starred alongside Larry Hagman as his girlfriend in the CBS drama Orleans (1997).
Bell Calloway in 2007
In the 2000s, Bell Calloway had the recurring roles on Boston Public and The District. She co-starred in films including The Brothers, All About You, Dawg, Biker Boyz, Love Don't Cost a Thing, and Cheaper by the Dozen. Bell Calloway also guest starred on The Division, Strong Medicine, The Closer, CSI: Crime Scene Investigation, Dexter, Rizzoli & Isles, and Castle. From 2010 to 2011, she had the recurring role in the TNT medical drama, Hawthorne. In 2011, she began appearing in the Showtime comedy-drama, Shameless.
In 2016, Bell Calloway was cast as lead character in the Bounce TV first prime time soap opera, Saints & Sinners.[7] She plays Lady Ella Johnson, the widow of pastor and manipulative "First Lady of the Church".[8] Also in 2016, Bell Calloway co-starred as president Obama's future mother-in-law, Marian Shields Robinson, opposite Tika Sumpter as Michelle Obama, in the comedy-drama film Southside with You, which premiered at the 2016 Sundance Film Festival.[9] She also guest starred on the ABC medical drama Grey's Anatomy playing Arizona's Lawyer.
Personal life
Bell Calloway has been married to anesthesiologist Dr. Anthony Calloway since 1988. The couple have two daughters, Ashley and Alexandra.[1][10] Ashley was one of the stars of the BET series Baldwin Hills which originally ran from 2007 until 2009.[11]
In 2009, Bell Calloway was diagnosed with ductal carcinoma, an early stage of breast cancer. She underwent two lumpectomies, and then a mastectomy. She subsequently underwent reconstructive surgery, in which tissue from her stomach was used to reconstruct her breast. She recounted her experience in an October 2015 essay in Ebony magazine, by which point she had been cancer-free for six years.[10]
Filmography
Film
| Year | Title | Role | Notes |
| --- | --- | --- | --- |
| 1987 | Number One with a Bullet | Woman | |
| 1988 | Coming to America | Imani Izzi | |
| 1989 | Death Spa | Marci Hewitt | |
| 1992 | Bébé's Kids | Jamika | Voice |
| 1992 | Why Colors? | | Short film |
| 1993 | What's Love Got to Do with It | Jackie | Nominated — NAACP Image Award for Outstanding Supporting Actress in a Motion Picture |
| 1994 | The Inkwell | Francis Phillips | |
| 1995 | Crimson Tide | Julia Hunter | |
| 1996 | Daylight | Grace Calloway | |
| 1996 | The Cherokee Kid | Abby Holsopple | |
| 1998 | Archibald the Rainbow Painter | Diana | |
| 1998 | When It Clicks | Catherine Douglass | Short film |
| 2001 | The Brothers | Dr. Thelma Woolridge | |
| 2001 | All About You | Donna | |
| 2002 | Dawg | Christine Hodges | |
| 2003 | Biker Boyz | Anita | |
| 2003 | Love Don't Cost a Thing | Vivian Johnson | |
| 2003 | Cheaper by the Dozen | Diana Philips | |
| 2007 | Stompin' | Mrs. Jackson | |
| 2008 | Lakeview Terrace | Aunt Dorrie | |
| 2009 | Truly Blessed | Lynda | |
| 2009 | Aussie and Ted's Great Adventure | Mrs. Jones | |
| 2009 | The Killing of Wendy | Wendy | |
| 2012 | The Undershepherd | Deaconess Carter | |
| 2012 | The Last Fall | Marie Bishop | |
| 2012 | The Obama Effect | Molly Thomas | |
| 2012 | A Beautiful Soul | Guardian Angel | |
| 2013 | Holla II | Marion | |
| 2015 | Message from a Mistress | Heather | |
| 2015 | The Preacher's Son | Elena | |
| 2015 | The Bounce Back | Ellen | |
| 2015 | Medicine Men | Eve | |
| 2015 | LAPD African Cops | | |
| 2015 | Hustle vs. Heartache | Hustle's Mother | |
| 2016 | Southside with You | Marian Shields Robinson | |
| 2018 | Unbroken: Path to Redemption | Lila Burkholder | |
| TBA | Harriet | | Filming |
Television
Year
Title
Role
Notes
1985
All My Children
Yvonne Caldwell
1985
Days of Our Lives
Denise Preston
1986
The Colbys
Lowell Sherman
Episode: "The Trial"
1986
Simon & Simon
Julie
Episode: "Act Five"
1987
227
Sherry
Episode: "The Honeymoon's Over"
1989
Webster
Denice
Episode: "A-Camping We Will Go"
1989
In the Heat of the Night
Audrey Moore
Episode: "Accused"
1989
Polly
Nancy
Television movie
1990
China Beach
Sweet Hula
Episode: "One Giant Leap"
1990
Equal Justice
Delia Wayne
4 episodes
1990
Polly: Comin' Home
Nancy Dodds
Television movie
1991
Father Dowling Mysteries
Emily
Episode: "The Monkey Business Mystery"
1992
Stompin' at the Savoy
Dorothy
Television movie
1992–1993
Rhythm & Blues
Colette Hawkins
Series regular, 13 episodes
1993
The Sinbad Show
Michelle Michaels
Episode: "The Par-tay"
1995
Under One Roof
Maggie Langston
Series regular, 6 episodes
Nominated — NAACP Image Award for Outstanding Actress in a Drama Series
1995
Touched by an Angel
Debra Willis
Episode: "The Driver"
1996
America's Dream
Miss Williams
Television movie
Nominated — NAACP Image Award for Outstanding Actress in a Television Movie, Mini-Series or Dramatic Special
1996
The Cherokee Kid
Abby Holsopple
Television movie
1997
Orleans
Dist. Atty. Rosalee Clark
Nominated — NAACP Image Award for Outstanding Actress in a Drama Series
1997
Sparks
Monique
Episode: "Too Hot Not to Cool Down"
1997
Happily Ever After: Fairy Tales for Every Child
Princess Katusha
Episode: "The Golden Goose"
1998
Prey
Grace
2 episodes
1998
The Gregory Hines Show
Kyra Lewis
Episode: "Wahunthra"
1998
Moesha
Dr. Woods
Episode: "Psyche Your Mind"
1998
The Temptations
Johnnie Mae Matthews
Miniseries
Nominated — NAACP Image Award for Outstanding Actress in a Television Movie, Mini-Series or Dramatic Special
1999
Malcolm & Eddie
Vina Jensen
Episode: "Daddio"
2000
A Private Affair
Nikita Harrell
Television movie
2000
Love Song
Evie Livingston
Television movie
2001
Boston Public
Mrs. Michelle Ronning
3 episodes
Nominated — NAACP Image Award for Outstanding Supporting Actress in a Drama Series
2001
The Division
Dana
Episode: "The First Hit's Free, Baby"
2002
One on One
Michelle McCall
Episode: "The Way You Make Me Feel"
2002
The Parkers
Alaina
Episode: "And the Winner Is..."
2003–2004
The District
Gwen Hendrix
5 episodes
Nominated — NAACP Image Award for Outstanding Supporting Actress in a Drama Series
2003-2004
10-8: Officers on Duty
Gina Barnes
Episodes: "Blood Sugar Sex Magik"
"Late for School"
"Love Don't Love Nobody"
2004
CSI: Miami
Tonya Washington
Episode: "Speed Kills"
2004
Strong Medicine
Melanie Rhodes
Episode: "Foreign Bodies"
2005
Joan of Arcadia
Corey Phillips
Episode: "Shadows and Light"
2006
The Closer
Lynn Talmadge
Episode: "Slippin'"
2006
All of Us
Marvella James
2 episodes
2009
CSI
Judge Himmel
Episode: "Miscarriage of Justice"
2009
Cold Case
Geraldine Watkins (1970)
Episode: "Soul"
2010
Dexter
Crisis Counselor
Episode: "Practically Perfect"
2010–2011
Hawthorne
Gail Strummer
12 episodes
Nominated — NAACP Image Award for Outstanding Supporting Actress in a Drama Series
2011
Detroit 1-8-7
Bonnie McCord
Episode: "Stone Cold"
2011
Let's Stay Together
Mimi
Episode: "Daddy's Home"
2011–2016
Shameless
Carol Fisher
18 episodes
2012
Ringer
Royce Weigler
Episode "I'm the Good Twin"
2012
Go On
Joyce
2 episodes
2012–2013
Rizzoli & Isles
Assistant District Attorney
3 episodes
2013
Castle
Beryl Wickfield
Episode: "Time Will Tell"
2014
NCIS
Sally Hammond
Episode "Crescent City: Part 1"
2014
Reckless
Judge Kress
Episode "Parting Shots"
2015
Murder in the First
Veronza Ervin
2 episodes
2015
Real Husbands of Hollywood
Trina's Mother
Episode: "When Kevin Met Salli"
2015
Hand of God
Eunetta Graham
2 episodes
2016
The Miki Howard Story
Josephine Howard
Television movie
2016
Grey's Anatomy
Lucinda Gamble
Episodes: "It's Alright, Ma (I'm Only Bleeding)" and "Mama Tried"
2016—present
Saints & Sinners
Lady Ella Johnson
Series regular
2017
Survivor's Remorse
Camille Jordan
3 episodes
[ Source: Wikipedia ]