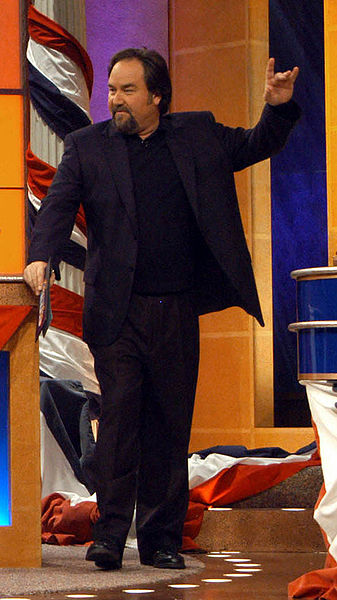 Richard Karn
Birth name:
Richard Karn Wilson
Born:
February 17, 1956
Age:
67
Birthplace:
Seattle, Washington, U.S.
Popularity:

Please login to contact Richard Karn...
Biography
Richard Karn Wilson (born February 17, 1956) is an American actor and game show host. He is most well known for his co-starring role as Al Borland in the 1990s sitcom Home Improvement and his tenure as the fourth host of Family Feud from 2002-2006.
Karn was born
Richard Karn Wilson
in Seattle, Washington. Karn's father, Gene, was a Seabee who served in World War II. Richard graduated from Roosevelt High School and the University of Washington,[1] where he was a member of Beta Theta Pi fraternity. Karn also gained drama experience in Scotland at the Edinburgh Festival.
After earning his drama degree in 1979, Karn moved to New York City. After less than one week, he was hired to do a commercial for Michelob beer that was featured during the 1980 Super Bowl. When he joined the Screen Actors Guild, he was informed there was already a Richard Wilson, so he dropped his last name.[2]
Read more...
Show business career
In 1989, his wife Tudi convinced him that they should move to Los Angeles. He found a place for them to live by managing an apartment complex, and catered events at a Jewish synagogue on the side. After receiving a traffic citation, Karn attended a traffic school and sat beside an agent who told him about casting for the new television show called Home Improvement. The role of Al Borland had already been given to Stephen Tobolowsky, but when taping was scheduled, Tobolowsky was busy with another movie and the role had to be recast. Karn was a guest star in the pilot episode but became a regular cast member when the show was picked up by the network.[2][3]
In 2002, Karn replaced Louie Anderson as the fourth host of the game show Family Feud (also being the second to share his first name with original host Richard Dawson). Karn left Family Feud in 2006 and was replaced by John O'Hurley.
In 2002, Karn also made an appearance in The Strokes' music video for "Someday", which featured segments of the band on a fictional showing of Family Feud against the band Guided by Voices.
On October 6, 2008, Karn replaced Patrick Duffy as host of Game Show Network's Bingo America.[4] Karn was also a substitute host on GSN Radio.
Karn did commercials for Orchard Supply Hardware in the 1990s.
Filmography
Film
| Year | Title | Role | Notes |
| --- | --- | --- | --- |
| 1995 | Picture Perfect | George Thomas | |
| 1997 | Bram Stoker's Legend of the Mummy | Brice Renard | |
| 2000 | The Pooch and the Pauper | Agent Dainville | |
| 2001 | MVP: Most Vertical Primate | Ollie Plant | |
| 2002 | Sex and the Teenage Mind | Stanley Heitmeyer | |
| 2002 | Reality School | Victor Cayanne | |
| 2002 | Air Bud: Seventh Inning Fetch | Patrick | |
| 2006 | Air Buddies | Patrick | |
| 2006 | Mr. Blue Sky | John | |
| 2008 | Snow Buddies | Patrick | |
| 2011 | Poolboy: Drowning Out the Fury | Bill Witherspoon | |
| 2013 | Gordon Family Tree | Perry Merrow[5] | |
| 2014 | A Daughter's Nightmare | Cameron "Cam" Morgan | |
| 2017 | Horse Dancer | Jerry | |
| 2017 | F the Prom | Murphy Datner | |
Television
| Year | Title | Role | Notes |
| --- | --- | --- | --- |
| 1991-1999 | Home Improvement | Al Borland | 202 episodes |
| 1995 | Boy Meets World | Victor | Episode: "This Little Piggy" |
| 1996 | WOW! The Most Amazing Acts on Earth | Host | |
| 1996 | Chariots of the Gods? The Mysteries Continue | Host | |
| 1998 | Foot Soldier | Host / narrator | |
| 2000 | Recess | Edmund P. Edmonton | Episode: "Beyond a Reasonable Scout" |
| 2001 | That '70s Show | Theo | Episode: "Bye Bye Basement" |
| 2002-2006 | Family Feud | Host | |
| 2008 | Dirt | Holt McLauren's Father | Episode: "Ties That (Don't) Bind" |
| 2008-2009 | Bingo America | Co-Host | |
| 2010 | True Jackson, VP | Fire Marshal O'Dannon | Episode: "My Boss Ate My Homework" |
| 2013 | Last Man Standing | Bill McKendree | 2 episodes |
| 2017 | Detroiters | Himself | Episode: "Quick Rick Mahorn in Dearborn" |
| 2017 | The Bold and the Beautiful | Judge Jon Oplinger | 2 episodes |
Books
House Broken: How I Remodeled My Home for Just Under Three Times the Original Bid (1999) - ISBN 0-06-105144-6 (with George Mair)
Handy at Home: Tips on Improving Your Home from America's Favorite Handyman (2002) - ISBN 0-312-30606-7 (with George Mair)
[ Source: Wikipedia ]