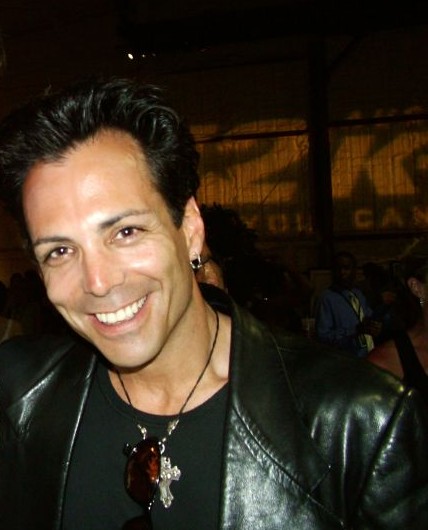 Richard Grieco
Birth name:
Richard John Grieco Jr.
Born:
March 23, 1965
Age:
58
Birthplace:
Watertown, New York, U.S.
Popularity:

Please login to contact Richard Grieco...
Biography
Richard John Grieco Jr. (born March 23, 1965) is an American actor and former fashion model. He is best known for his role as Detective Dennis Booker from the popular Fox series 21 Jump Street (1988-89) and its spin-off Booker (1989-90). He also starred in various movies like If Looks Could Kill and Mobsters (both 1991). Since the height of his fame, he has voiced characters in several video games and appeared as either himself or his 21 Jump Street character in several films and television shows. For the last decade, he has painted in a style he calls abstract emotionalism.
Richard Grieco was born in Watertown, New York, the son of Carolyn (née O'Reilly) and Richard Grieco. He is of Italian and Irish descent.[1] After moving to Franklin, Massachusetts, in his teenage years, Grieco played football, hockey and lacrosse in high school. Grieco was suspended in high school for smearing feces on a classmates locker. Grieco was "All-State in all three sports." Grieco also played football for Central Connecticut State University.[2]
Read more...
Career
Modeling, TV and film
Grieco worked as a model for Armani, Calvin Klein and Chanel.[3] He played Rick Gardner on One Life to Live from 1985 to 1987. In 1988, Grieco began appearing as Detective Dennis Booker on the shows 21 Jump Street and its spinoff Booker. Grieco's feature film debut was as Michael Corben in If Looks Could Kill (1991) and has appeared in numerous films since then. Later in 1991, he played the young Jewish bootlegger and mobster Benjamin "Bugsy" Siegel in the movie Mobsters. He also appeared in the TV series Marker in 1995. He played himself in the 1998 film A Night at the Roxbury.
Music
Grieco began a singing career in 1994 with the Dunmore Band. He signed to a German label and released a CD, Waiting for the Sky to Fall, in 1995.[citation needed] Later on he teamed up with music manager Cheryl Bogart and formed the band Wasteland Park in 2004.[citation needed]
Art
In 2009, several years after being encouraged by Dennis Hopper, Grieco publicly revealed that he has been painting since 1991. He calls his work "Abstract Emotionalism".[4]
In popular culture
In the WB sitcom Off Centre, Grieco is idolized by Chau Presley, a character played by John Cho. In the show, Chau met Grieco at a Department of Motor Vehicles and traded him an Oingo Boingo shirt for the one he was wearing. Several references are made to Grieco and his movies (especially Point Doom).
In A Night at the Roxbury, Grieco is idolized by the main characters. His lifestyle ("Clothes, Cars, Women") was what Doug and Steve Butabi were trying to achieve.
In 2016, he appeared as himself in an episode of It's Always Sunny in Philadelphia.
Filmography
Film
Year
Title
Role
Notes
1991
If Looks Could Kill
Michael Corben
UK version entitled Teen Agent
Mobsters
Bugsy Siegel
1993
Born to Run
Nicky Donatello
Tomcat: Dangerous Desires
Tom
1994
Suspicious Agenda
Tony Castagne
Sin and Redemption
Jim McDaniels
A Vow to Kill
Eric
Bolt
Bolt
DVD version entitled Rebel Run
1995
The Demolitionist
Mad Dog Burne
It Was Him or Us
Gene Shepard
1996
Circuit Breaker
Adam
1997
Mutual Needs
Brandon Collier
When Time Expires
Travis Beck
Against the Law
Rex
1998
The Journey: Absolution
Sgt. Bradley
Sinbad: The Battle of the Dark Knights
Sinbad
Ultimate Deception
Bobby Woodkin
Captive
Joe Goodis
Blackheart - Quest of a Serial Killer
Ray
The Apostate
Michael Killan
Garden of Evil
Dean
A Night at the Roxbury
Himself
1999
Heaven or Vegas
Navy
2000
Final Payback
Joey Randall
Point Doom
Rick Hansen
Harold Robbins' Body Parts
Ty Kinnick
2001
Manhattan Midnight
Midnight
Sexual Predator
J. C. Gale
Death, Deceit and Destiny Aboard the Orient Express
Jack Chase
Sweet Revenge (aka Die! Die! Die!)
Frank
2002
Fish Don't Blink
Pete
Book of Days
Mr. Finch
Webs
Dean
Evil Breed: The Legend of Samhain
Mark
2004
Phantom Force
Marcus Dupree
Dead Easy
Simon Storm
2005
Raiders of the Damned
Dr. Lewis
2006
Forget About It
Anthony Amato
2011
Almighty Thor
Loki
Cats Dancing on Jupiter
Derek Stockton
2013
AE Apocalypse Earth
Capt. Sam Crowe
2014
22 Jump Street
Dennis Booker
Cameo
Television
Year
Title
Role
Notes
1985-1987
One Life to Live
Rick Gardner
1987
Rags to Riches
Billy Gallento
1988
Who's The Boss?
Mauritzio
1988-1989
21 Jump Street
Detective Dennis Booker
1989-1990
Booker
Detective Dennis Booker
1994-1996
Gargoyles
Anthony "Tony" Dracon
1995
Marker
Richard DeMorra
The Marvel Action Hour: The Fantastic Four
Ghost Rider
1 Episode
1996
The Incredible Hulk
Dan Ketch/Ghost Rider
1 Episode
2006-2007
Veronica Mars
Steve Botando
3 Episodes
2009
Gone Country 3
Himself
Celebreality game show contestant
2010
Gigolos
Creator & Executive Producer
2016
It's Always Sunny in Philadelphia
Himself
1 episode
Video Games
Year
Title
Role
Notes
2011
Marvel vs. Capcom 3: Fate of Two Worlds
Ghost Rider
2011
Ultimate Marvel vs. Capcom 3
Ghost Rider
Web
| Year | Title | Role | Notes |
| --- | --- | --- | --- |
| 2014 | Viral Video | Fishykiller | Short film on Trisha Paytas' YouTube channel |
| 2015 | Viral Video 2 | Fishykiller | Short film on Trisha Paytas' YouTube channel |
[ Source: Wikipedia ]