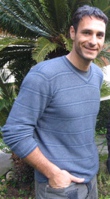 Raoul Bova
Birth name:
Raoul Bova
Born:
August 14, 1971
Age:
51
Birthplace:
Rome, Italy
Popularity:

Please login to contact Raoul Bova...
Biography
Raoul Bova (born 14 August 1971) is an Italian actor.
Bova was born in Rome to a father from Roccella Ionica in Calabria and a mother from Acerra in Campania.[
citation needed
] He is of Arbëreshë descent.[
citation needed
] At the age of 16 Bova became a local champion in the 100 meter backstroke.[
citation needed
] At the age of 21 he joined the Italian Army and performed his military duty in the Bersaglieri (sharpshooters) corps.[
citation needed
] He enrolled in the ISEF, the Italian Institute of Physical Education, but dropped out to pursue a career in acting. He studied at the school of Beatrice Bracco in Rome and also studied acting with Michael Margotta.[
citation needed
]
In March 2000, he married Chiara Giordano. They have three children, Alessandro Leon, Francesco and Sophia.[1] In 2013, Bova and Giordano separated.[2] That same year he started dating actress Rocio Muñoz, after the two met on the film set of Immaturi - Il viaggio (2012).[3] They had their first child, daughter Luna, in December 2015, the same month their film All Roads Lead to Rome was released.[3]
On 15 October 2010, Raoul Bova was nominated Goodwill Ambassador of the Food and Agriculture Organization of the United Nations (FAO).
Read more...
Filmography
Medici: Masters of Florence (2018, TV)
Task Force 45 - Fuoco Amico (2016)
All Roads Lead to Rome (2016)
The Choice (2015)
Ever Been to the Moon? (2015)
Scusate se esisto! (2014)
Fratelli unici (2014)
Indovina chi viene a Natale? (2013)
Buongiorno papà (2013)
Viva l'Italia (2012)
Il cecchino (2012)
Immaturi - Il viaggio (2012)
Treasure Guards (2011, TV movie)
Nessuno mi può giudicare (2011)
Come un delfino (2011), miniseries
The Immature (2011)
The Tourist (2010)
Scusa ma ti voglio sposare (2010)
La nostra vita (2010)
Ti presento un amico (2010)
Baaria - La porta del vento (2009)
Bolt (2008, Italian voice)
Scusa ma ti chiamo amore (2008)
Milano-Palermo: il ritorno (2007)
Io, l'altro (2007)
What About Brian (2006, TV Series)
Attacco allo stato (2005, TV)
Karol: A Man Who Became Pope (2005, TV)
La Fiamma sul ghiaccio (2005)
Alien vs. Predator (2004)
Ultimo (2004, TV)
Under the Tuscan Sun (2003)
Facing Windows (La finestra di fronte, 2003)
Francesco (2002, TV)
Avenging Angelo (2002)
Madame de... (2001, TV)
Francesca and Nunziata (Francesca e Nunziata, 2001, TV)
The Knights of the Quest (I cavalieri che fecero l'impresa, 2001)
Il Testimone (2001, TV)
Distretto di polizia (2000, TV Series)
Terra bruciata (1999)
Ultimo 2 - La sfida (1999, TV)
Hercules (1999 Italian voice)
Rewind (1998)
Coppia omicida (1998)
La piovra 9 - Il patto (it) (1998, TV)
Ultimo (1998) (TV)
The Fourth King (Il Quarto re, 1997, TV)
La piovra 8 - Lo scandalo (it) (1997, TV)
La Lupa (1996)
La Frontiera (1996)
The Nymph (Ninfa plebea, 1996)
The Mayor (Il sindaco, 1996)
Palermo-Milan One Way (Palermo Milano solo andata, 1995)
La piovra 7 (it) (1994, TV miniseries)
It All Started by Chance (Cominciò tutto per caso, 1993)
Piccolo Grande Amore, 1993
Crazy Underwear (Mutande pazze, 1992)
When We Were Repressed (Quando eravamo repressi, 1992; uncredited)
Una Storia italiana (1992) (TV)
[ Source: Wikipedia ]