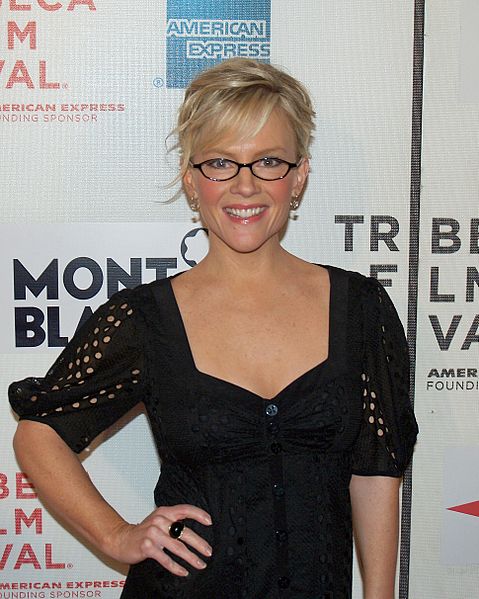 Rachael Harris
Birth name:
Rachael Elaine Harris
Born:
January 12, 1968
Age:
55
Birthplace:
Worthington, Ohio, US
Popularity:

Please login to contact Rachael Harris...
Biography
Rachael Elaine Harris (born January 12, 1968) is an American actress and comedian. She is known for her numerous television roles, such as starring as Dr. Linda Martin on Lucifer and as a guest star on TV shows such as Sister, Sister, Reno 911!, New Girl, Suits and The Good Wife.
Harris performed with the Los Angeles improvisational comedy troupe the Groundlings and taught for a time with the Groundlings school.[1][2]
Off-Broadway, she performed in Love, Loss, and What I Wore.[3]
Read more...
Television
Harris at the 2007 Tribeca Film Festival.
She debuted on television in a 1993 episode of SeaQuest DSV. After an appearance on Star Trek: Voyager in 1997, Harris went on to a recurring role in The WB's Sister, Sister. Other television credits include a stint as a correspondent for The Daily Show's 2002-2003 season,[2] as well as guest roles on The Sarah Silverman Program, Reno 911!, The West Wing, The Good Guys, Friends, Curb Your Enthusiasm, Monk, CSI: Crime Scene Investigation, and Desperate Housewives in November 2008. Harris played the supporting role of Kevyn Shecket, Kirstie Alley's personal makeup artist, on the Showtime series Fat Actress in 2005.[2] She also appears in Suits as Sheila Sazs, Louis Litt's on-and-off again love interest. She played Cooper in the ABC sitcom Notes from the Underbelly.
Harris hosted Smoking Gun TV in 2004, and has made multiple appearances on such VH1 documentaries as I Love the '80s, I Love the '90s, and Best Week Ever. On ABC's Cougar Town, she played Shanna, a woman that the network describes as being the "nemesis" of Jules.[4] Also on ABC, she made a guest appearance in the Modern Family episode "Caught in the Act" as a Amelia, a restaurateur and mother to a playmate of Lily Pritchett.
In March 2014, Harris began a new role in the very short-lived series Surviving Jack with Chris Meloni.[5] In March 2015, Harris was cast as Linda, Lucifer's therapist in the FOX television series Lucifer.[6]
In 2018, Harris appeared alongside Cheryl Hines on the reality series Hell's Kitchen where they both sat in the blue team's chef's table in the episode "Hell Freezes Over".
Feature films
Her film credits include roles in Best in Show, A Mighty Wind, For Your Consideration, Kicking & Screaming, and Daddy Day Care.[2] In the 2009 comedy The Hangover she plays Melissa, girlfriend to Ed Helms's character Stu. She previously co-starred with Helms on The Daily Show.[7] She plays the mother of the main character in the film Diary of a Wimpy Kid (2010) and its two sequels.
Advertisements
Harris' TV commercial work includes ads for Dinty Moore,[1] Avis,[1][2] Expedia,[1] Quaker Oats, T-Mobile,[2] GEICO,[2] and a Super Bowl commercial for the 2010 Census.[8] She is the voice of turtle Karolyn Slowsky in the Comcast Slowskys television commercials.
Personal life
Harris was born in Worthington, Ohio. She graduated from Worthington High School in 1986 and Otterbein College in 1989, earning a Bachelor of Fine Arts in theatre.[9]
Harris and violinist Christian Hebel eloped in early 2015 and wed in New York City. On July 19, 2016, Harris gave birth to her first child, son Henry, with Hebel.[10] On February 8, 2018, on Live with Kelly and Ryan (from the Bahamas), Harris announced that she and Hebel are expecting their second child.[11] On August 25, 2018, Harris gave birth to her second child, son Otto.[12]
Filmography
Film
Year
Title
Role
Notes
1992
Treehouse Trolls Forest of Fun and Wonder
Mama
Video
1996
The Disappearance of Kevin Johnson
Fornaio Waitress #2
2000
Best in Show
Winky's Party Guest
2002
Showtime
Teacher
2003
A Mighty Wind
Steinbloom's Assistant
Daddy Day Care
Co-Worker Elaine
The Haunted Mansion
Ms. Coleman
2004
Starsky & Hutch
Mrs. Feldman's Friend
After the Sunset
June
2005
Kicking & Screaming
Ann Hogan
2006
For Your Consideration
Mary Pat Hooligan
2007
Matters of Life and Dating
Carla
License to Wed
Janine
Evan Almighty
Ark Reporter
2009
The Hangover
Melissa
The Soloist
Leslie Bloom
2010
Diary of a Wimpy Kid
Susan Heffley
2011
Diary of a Wimpy Kid: Rodrick Rules
Natural Selection
Linda
Nominated - Independent Spirit Award for Best Female Lead
2012
Diary of a Wimpy Kid: Dog Days
Susan Heffley
Diary of a Wimpy Kid: Class Clown
Wreck-It Ralph
Deanna
Voice
2013
Bad Words
Eric Tai's Mother
2014
Lovesick
Roberta
Night at the Museum: Secret of the Tomb
Madeline Phelps
2015
Barely Lethal
Mrs. Larson
Freaks of Nature
Mrs. Mosely
2016
Brother Nature
Aunt Pam
Television
Year
Title
Role
Notes
1993
SeaQuest DSV
Rose
1 episode
1997
Star Trek: Voyager
Martis
Episode: "Before and After"
1998
Sister, Sister
Simone
5 episodes
1999
Serial Experiments Lain
Female Knight
Voice: English version
2000
The Amanda Show
N/A
1 episode
Two Guys and a Girl
Pregnant Damsel
1 episode
2001
Grosse Pointe
Reporter
1 episode
Three Sisters
Sal
1 episode
2002
Judging Amy
Alumni Volunteer #2
1 episode
Friends
Julie
Episode #8.23: "The One Where Rachel Has a Baby (Part 1)"
2003
Frasier
Erin
Episode #11.09: "Guns N' Neuroses"
2003-2009
Reno 911!
Debbie Dangle-Frost, Claire the Madam
6 episodes
2004
Curb Your Enthusiasm
Joanne
2 episodes
According to Jim
Mindy
1 episode
The West Wing
Corrine McKenna
Episode: "The Hubbert Peak"
2005
Fat Actress
Kevyn Shecket
7 episodes
Monk
Alice Westergren
1 episode
Committed
Ruby
1 episode
8 Simple Rules
Margaret Brandenbauerbern
1 episode
2006
Reno 911!
Debbie Dangle
3 episodes
2007
The New Adventures Of Old Christine
Claire
1 episode
Notes from the Underbelly
Cooper
Main cast
Matters of Life and Dating
Carla
Movie
2007-2008
The Sarah Silverman Program
School Teacher
2 episodes
2008
Desperate Housewives
Sandra Birch
Episode: "City on Fire"
CSI: Crime Scene Investigation
Megan
1 episode
Pushing Daisies
Georgeann Heaps
1 episode
Suburban Shootout
Natalie Davenport
N/A
Hollywood Residential
Rachael
Voice, 3 episodes
Frisky Dingo
A.L.E.X.
2 episodes
Emily's Reasons Why Not
Lila Cox-Weiner
1 episode
2008-2009
Worst Week
Julie
2 episodes
2008-2010
The Life & Times of Tim
Adam's Date
Voice, 3 episodes
2009
Cougar Town
Shanna
1 episode
True Jackson, VP
Kitty Monreaux
1 episode
In the Motherhood
Blair
5 episodes
2010
My Boys
Marcia
3 episodes
Glenn Martin DDS
Melissa the Wedding Planner
Voice, 1 episode
Childrens Hospital
Mrs. Throman
1 episode
The Good Guys
Cynthia Savage
1 episode
Party Down
Marguerite Tayler
1 episode
Gary Unmarried
Rachael
1 episode
2011
Modern Family
Amelia
Episode: "Caught in the Act"
Archer
Rona Thorne
1 episode
$h*! My Dad Says
Soledad Cho
1 episode
2012
New Girl
Tanya Lamontagne
4 episodes
Happy Endings
Suzanne
Episode "Sabado Free-Gante"
2013
Newsreaders
Wendy Hayflack
1 episode
The Office
Rachael
1 episode
2012-present
Suits
Sheila Sazs
21 episodes
2014
Surviving Jack
Joanne Dunlevy
Series regular
Maron
Herself
1 episode
Bad Judge
Dana McCoy
1 episode
2015
The Good Wife
Franny Zissis
1 episode
RuPaul's Drag Race
Herself/Judge
1 episode
2016-present
Lucifer
Dr. Linda Martin
Main cast
2018
Hell's Kitchen
Herself
Co-VIP guest diner for the blue team; Episode: "Hell Freezes Over"
[ Source: Wikipedia ]