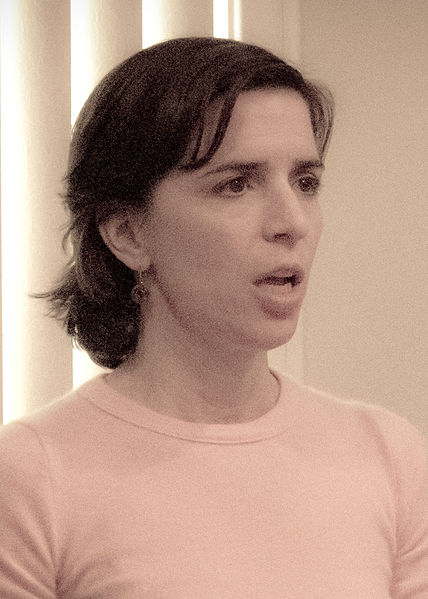 Quinn Cummings
Born:
August 13, 1967
Age:
55
Birthplace:
Los Angeles, California, U.S.
Popularity:

Please login to contact Quinn Cummings...
Biography
Quinn Louise Cummings (born August 13, 1967) is an American retired child actress, now writer and entrepreneur. She is possibly best known for her role of Lucy McFadden in Neil Simon's The Goodbye Girl, and for her recurring role as Annie Cooper on the television series Family.
She has written a memoir Notes From The Underwire. Her second book, The Year of Learning Dangerously, about homeschooling in America, was released in August, 2012. In 2013, Cummings published Pet Sounds, a collection of essays relating to living with animals.
Born in Los Angeles, the only child of Sumner Cummings (1919-1977), a businessman, and Jan Mae (née Lies; 1928-2015), a bookkeeper.[1][2] In June 2000, Cummings gave birth to a daughter, Anneke DiPietro, by her partner Donald DiPietro.[3]
Read more...
Film and television
Quinn Cummings began her career after being discovered by famed cinematographer James Wong Howe. She soon began landing roles in numerous television commercials, eventually winning the role of Marsha Mason's daughter, Lucy McFadden, in the 1977 film The Goodbye Girl. Cummings' performance was nominated for an Academy Award for Best Supporting Actress and a Golden Globe Award for Best Supporting Actress - Motion Picture.[4]
In 1978, Cummings landed a recurring role on the drama series Family. In 1985, Cummings also appeared in the short-lived ABC sitcom, Hail to the Chief, playing the daughter of the first female President of the United States (played by Patty Duke, who had previously appeared with Cummings in the 1980 telefilm The Babysitter).
During the late 1980s, Cummings acted occasionally and worked as a casting agent. In the 1990s, she quit acting because she wasn't comfortable living her life in the public eye and stated that, ..."nobody could conceive of hiring me". She went on to attend UCLA for two years, and had a stint recruiting writers to publish short stories online.[4] Her last acting role was in a 1991 episode of Blossom.
Business
Inspired by the birth of her daughter, Cummings created the HipHugger, a stylish, sling-type device for carrying a baby for which she was awarded a US Patent.[5] She was the President of the HipHugger company, before selling it in 2006.
Books and publications
In February 2005, Cummings started her seminal blog, The QC Report, which discussed the ironies of modern life from the point of view of a career mother in her thirties. It received numerous recommendations, including Newsweek's BlogWatch pick of the week, and launched her career in publishing.[citation needed]
Cummings' first book, Notes From The Underwire: Adventures from My Awkward and Lovely Life was published in July 2009.[citation needed] Her second book, The Year of Learning Dangerously, which explores the current state of home schooling in America, was published by Penguin Books in August, 2012. Pet Sounds, a collection of (mostly) humorous stories relating to animals and pet ownership was released in the summer of 2013.[citation needed]
Filmography
The Goodbye Girl (1977)
Listen to Me (1989)
Television
Big Eddie (Unknown episodes, 1975)
Jeremiah of Jacob's Neck (1976)
The Six Million Dollar Man (1 episode, 1976)
Night Terror (1977)
Visions (1 episode, 1977)
Intimate Strangers (1977)
Starsky and Hutch (1 episode, 1978)
Baretta (1 episode, 1978)
CBS Library (1 episode, 1980)
Family (36 episodes, 1978-1980)
The Babysitter (1980)
Darkroom (1 episode, 1981)
Grandpa, Will You Run with Me? (1983)
Remington Steele (1 episode, 1984)
Hail to the Chief (Unknown episodes, 1985)
The Love Boat (1 episode, 1986)
Blossom (1 episode, 1991)
Awards and nominations
Academy Award
Nominated: Best Actress in a Supporting Role, The Goodbye Girl (1978)
Golden Globe
Nominated: Best Motion Picture Actress in a Supporting Role, The Goodbye Girl (1978)
Young Artist Award
Nominated: Best Young Actress in a Movie Made for Television, Grandpa, Will You Run with Me? (1984)
Won: Best Young Actress in a Television Series, Family (1981)
Nominated: Best Juvenile Actress in a TV Series or Special, Family (1980)
[ Source: Wikipedia ]