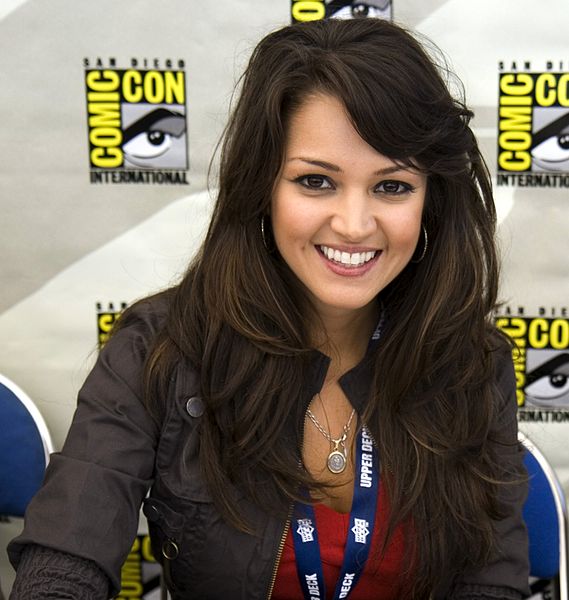 Paula Garces
Born:
March 20, 1974
Age:
49
Birthplace:
Medellín, Colombia
Popularity:

Please login to contact Paula Garces...
Biography
Paula Garcés (born March 20, 1974) is a Colombian American film and television actress, known for her appearance in films such as Clockstoppers, Man of the House and The Harold and Kumar Series, and on TV shows such as CSI: Miami, The Shield, Law and Order: Special Victims Unit, The Sopranos, Oz, Devious Maids and All My Children.
Paula Garcés was born on March 20, 1974 in Medellin, Colombia. At a very early age she moved to East Harlem in New York City.[2][3][4]
Read more...
Career
Acting
She played Alvina in 1995's Dangerous Minds with Michelle Pfeiffer.
Garcés co-starred in Paramount Pictures' 2002 teen sci-fi adventure Clockstoppers, starring opposite Jesse Bradford. She was then cast in Richard Benjamin's hip-hop comedy Marci X opposite Lisa Kudrow and Damon Wayans.
Garcés was next seen opposite Academy Award-winner Tommy Lee Jones in the Revolution Studios feature, Man of the House. In 2004 she starred in National Lampoon's Pledge This!. She was featured on CSI: Miami and starred in a four episode arc on NBC's Law and Order: Special Victims Unit, as well as guest spots on HBO's hit series, The Sopranos and Oz. Garcés then landed a role as a cast member on The Shield.
Garcés appeared in New Line Cinema's 2004 feature film Harold & Kumar Go to White Castle, its 2008 sequel Harold & Kumar Escape from Guantanamo Bay and the 2011 sequel A Very Harold & Kumar 3D Christmas, as Maria, the love interest and later the wife of John Cho's character.
Garcés was a series regular on the ABC drama series Defying Gravity, playing documentarian Paula Morales during its single 2009 season.
She was also featured in the video "Imagínate" with Wisin & Yandel, and rapper T-Pain.
Garcés has also co-starred on Guiding Light as Pilar Santos, and had a recurring role as Dr. Kelly Hernandez in the second season of the Syfy TV series Warehouse 13.
In May 2011, Garcés appeared in "Off the Beaten Path", the 11th episode of the first season of Breakout Kings.
In February 2013, Garcés appeared on the CBS series Elementary, playing villainous police officer Paula Reyes in the first-season episode, "Details."
Aluna Comics
While attending a Comic-Con to promote one of the Harold & Kumar films, Garcés noted the sizeable Latino audience for superheroes, despite the low number of Latino characters in the genre.[5] She created Further Lane Productions to issue a limited run comic book featuring the Latina superhero Aluna, later working with S2 Games to create, and voice, Aluna as a 2011 playable hero added to Heroes of Newerth, S2's multiplayer online battle arena video game.[5][6][7][8] In time for the 2014 Comic-Con, she worked with sekretagent Productions and Allegory Media to produce a four issue Aluna comic book series.[6][9]
Personal life
Garcés's first child is daughter Skye Mahoney, was born in 1992.[10] In 2002 she married Antonio Hernandez, an entrepreneur and producer.[11] After two miscarriages together, Garcés and Hernandez welcomed a son, Antonio Andrés Hernandez, on 20 November 2013.[11][12][13]
Filmography
Garcés with Julissa Bermudez in March 2011
Film
Year
Title
Role
Notes
1991
Hangin' with the Homeboys
Harassed Sister
1993
Life with Mikey
Janice
1995
Dangerous Minds
Alvina
1998
Harvest
Mina Fuentes
2002
Clockstoppers
Francesca
2003
The Station Agent
Cashier
2003
Marci X
Yolanda Quinones
2003
Spin
Francesca
2004
Harold & Kumar Go to White Castle
Maria
2005
Che Guevara
Aleida
2005
The Shore
Tina
2005
Man of the House
Teresa
2006
National Lampoon's Pledge This!
Gloria Torrez
2007
Red Princess Blues Animated: The Book of Violence
Princess (voice)
Short film
2008
Harold & Kumar Escape from Guantanamo Bay
Maria
2008
Harold & Kumar Go to Amsterdam
Short film
2011
A Very Harold & Kumar 3D Christmas
2011
Deception
Katrina Mendoza
2013
The Maid's Room
Drina
2014
Adult Beginners
Blanca
Television
Year
Title
Role
Notes
1991
Law & Order
Lucy Rivers
Episode: "The Secret Sharers"
1994
New York Undercover
Aria Nuriez
Episode: "School Ties"
1999
Oz
Isabella (uncredited)
Episode: "The Truth and Nothing But..."
Episode: "Napoleon's Boney Parts"
1999-2001
Guiding Light
Pilar Santos
TV series
2002
The Brothers García
Milagros
Episode: "West Side Stories"
2003
CSI: Miami
Carmen Abregon
Episode: "Simple Man"
2004
The Sopranos
Felicia Galan
Episode: "Unidentified Black Males"
2005
Law & Order: Special Victims Unit
CSU Tech Millie Vizcarrondo
4 episodes
2006-2008
The Shield
Officer Tina Hanlon
32 episodes
2007
CSI: Miami
Anna Sivarro
Episode: "A Grizzly Murder"
Episode: "Bloodline"
2008
Knight Rider
Kelli Haddigan
Episode: "A Knight in Shining Armor"
2009
Defying Gravity
Paula Morales
main series cast
2010
Warehouse 13
Dr. Kelly Hernandez
5 episodes
2010
Chase
Tia Archer
Episode: "Betrayed"
2011
The Good Wife
Aida Rios
Episode: "Foreign Affairs"
2011
Breakout Kings
Debbie Myera
Episode: "Off the Beaten Path"
2013
Elementary
Paula Reyes
Episode: "Details"
2013
All My Children
Lea Marquez
2013
Devious Maids
Flora Hernandez
2018
On My Block
Geny Martinez
[ Source: Wikipedia ]