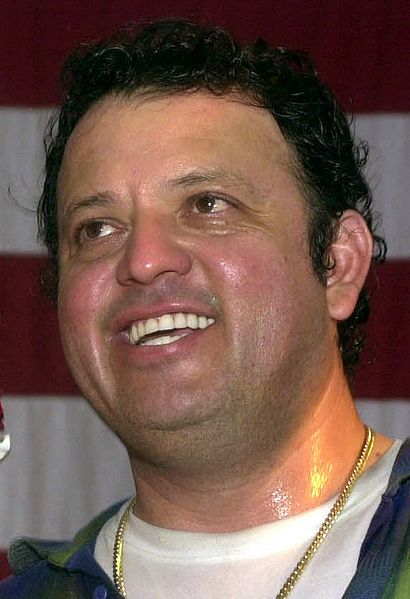 Paul Rodriguez
Born:
January 19, 1955
Age:
68
Popularity:

Please login to contact Paul Rodriguez...
Biography
Paul Rodriguez (born January 19, 1955) is a Mexican-American stand-up comedian and actor.
Read more...
Early life
Rodriguez was born in Mazatlan, Mexico to Mexican agriculture ranchers. His family migrated to East Los Angeles, California, where Rodriguez enlisted in the United States Air Force and was subsequently stationed in Uruguay and Duluth, Minnesota, U.S. Rodriguez considered becoming a lawyer, but instead ventured into the field of comedy.
Career
Television
He first appeared in a.k.a. Pablo, a sitcom produced by ABC, but the show was canceled after seven episodes. In 1988 Rodriguez replaced Bob Eubanks as host of The Newlywed Game and lasted one season before cancellation. During his tenure as host, the show began using the 1958 song "Book of Love", by The Monotones, as a theme song. He later hosted a Friday nighttime television show called El Show de Paul Rodriguez that was broadcast on Univision from March 2, 1990 to January 1, 1993.
From 2010 to 2011, Rodriguez hosted two seasons of the MTV Tr3́s comedy home video series Mis Videos Locos. The reality show features video footage of Latino people from various countries who are filmed by devices such as surveillance cameras and mobile phones.
Film
Rodriguez has appeared in several feature films, such as Blood Work with Clint Eastwood, D.C. Cab, Born in East L.A., Tortilla Soup, Rat Race, and Ali, and has also performed voiceover roles for King of the Hill, Dora the Explorer, and Beverly Hills Chihuahua. Rodriguez has also undertaken other roles in the film industry: He directed and starred in the film A Million to Juan, and he produced and appeared in the 2002 comedy film The Original Latin Kings of Comedy.
In 2009 the Paul Rodriguez: Comedy Rehab movie featured a night of Latino comedy that is hosted by Rodriguez and Paul Rodriguez: Just for the Record, which documents a live performance by the comedian, was released in 2011.
Awards
In 2004 Comedy Central ranked him at #74 on its list of the "100 Greatest Standups of all Time." Rodriguez was acknowledged with the "Humanitarian of the Year Award" by the City of Fresno for his work in the area of water conservation.
Company owner
Rodriguez is a part-owner of the Laugh Factory comedy venue in Hollywood, Los Angeles, California, U.S., where comedian/actor Michael Richards was filmed as he engaged in a highly publicized on-stage rant against two black male hecklers. Of Richards' repeated use of the word "nigger", Rodriguez said, "Once the word comes out of your mouth and you don't happen to be African American, then you have a whole lot of explaining to do." Rodriguez also has an interest in farming and owns operations in California's Central Valley.
Charity work
Rodriguez is known for his charity work and many of Rodriguez's comedy specials cover serious issues that are of concern to the Latino community. He has performed for several Comic Relief charity specials and, in 1995, he performed a comedy television special that was broadcast live from San Quentin State Prison. He is the chairman of the California Latino Water Coalition, a group that campaigns to draw attention to California's dire water situation, and was influential in the enactment of the California Water Bond Measure.
Politics
Rodriguez has been a vocal and active supporter of the Republican Party. In 2010 Rodriguez endorsed Republican Meg Whitman during her campaign against Jerry Brown to become governor of California. Rodriguez then endorsed Republican Candidate Mitt Romney during the 2012 presidential election and recorded a radio promotion in Spanish for Romney's campaign. Rodriguez also collaborated with former governor of California Arnold Schwarzenegger as part of his work with the California Latino Water Coalition.
Personal life
Rodriguez's son Paul Rodriguez Jr. is a professional skateboarder (also known as "P-Rod").
Discography
1986: You're in America now, speak Spanish
1997: Cheese 'n' macaroni
Filmography
Film
Year
Film
Role
Other notes
1983
D.C. Cab
Xavier
1986
Quicksilver
Hector Rodriguez
The Whoopee Boys
Barney Benar
Miracles
Juan
1987
Born in East L.A.
Javier
1993
Made in America
Jose
1994
A Million to Juan
Juan Lopez
Director
Rhythm Thief
Eladio
1995
Rough Magic
Diego
1998
Melting Pot
Gustavo Alvarez
2000
Price of Glory
Pepe
Mambo Café
Gustavo Alvarez
G-Men From Hell
Winiford 'Weenie Man'
2001
Crocodile Dundee in Los Angeles
Diego
Tortilla Soup
Orlando Castillo
Rat Race
Gus the Cabbie
The Shipment
Jose Garcia
Ali
Dr. Ferdie Pacheco
2002
Blood Work
Det. Ronaldo Arrango
Back by Midnight
Next Week
Time Changer
Eddie Martinez
2003
Chasing Papi
Costas Delgado
Uncredited Role
Baadasssss!
Jose Garcia
2004
A Cinderella Story
Bobby
2005
The World's Fastest Indian
Fernando
2006
Cloud 9
Mr. Wong
Swap Meet
Councilmen Gonzales
Holidaze: The Christmas That Almost Didn't Happen
Cupid
Voice Role
Direct-to-Video Release
2007
One Long Night
Poncho
2008
Vicious Circle
Professor
Beverly Hills Chihuahua
Chico
Voice Role
2009
Lonely Street
Det. Romero
Porndogs: The Adventures of Sadie
Bato
Voice Role
The Deported
Ernesto
2010
Cats & Dogs: The Revenge of Kitty Galore
Crazy Carlito
2016
El Americano: The Movie
El Divino
Voice Role
Post-production
Television
Year
Title
Role
Notes
1983
Gloria
Jerry
Episode: An Uncredited Woman
1984
a.k.a. Pablo
Paul Rivera
6 episodes
1986
Hardesty House
Tall Tales & Legends
Julio
Episode: Ponce de Leon
The Golden Girls
Ramone
Episode: Vacation
1988-1989
Trial and Error
Tony Rivera
8 episodes
1988-1989
The Newlywed Game
Himself
1990
Grand Slam
Pedro Gomez
8 episodes
1991
Hi Honey - I'm Dead
Ralph (The Angel)
TV-Movie
Great Performances
Satanas
Episode: La Pastorela
1995
Live in San Quentin, Paul Rodriguez
Himself
Live TV-Special
The Eddie Files
Construction Worker
Episode: Geometry - Invasion of the Polygons
Touched by an Angel
Ben Rivera
Episode: Trust
1996
Latino Laugh Festival
Himself
Live TV-Special
1998
King of the Hill
Jacinto
Episode: Three Days of the Kahndo
2000
Ready to Run
T.J.
Voice Role
TV-Movie
2000-2001
Resurrection Blvd.
Paulie
4 episodes
2002
American Family
Flaco
Episode: Mexican Revolution
2003
The Twilight Zone
Rosas
Episode: Tagged
The Proud Family
Limo Driver
Voice Role
Episode: Adventures in BeBe-Sitting
Dora the Explorer
Leon, the Circus Lion
Voice Role
Episode: Leon, the Circus Lion
2005
The Buzz on Maggie
Julio's Father
Voice Role
Episode: Lunchlady
2005
Zatch Bell
Teenager, Various Voices
1 episode
2010-2012
Mis Videos Locos
Himself
40 episodes for MTV Tr3s
Awards and nominations
ALMA Award
1999: Nominated, "Outstanding Performance by an Individual or Act in a Variety or Comedy Special" - Comic Relief VIII
2002: Nominated, "Outstanding Supporting Actor in a Motion Picture" - Tortilla Soup
Imagen Awards
2009: Nominated, "Best Supporting Actor/Feature Film" - Beverly Hills Chihuahua
NCLR Bravo Awards
1996: Won, "Outstanding Performance by a Male in a Variety or Music Series/Special" - Latino Laugh Festival
Charities
Paul Rodriguez supports the following charitable causes: Education, Music Education.
[ Source: Wikipedia ]