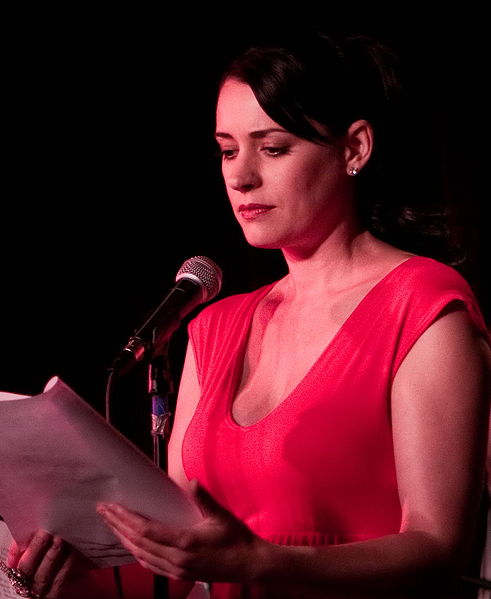 Paget Brewster
Birth name:
Paget Valerie Brewster
Born:
March 10, 1969
Age:
54
Birthplace:
Concord, Massachusetts, United States[
citation needed


Popularity:

Please login to contact Paget Brewster...
Biography
Paget Valerie Brewster (/ˈpædʒɪt ˈbruːstər/;[2] born March 10, 1969) is an American actress, voice actress, and singer. She was first recognized for her recurring role as Kathy on the fourth season of the NBC sitcom Friends. Her breakthrough role came as Special Agent Emily Prentiss on the CBS crime drama Criminal Minds, on which she appeared regularly from 2006 to 2012 and has since returned to for guest appearances before returning regularly in 2016. Her other roles include Elise and Mr. Mumbles on The Hub's Dan Vs., Frankie Dart on Community, Sadie Doyle on the Thrilling Adventure Hour segment "Beyond Belief" and Sara Kingsley on the Fox sitcom Grandfathered. She has also made numerous guest appearances on Two and a Half Men, Law & Order: Special Victims Unit and Modern Family. She stars as Dodo Bellacourt on the Comedy Central series Another Period.
Brewster was born on March 10, 1969, in Concord, Massachusetts.[3] Her mother, Hathaway Brewster (née Tew), worked as a government official, and her father, Galen Brewster, worked as a school administrator.[3][4][5]
Brewster grew up in Massachusetts and moved to New York City to attend Parsons School of Design.[citation needed] During her first year, she made her acting debut and eventually dropped out of design school[citation needed] to pursue her acting career. In the mid 1990s, Brewster moved to San Francisco and enrolled in acting classes. As of 2014[update] she resides in Los Angeles.
Read more...
Career
Between 1994-1995, Brewster hosted a late-night talk show in the San Francisco Bay Area called Paget for 65 episodes.[6] She first came to prominent attention in her recurring role as "Kathy" in the fourth season of NBC's Friends. She appeared in Andy Richter Controls the Universe and Huff. On film she played Ms. Indestructible, the female lead in James Gunn's low-budget superhero comedy The Specials (2000). She played Amy Pierson, a calculus teacher afraid of the water, in the independent film The Big Bad Swim, which premiered at the 2006 Tribeca Film Festival.
In 2005, she began voice work as Judy Sebben/Birdgirl, a recurring character on the animated series Harvey Birdman, Attorney at Law (and later played a similar guest character on American Dad!).
Brewster had a long run with the show Criminal Minds, playing multilingual Supervisory Special Agent Emily Prentiss until the show's sixth season, when she and A. J. Cook were released from their contracts by CBS in a cost-cutting move. Owing to complaints from fans, both she and Cook were rehired and kept for the following season. In February 2012, Brewster announced via Deadline that she was leaving Criminal Minds at the end of the season to pursue a possible career in comedy television.[7] Brewster reprised her role as Emily Prentiss in season nine for the 200th episode as a special guest star.[8]
Brewster subsequently portrayed bureau chief ADA Paula Foster in the Public Integrity Unit of the District Attorney's office on NBC's long-running police drama Law & Order: Special Victims Unit. Her character handled the case against SVU commanding officer Captain Donald Cragen (Dann Florek), suspected of murder after awakening next to a dead woman in the 13th-season finale.[9][10][11]
Brewster is a regular on The Thrilling Adventure Hour, a staged production in the style of old-time radio that is recorded monthly at Largo in Los Angeles. She plays the recurring character of Sadie Doyle, the alcoholic socialite who can communicate with the supernatural alongside her husband, Frank (Paul F. Tompkins), in the "Beyond Belief" segments. In early April 2013, Brewster appeared in Modern Family as Trish in episode 20, "Flip Flop," playing an art expert who is dating Gloria's ex-husband, Javier. In August 2013, Brewster appeared in episode 106 of the Drunk History television series on Comedy Central. In January 2015 Brewster appeared on Community. In February 2014 it was announced that she had been cast in a new ABC comedy called St. Francis. In August 2016, it was announced that she would be reprising her role as Emily Prentiss on Criminal Minds and would once again be a series regular. Brewster also regularly appears on "Will You Accept This Rose", a Nerdist podcast hosted by Arden Myrin about The Bachelor franchise.
Personal life
On the March 30, 2006 episode of Late Night with Conan O'Brien, Brewster revealed that she had received a handwritten note indicating Hugh Hefner would like her to pose for Playboy. She seriously considered the offer, but even though she said that she admired Playboy more than magazines such as Maxim and FHM and her parents gave her their blessing, she eventually turned it down.[12] She has volunteered as an actress with the Los Angeles Young Storytellers Program.[13]
On March 17, 2013, Brewster became engaged to Steve Damstra. She made the announcement via Twitter by posting a photograph of the jade engagement ring on her finger.[14][15] Damstra is in the band Folded Light and Whirlwind Heat. Brewster and Damstra were married on November 29, 2014, in Los Angeles, California, in a ceremony officiated by Criminal Minds co-star Matthew Gray Gubler, their best friend.[16][17] They reside in Los Angeles.[1]
Filmography
Film
Year
Title
Role
Notes
1998
Let's Talk About Sex
Michelle
1999
Desperate But Not Serious
Frances
2000
The Adventures of Rocky and Bullwinkle
Jenny Spy
The Specials
Emily Tilderbrook/Ms. Indestructible
2001
Agent 15
Agent 15
Short film
Hollywood Palms
Phoebe
Skippy
Julie Fontaine
2002
Now You Know
Lea
2003
Brainwarp
Lipstikk
Short film
2004
Eulogy
Aunt Lily
2005
Man of the House
Binky Beauregard
My Big Fat Independent Movie
Julianne
2006
Cyxork 7
Bethany Feral
The Big Bad Swim
Amy Pierson
Kidney Thieves
Melinda
Short film
Unaccompanied Minors
Valerie Davenport
2007
Sublime
Andrea
Direct-to-video
2012
Batman: The Dark Knight Returns
Lana Lang (voice)
2014
Gumshoe
Stiletto (voice)
Short film
2015
Justice League: Gods and Monsters
Lois Lane (voice)
Uncle Nick
Sophie
Welcome to Happiness
Priscilla
2017
Axis
Dr. Lynch (voice)
2017
Batman and Harley Quinn
Poison Ivy (voice)
Direct-to-video
Television
Year
Title
Role
Notes
1997-1998
Friends
Kathy
6 episodes
1998
Ghost Cop
Anette
Episode: "Pilot"
Godzilla: The Series
Audrey Timmonds (voice)
11 episodes
Max Q
Rena Winter
Television film
1999
The Expert
Dr. Jo Hardy
Episode: "Pilot"
1999-2000
Love & Money
Allison Conkli
13 episodes
2000
Star Patrol
Rachel Striker
Pilot
One True Love
Tina
Television film
2000-2001
The Trouble With Normal
Claire Garletti
13 episodes
2001
DAG
Patti Donovan
Episode: "Prom"
Raising Dad
Gracie
Episode: "Sex Ed"
2002
George Lopez
Ginger
Episode: "The Wedding Dance"
2002-2003
Andy Richter Controls the Universe
Jessica Green
19 episodes
2003
The Snobs
Pilot
Time Belt
Col. Jocelyn Anchor
Episode: "Oh. Shit. Zombies."
2004
Rock Me, Baby
Debbie
Episode: "Look Who's Talking"
2004-2006
Huff
Beth Huffstodt
25 episodes
2005
Two and a Half Men
Jamie Eckleberry
Episode: "A Lungful of Alan"
Duck Dodgers
Rona Vipra (voice)
2 episodes
Amber Frey: Witness for the Prosecution
Carol Carter
Television film
2005-2007
Harvey Birdman, Attorney at Law
Birdgirl (voice)
9 episodes

2005-2009;
2011;
2013;
2017-

American Dad!
Various voices
16 episodes
2005-2006
Stacked
Charlotte
3 episodes
2006
Drawn Together
Child Services (voice)
Episode: "Captain Girl"
A Perfect Day
Allyson Harlan
Television film
2016-present
Criminal Minds
Emily Prentiss
Main role
Law & Order: Special Victims Unit
Sheila Tierney / ADA Paula Foster
3 episodes
2008
Lost Behind Bars
Lauren Wilde
Television film
2009
King of the Hill
Myrna (voice)
Episode: "Lucky See, Monkey Do"
2011-2013
Dan Vs.
Elise / Various voices
53 episodes
2011
My Life As an Experiment
Stacie Wilder
Pilot
2013
Modern Family
Trish
Episode: "Flip Flop"
Spy
Erica
Pilot
The Birthday Boys
Keri
Episode: "Going All the Way"
2013-2015
The Venture Bros.
Amber Gold / Various voices
3 episodes
2013-present
Drunk History
Herself / Emma Folsom
6 episodes
2014-2015
Community
Debra Chambers / Francesca "Frankie" Dart
14 episodes
2014
The Boondocks
Various voices
Episode: "The New Black"
Saint Francis
Stephanie Quinlan
Pilot
Key and Peele
Det. Sally Ferguson
Episode: "Sex Detective"
2014-2016
Adventure Time
Viola (voice)
2 episodes
2015
Down Dog
Amanda Asher
Pilot
Kroll Show
Bobby's Mom
Episode: "The In Addition Tos"
Moonbeam City
Charisma Miller, Sophistica Miller (voice)
Episode: "Lasers & Liars"
W/ Bob & David
Charlene Boyeur
Episode: "Episode 1"
Justice League: Gods and Monsters Chronicles
Lois Lane (voice)
Episode: "Bomb"
2015-present
Another Period
Dodo Bellacourt
14 episodes
2015-2016
Grandfathered
Sara Kingsley
Main role; 22 episodes
2016
Family Guy
Gretchen Mercer (voice)
Episode: "Take a Letter"
Future-Worm!
Mrs. Claus (voice)
Episode: "Lost in the Mall"
2017
Criminal Minds: Beyond Borders
Emily Prentiss
Episode: "Type A"
2018
Mighty Magiswords
Veronica Victorious
Episode: "Mall of Shame"
DuckTales
Della Duck (voice)
Episode: "The Shadow War!"
[ Source: Wikipedia ]