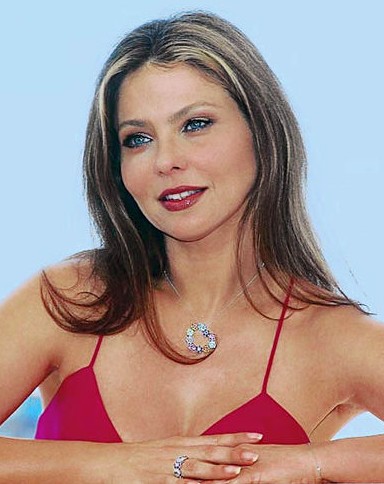 Ornella Muti
Birth name:
Francesca Romana Rivelli
Born:
March 9, 1955
Age:
68
Birthplace:
Rome, Italy
Popularity:

Please login to contact Ornella Muti...
Biography
Ornella Muti (born 9 March 1955) is an Italian actress.
She was born in Rome as
Francesca Romana Rivelli
, to a Neapolitan journalist father and Ilse Renate Krause, a Baltic German sculptor from Estonia. Her maternal grandparents emigrated from Leningrad (now Saint Petersburg, Russia) to Estonia.[1] She has an older sister, Claudia (born 1950).
Read more...
Career
Muti modeled as a teenager and made her film debut in 1970 in La moglie più bella (aka The Most Beautiful Wife). She has primarily worked in Italian films but she made her English-speaking film debut as Princess Aura in Flash Gordon in 1980. American movies she appeared in include Love and Money (1982), Casanova (1987), Wait Until Spring, Bandini (1989), A Season of Giants (1990), Oscar (1991), Once Upon a Crime (1992), Somewhere in the City (1998) and To Rome with Love (2012).
She is mostly known to the French for appearing in a television commercial of Giovanni Panzani pasta. She was voted "The Most Beautiful Woman in the World" in 1994 by a worldwide poll of readers of the magazine Class.[citation needed]
In 2008, Muti introduced her own line of jewelry.[2] She opened new shops in Paris, Milan, Rome, Riga, Moscow and Almaty.[when?] She reportedly insured her breasts for $350,000.[3][when?]
Personal life
Muti has been married twice, first to Alessio Orano (a fellow actor in The Most Beautiful Wife), from 1975-81. She was married, secondly, to Federico Fachinetti, from 1988 to 1996. Muti has three children: Naike Rivelli (born 1974), a fashion model, singer, and actress (whose father is Spanish film producer José Luis Bermúdez de Castro Acaso); a son, Andrea, and a second daughter, Carolina, both from her marriage to Fachinetti. In September 2016, she announced the intention to have also a Russian citizenship when she visited the island Sakhalin, Muti owns a permanent residence in Russia and applied for citizenship the same year.[4]
Selected filmography
La moglie più bella (The Most Beautiful Wife, 1970)
Il Sole nella pelle (1971, also known as Summer Affair, Sun on the Skin)
Un posto ideale per uccidere (Oasis of Fear, 1971)
The House of the Doves (1972)
Le Monache di Sant'Arcangelo (1973, also known as Sisters of Satan, The Nuns of Saint Archangel, The Nun and the Devil)
Italian Graffiti (1973)
Romanzo popolare (1974, also known as Come Home and Meet My Wife)
The Sensual Man (1974)
Appassionata (1974, also known as Passionate)
Leonor (fr) (1975)
Pure as a Lily (1976)
La Dernière femme (1976, also known as The Last Woman, L'Ultima donna)
La stanza del vescovo, (1977, also known as The Bishop's Room)
Mort d'un pourri (1977, also known as Death of a Corrupt Man, The Twisted Detective)
I nuovi mostri (1977)
Ritratto di borghesia in nero (1978, also known as Nest of Vipers, Portrait of a Bourgeois in Black)
Eutanasia di un amore (1978)
Primo amore (1978)
Neapolitan Mystery (1979)
La vita è bella (Life is Beautiful, 1979)
Flash Gordon (1980)
Il Bisbetico Domato (1980)
Storie di ordinaria follia (Tales of Ordinary Madness, 1981)
Nessuno è perfetto (1981)
Innamorato pazzo (Madly in Love, 1981)
Love and Money (1982)
La ragazza di Trieste (The Girl from Trieste, 1982)
Bonnie e Clyde all'italiana (Bonnie and Clyde Italian Style, 1983)
Un povero ricco (Rich and Poor, 1983)
Un amour de Swann (1984, also known as Eine Liebe von Swann, Swann in Love)
Il futuro è donna (The Future Is Woman, 1984)
All the Fault of Paradise (Tutta colpa del paradiso) (1985)
Stregati (1986)
Grandi magazzini (1986)
Io e mia sorella (Me and My Sister, 1987)
Casanova (1987)
Cronaca di una morte annunciata (Chronicle of a Death Foretold, 1987)
Il frullo del passero (The Sparrow's Fluttering, 1988)
O Re (The King of Naples) (1989)
Codice privato (1989)
Wait Until Spring, Bandini (1989)
Il Viaggio di Capitan Fracassa (1990, English titles: Captain Fracassa's Journey, The Voyage of Captain Fracassa)
Stasera a casa di Alice (1990)
A Season of Giants (1990)
Oscar (1991)
Count Max (1991)
La domenica specialmente (Especially on Sunday, 1991)
Once Upon a Crime (1992)
El Amante Bilingüe (The Bilingual Lover, 1993)
Compromesso d'amore (1995, Spanish title: Tatiana, la muñeca rusa, US title: Love Deal)
Mi fai un favore (1996, US title: Stella's Favor)
Pour rire! (1996)
Widows - Erst die Ehe, dann das Vergnügen (1998)
Somewhere in the City (1998)
The Count of Monte Cristo (1998, miniseries)
Esther (1999 film)
The Unscarred (1999), co-starred with daughter Naike Rivelli
Panni sporchi (Dirty Linen, 1999)
Tierra del fuego (2000)
Jet Set (2000)
Domani (2001, English title: Tomorrow)
Il figlio prediletto (2001 Brazil, Portuguese title: Um Crime Nobre)
Last Run (2001) as Danny
Hotel (2001) as Flamenco Spokesperson
Cavale (2002, also known as Trilogy: One, On the Run) as Cécile Costes
Un couple épatant (2002, also known as Trilogy: Two, An Amazing Couple) as Cécile Costes
Après la vie (2002, also known as Trilogy: Three, After the Life) as Cécile Rivet
Uomini & donne, amori & bugie (2003) as Anna
The Tulse Luper Suitcases, Part 1: The Moab Story (2003) as Mathilde Figura
The Tulse Luper Suitcases, Part 2: Vaux to the Sea (2004) as Mathilde Figura
The Heart Is Deceitful Above All Things (2004) as Grandmother
People (2004) as Aphrodita
The Tulse Luper Suitcases, Part 3: From Sark to the Finish (2004) as Mathilde Figura
Di que sí (2004) as Francesca, la directora
La bambina dalle mani sporche (2005, TV Movie) as Wanda Rosso
A Life in Suitcases (2005) as Mathilde Figura
Friday or Another Day (2005) as La mère de Philippe Rohan
Les Bronzés 3: Amis pour la vie (2006) as Graziella Sparaggi Lespinasse
L'Inchiesta (2006) as Mary of Magdalene
Peopling the Palaces at Venaria Reale (2007) as Marchesa di Caraglio
Civico zero (2007) as Nina
Postcards from Rome (2008) as Ornella
Io non ci casco (2008) as Professoressa Lamberti
Doc West (2009, TV Movie) as Debra Downing
To Rome with Love (2012) as Pia Fusari
Checkmate (2016) as Penury
[ Source: Wikipedia ]