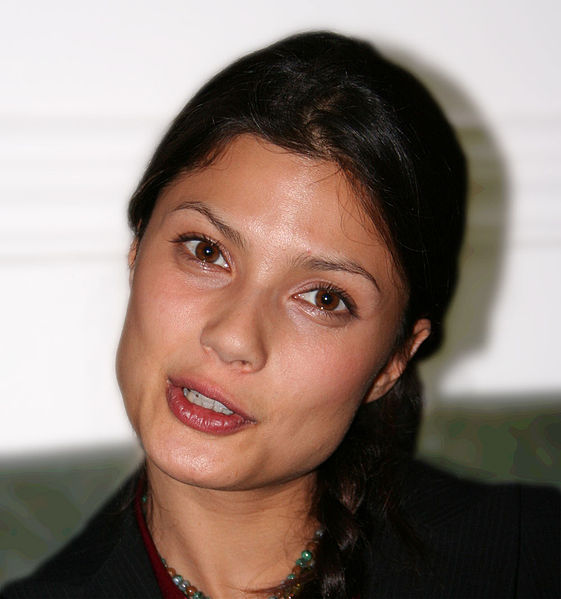 Natassia Malthe
Born:
January 19, 1974
Age:
49
Birthplace:
Oslo, Norway
Popularity:

Please login to contact Natassia Malthe...
Biography
Linn Natassia Malthe (born 19 January 1974) is a Norwegian model and actress.
Natassia is the younger of two daughters. She was born in Oslo, Norway, and is of half Malaysian descent. Her mother is from Kota Kinabalu, Sabah.[1] She is usually credited by her birth name but is sometimes credited as "Lina Teal".
In Scotland, and Norway, Malthe went to dance schools at the Goh Ballet Academy, and the Norwegian Opera House respectively, where she sang and danced while finishing high school. Later she moved to London, England to study musical theater. From there she went to Los Angeles and landed her first part on television.
In 2005, Natassia Malthe, with Jennifer Garner was nominated at MTV Movie Awards for MTV Movie Award for Best Kiss.[2]
In 2009, Malthe starred as an elf bounty-hunter and sorceress-in-training in the Sci Fi Channel miniseries Knights of Bloodsteel.[3] She also does fashion modeling and is among the Girls of Maxim and Toro Women.[4]
In 2017, Malthe joined numerous other women in accusing film producer Harvey Weinstein of sexual improprieties, specifically rape in her instance.[5][6]
Read more...
Filmography
| Year | Title | Role | Notes |
| --- | --- | --- | --- |
| 1996 | Viper | Trixie | Episode: "Holy Matrimony" |
| 1997 | Millennium | New Leslie | Episode: "Loin Like a Hunting Flame" |
| 1998 | Disturbing Behavior | Mary Jo Copeland | |
| 1998 | First Wave | Maid | Episode: "Hotel California" |
| 1999 | Lake Placid | Janine | |
| 2000 | Me, Myself & Irene | Actor - Actor | |
| 2000 | Dark Angel | Redhead at Party | Episode: "Pilot" |
| 2001 | Seven Days | Lana | Episode: "Live: From Death Row" |
| 2001 | Trapped | Marisa | TV movie |
| 2001 | The Wedding Dress | Lula | TV movie |
| 2002 | The Chris Isaak Show | Olivia Ulmer | Episode: "Family Ties" |
| 2002 | 40 Days and 40 Nights | Girl in Bed | |
| 2002 | Stark Raving Mad | Stacie | |
| 2002 | Halloween: Resurrection | French Maid | |
| 2002 | K-9: P.I. | Dirty Dancer | TV movie |
| 2003 | A Guy Thing | Melanie | |
| 2004 | Chicks with Sticks | Marcie Rutledge | |
| 2004 | Call Me: The Rise and Fall of Heidi Fleiss | Charisse | TV movie |
| 2004 | Maxim Uncovered! Vol. 2 | Model | Video |
| 2004 | The Dead Zone | Tyler | Episode: "Shadows" |
| 2004 | Andromeda | Tolek | Episode: "So Burn the Untamed Lands" |
| 2005 | Devil's Highway | Michelle | |
| 2005 | Elektra | Typhoid | |
| 2005 | Wish You Were Here | Georgie | |
| 2005 | Bound By Lies | Randi Fuller | TV movie |
| 2005 | Awake | Rebecca | |
| 2005 | La belle dame sans merci | The Lady | |
| 2005 | Confessions of a Sociopathic Social Climber | Frangiapani | TV movie |
| 2005 | Bloodsuckers | Quintana | TV movie |
| 2006 | Chaos | Gina Lopez | |
| 2006 | Big Momma's House 2 | Angela Pierce Turner | |
| 2006 | Dead & Deader | Dr. Boyce | TV movie |
| 2006 | Skinwalkers | Sonja | |
| 2006 | DOA: Dead or Alive | Ayane | |
| 2007 | Sex and Death 101 | Bambi | |
| 2007 | Fallen | Gadreel | Episodes: "The Time of the Redeemer", "Mysterious Ways and All That" |
| 2007 | BloodRayne II: Deliverance | Rayne | |
| 2008 | Alone in the Dark II | Turner | |
| 2008 | The Other Side of the Tracks | Lucinda | |
| 2009 | Knights of Bloodsteel | Perfidia | 2 episodes |
| 2009 | The Assistants | Tabitha Tinsdale | Episode: "Rehab" |
| 2009 | Slave | Georgie | |
| 2010 | Fringe | Linda | Episode: "What Lies Below" |
| 2010 | BloodRayne 3: The Third Reich | Rayne | |
| 2010 | Manslaughter | Toni | |
| 2011 | In the Name of the King 2 | Manhattan | |
| 2011 | Avarice | Mary | |
| 2013 | Vikingdom | Brynna | |
| 2015 | The Good, the Bad and the Dead | Christine | |
| 2018 | Battle Drone | Valkyrie | |
| 2018 | Alpha | Rho | |
[ Source: Wikipedia ]