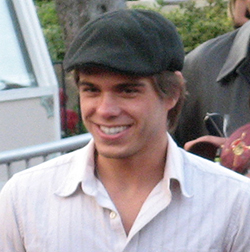 Matthew Lawrence
Birth name:
Matthew William Lawrence
Born:
February 11, 1980
Age:
43
Birthplace:
Abington Township, Pennsylvania, U.S.
Popularity:

Please login to contact Matthew Lawrence...
Biography
Matthew William Lawrence (born February 11, 1980) is an American actor and singer known for his roles as Chris Hillard in Mrs. Doubtfire, Jack Hunter in Boy Meets World, and Matt Roman in Brotherly Love.
Lawrence was born in Abington Township, Pennsylvania, the son of Donna Lynn (née Shaw), a personnel manager, and Joseph Lawrence, Sr., an insurance broker.[1][2] His family's surname was changed to Lawrence from Mignogna before he was born. He is of half Italian descent.[3] He is the middle-born of three boys; with two brothers,
Joey Lawrence
and Andy, both of whom are also actors.[4][5] Lawrence attended classes at Abington Friends School.
Read more...
Career
Lawrence began acting in the mid-1980s, his first role being that of Danny Carrington in Dynasty. He continued as a child actor through the early 1990s, appearing in many television and feature film roles, including the 1993 Robin Williams comedy Mrs. Doubtfire and the mid-1990s television series Superhuman Samurai Syber-Squad. In addition, he maintained starring roles in Brotherly Love, which starred his real life brothers, and Boy Meets World where he played Jack Hunter. Lawrence also appeared alongside Rob Schneider in The Hot Chick. He reprised his role as Jack Hunter in Girl Meets World.
Lawrence's singing debut was in 1986, when he and Joey performed at the 1986 Macy's Thanksgiving Day Parade. (Matt sang at the 1991 Macy's Parade as well.) Other musical Matt rarities can be found on two Gimme A Break episodes (Nell's Secret Admirer; Johnny B. Goode & The Window; Part 1; Rock & Roll Music), two Brotherly Love episodes (A Roman Holiday; Silent Night, Art Attack; Pigeon On Your Car) and his last musical moment on Boy Meets World (As Time Goes By; This Dame). Except for Silent Night and This Dame, Matt also played guitar on the remaining three.
In 2011, Lawrence guest-starred on his brother's sitcom ABC Family's Melissa & Joey.[6]
In 2015, he reprised his role as Jack Hunter in the series Girl Meets World, a spin-off/sequel of Boy Meets World.[7]
Music Career
In 2017 Matt started a band with Joey and Andy called Still Three. They released their debut single "Lose Myself".[8]
Personal life
He was previously engaged to Heidi Mueller from 2004 to 2006.[9] He has been dating professional dancer Cheryl Burke since February 2017. On May 3, 2018, they got engaged.[10]
Filmography
Film

| Year | Title | Role | Notes |
| --- | --- | --- | --- |
| 1987 | Planes, Trains and Automobiles | Little Neal | |
| 1988 | Pulse | Stevie | |
| 1990 | Tales from the Darkside: The Movie | Timmy | |
| 1993 | Mrs. Doubtfire | Christopher "Chris" Hillard | |
| 1998 | The Hairy Bird | Dennis | AKA, All I Wanna Do |
| 1998 | Rusty: A Dog's Tale | Rusty the Dog (voice) | |
| 1998 | Kiki's Delivery Service | Tombo (voice) | English dub |
| 2000 | Glow | Jeremy | |
| 2000 | Big Monster on Campus | Frank Stein | |
| 2002 | Cheats | Victor | |
| 2002 | The Hot Chick | Billy | |
| 2006 | Monster Night | Brock | Video |
| 2007 | The Comebacks | Lance Truman | |
| 2008 | Trucker | Scott | |
| 2009 | Creature of Darkness | Lance | |
| 2011 | Fort McCoy | Dan Griffin | |
| 2013 | My Santa | Chris | |
| 2014 | Of Silence | Brian | |
| 2014 | The Dog Who Saved Easter | Will | |
| 2016 | Evol: The Theory of Love | Ben Dawson | |
Television

| Year | Title | Role | Notes |
| --- | --- | --- | --- |
| 1984-1985 | Dynasty | Danny Carrington | 3 episodes |
| 1985 | Sara | Jesse Webber | Recurring role (13 episodes) |
| 1985 | ABC Afterschool Special | Matt | Episode: "Don't Touch" |
| 1986-1987 | Gimme a Break! | Matthew Donovan | 18 episodes |
| 1988 | David | David Rothenberg | TV film |
| 1989 | Wilfrid's Special Christmas | Wilfrid Gordon McDonald Partridge | TV film |
| 1990 | Joshua's Heart | Joshua | TV film |
| 1990 | Lifestories: Families in Crisis | | Episode: "The Hawkins Family" |
| 1991 | The Summer My Father Grew Up | Timmy | TV film |
| 1991 | Daddy | Sam Watson | TV film |
| 1991-1994 | Blossom | Young Joey | 3 episodes |
| 1991-1992 | Drexell's Class | Walker | 14 episodes |
| 1991-1992 | Walter & Emily | Zach Collins | 13 episodes |
| 1992 | With a Vengeance | Phillip Barcetti | TV film |
| 1994-1995 | Superhuman Samurai Syber-Squad | Sam Collins / Servo | Main role (53 episodes) |
| 1995 | Bringing up Jack | Ryan McMahon | 6 episodes |
| 1995-1997 | Brotherly Love | Matt Roman | Main role (40 episodes) |
| 1996 | Brothers of the Frontier | Aaron Frye | TV film |
| 1996 | Adventures from the Book of Virtues | Tom Sawyer (voice) | Episode: "Work" |
| 1997 | Angels in the Endzone | Jesse Harper | TV film |
| 1997-2000 | Boy Meets World | Jack Hunter | Main role (68 episodes) |
| 1999 | H-E Double Hockey Sticks | Dave Heinrich | TV film |
| 1999 | Horse Sense | Cowboy at Airport (uncredited) | TV film |
| 2000 | Girl Band | Mike | TV film |
| 2001 | Jumping Ship | Jake Hunter | TV film |
| 2003 | CSI: Miami | Chuck Shaw | Episode: "Hard Time" |
| 2004 | Boston Public | Billy Deegan | Episode: "Chapter 80" |
| 2011-2014 | Melissa & Joey | Tony Longo | 4 episodes |
| 2011 | Inside Carly | Jim | TV series |
| 2015 | Workaholics | Coast Guard Guy | Episode: "Front Yard Wrestling" |
| 2015 | Girl Meets World | Jack Hunter | Episode: "Girl Meets Semi-Formal" |
[ Source: Wikipedia ]