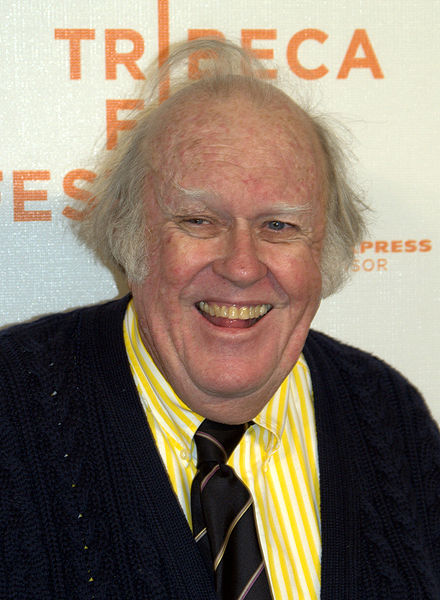 M. Emmet Walsh
Birth name:
Michael Emmet Walsh
Born:
March 22, 1935
Age:
88
Birthplace:
Ogdensburg, New York, U.S.
Popularity:

Please login to contact M. Emmet Walsh...
Biography
Michael Emmet Walsh (born March 22, 1935) is an American character actor[1] and comedian who has appeared in over 200 films and television series. He appeared in the Coen Brothers' first film, Blood Simple (1984). He also appeared in such other films as Carl Reiner's comedy The Jerk (1979), Ridley Scott's science fiction film Blade Runner (1982), and Brad Bird's animated film The Iron Giant (1999).
Walsh was born in Ogdensburg, New York, the son of Agnes Katharine (
née
Sullivan) and Harry Maurice Walsh Sr., a customs agent.[2] He is of Irish descent.[3] He was raised in rural Swanton, Vermont,[4] and attended Clarkson University.
He graduated in 1958 (B.A., Business Administration). In 1998, the Clarkson Alumni Association presented him with the Golden Knight Award.[5]
Read more...
Career
Walsh came to prominence in the 1978 crime film Straight Time, in which he played a parole officer. He also had a small but memorable role as a crazed sniper in the Steve Martin comedy The Jerk. One of his best-known roles was Captain Harry Bryant in Ridley Scott's cult film Blade Runner. His most acclaimed performance was arguably the double-crossing private detective in Blood Simple (1984), for which he won the 1986 Independent Spirit Award for Best Male Lead.
Walsh made occasional guest appearances on Home Improvement as Tim Taylor's father-in-law. In 1992, he appeared as a powerful U.S. Senator in David Winning's Killer Image. In Christmas with the Kranks, he played one of the Kranks' neighbors. He also appeared as Alex Lembeck, a motorcycle cop who appointed himself as Sandy Stockton's chaperone and protector on The Sandy Duncan Show in 1972. He appeared in an episode of the NBC drama series Gibbsville in 1976 and Little House on the Prairie in 1981.[6]
In comedy, Walsh played the cynical small town sportswriter Dickie Dunn in the iconic 1977 hockey film Slap Shot, and a college diving coach in the Rodney Dangerfield film Back to School.[citation needed]
Filmography
Film
| Year | Title | Role | Notes |
| --- | --- | --- | --- |
| 1969 | Alice's Restaurant | Group W Sergeant | |
| 1969 | Midnight Cowboy | Bus Passenger | Uncredited |
| 1969 | Stiletto | Racing Partner | Uncredited |
| 1970 | End of the Road | Crab Man / Tutu Man | |
| 1970 | The Traveling Executioner | Warden Brodski | |
| 1970 | Little Big Man | Shotgun Guard | |
| 1971 | Cold Turkey | Art | |
| 1971 | Escape from the Planet of the Apes | Aide to General Winthrop | |
| 1971 | They Might Be Giants | 1st Sanitation Man | |
| 1972 | What's Up, Doc? | Arresting Officer | |
| 1972 | Get to Know Your Rabbit | Mr. Wendel | |
| 1973 | Kid Blue | Barber | |
| 1973 | Serpico | Chief Gallagher | |
| 1974 | The Gambler | Las Vegas Gambler | |
| 1975 | At Long Last Love | Harold | |
| 1975 | Crime Club | Harold | |
| 1975 | The Prisoner of Second Avenue | Joe | |
| 1976 | Bound for Glory | Husband | |
| 1976 | Nickelodeon | "Father" Logan | |
| 1976 | The Invasion of Johnson County | Irvine | |
| 1976 | Mikey and Nicky | Bus Driver | |
| 1977 | Slap Shot | Dickie Dunn | |
| 1977 | Airport '77 | Dr. Williams | |
| 1978 | Straight Time | Earl Frank | |
| 1979 | The Fish That Saved Pittsburgh | Wally Cantrell | |
| 1979 | The Jerk | Madman | |
| 1980 | Brubaker | C.P. 'Woody' Woodward | |
| 1980 | Raise the Titanic | Master Chief Walker | |
| 1980 | Ordinary People | Coach Salan | |
| 1981 | Back Roads | Arthur | |
| 1981 | Reds | Speaker at Liberal Club | |
| 1982 | Cannery Row | Mack | |
| 1982 | The Escape Artist | Fritz | |
| 1982 | Blade Runner | Captain Bryant | |
| 1982 | Fast-Walking | Sergeant Sanger | |
| 1983 | Silkwood | Walt Yarborough | |
| 1984 | Courage | Colonel Crouse | |
| 1984 | Missing in Action | Jack Tucker | |
| 1984 | Grandview, U.S.A. | Mr. Clark | |
| 1984 | Blood Simple | Loren Visser | |
| 1984 | The Pope of Greenwich Village | Burns | |
| 1984 | Scandalous | Simon Reynolds | |
| 1985 | Fletch | Dr. Joseph Dolan | |
| 1986 | Wildcats | Walt Coes | |
| 1986 | Critters | Harv | |
| 1986 | The Best of Times | Charlie | |
| 1986 | Vanishing America | Earl Crockett | |
| 1986 | Back to School | Coach Turnbull | |
| 1987 | Harry and the Hendersons | George Henderson Sr. | |
| 1987 | No Man's Land | Capt. Haun | |
| 1987 | Raising Arizona | Machine Shop Ear-Bender | |
| 1988 | The Milagro Beanfield War | Governor | |
| 1988 | Clean and Sober | Richard Dirk | |
| 1988 | Sunset | Chief Dibner | |
| 1988 | War Party | Colin Ditwelier | |
| 1988 | Red Scorpion | Dewey Furguson | |
| 1989 | The Mighty Quinn | Fred Miller | |
| 1989 | Catch Me If You Can | Johnny Phatmun | |
| 1989 | Chattahoochee | Morris | |
| 1989 | Sundown: The Vampire in Retreat | Mort | |
| 1989 | Thunderground | Wedge | |
| 1990 | Narrow Margin | Sergeant Dominick Benti | |
| 1992 | The Naked Truth | Garcia | |
| 1992 | Killer Image | Senator John Kane | |
| 1992 | White Sands | Bert Gibson | |
| 1992 | Equinox | Pete Petosa | |
| 1993 | Bitter Harvest | Sheriff Bob | |
| 1993 | The Music of Chance | Calvin Murks | |
| 1993 | Wilder Napalm | Fire Chief | |
| 1994 | Dead Badge | Sergeant Miller Hoskins | |
| 1994 | Relative Fear | Earl Ladelle | |
| 1994 | Camp Nowhere | T.R. Polk | |
| 1994 | The Glass Shield | Detective Jessie Hall | |
| 1994 | Cops & Robbersons | Unknown character | Uncredited |
| 1995 | Criminal Hearts | Martin | |
| 1995 | Free Willy 2: The Adventure Home | Bill Wilcox | |
| 1995 | Panther | Dorsett | |
| 1996 | Portraits of a Killer | Raymond Garrison | |
| 1996 | Albino Alligator | Dino | |
| 1996 | A Time to Kill | Dr. Bass | Uncredited |
| 1996 | William Shakespeare's Romeo + Juliet | Apothecary | |
| 1997 | The Killing Jar | Sheriff Foley | |
| 1997 | Retroactive | Sam | |
| 1997 | My Best Friend's Wedding | Joe O'Neal | |
| 1998 | Chairman of the Board | Freemont | |
| 1998 | Twilight | Lester Ivar | |
| 1998 | Erasable You | Ralph Worth | |
| 1998 | Nightmare in Big Sky Country | Marshal Phillips | |
| 1999 | Wild Wild West | Coleman | |
| 1999 | The Iron Giant | Earl Stutz (voice) | |
| 1999 | Random Hearts | Billy | Uncredited |
| 1999 | Me and Will | Dean | |
| 1999 | Jack of Hearts | Commissioner Menlo Boyce | |
| 2000 | Poor White Trash | Judge Pike | |
| 2001 | Eyeball Eddie | Coach Cook | Short film |
| 2001 | Christmas in the Clouds | Stu O'Malley | |
| 2002 | Snow Dogs | George Murphy | |
| 2003 | Baggage | Sandy Westphall | |
| 2004 | Christmas with the Kranks | Walt Scheel | |
| 2005 | Greener Mountain | Muggs | |
| 2005 | Racing Stripes | Woodzie | |
| 2007 | Man in the Chair | Mickey Hopkins | |
| 2007 | Big Stan | Lew Popper | |
| 2008 | Sherman's Way | Hoyt | |
| 2008 | Your Name Here | Kroger/Maurice Stanz | |
| 2008 | Haunted Echoes | Neil | |
| 2009 | Don McKay | Samuel | |
| 2009 | Sam Steele and the Jr. Detective Agency | Chief Van Owen | |
| 2009 | Youth in Revolt | Mr. Saunders | |
| 2010 | Chasing 3000 | Chuck Ireland | |
| 2012 | The Odd Life of Timothy Green | Bub | |
| 2012 | Arthur Newman | Zazek | |
| 2012 | Love Sick Love | Ed | |
| 2014 | Calvary | The Writer | |
| 2015 | Boiling Pot | Dean Marison | |
| 2015 | The Scorpion King 4: Quest for Power | Gorak | |
| 2017 | Shifting Gears | Hank | Post-production |
| 2017 | Change in the Air | Walter Lemke | Post-production |
Television
| Year | Title | Role | Notes |
| --- | --- | --- | --- |
| 1968 | The Doctors | Jason Randall | Multiple episodes |
| 1969 | N.Y.P.D. | Unknown character | Episode: "Who's Got the Bundle?" |
| 1970 | Arnie | Cliff | Episode: "To Buy or Not to Buy?" |
| 1971 | Julia | Gus Anderson | 2 episodes |
| 1971 | All in the Family | Billy Hartfield | Episode: "The Saga of Cousin Oscar" |
| 1971 | The Jimmy Stewart Show | Lionel Atkins | Episode: "Another Day, Another Scholar" |
| 1971 | Ironside | Telegraph Clerk | Episode: "Dear Fran..." |
| 1971 | Bonanza | Mattheson | Episode: "Warbonnet" |
| 1971-1972 | Nichols | Gabe McCutcheon | 6 episodes |
| 1972 | The Don Rickles Show | Kingston | Episode: "Episode Four" |
| 1972 | The Bob Newhart Show | Jack Hoover | Episode: "P-I-L-O-T" |
| 1972 | The Sandy Duncan Show | Alex Lembeck | 11 episodes |
| 1974 | Doctor Fran | Mr. Wallace | Television film |
| 1974 | McMillan & Wife | Officer Ames | Episode: "Buried Alive" |
| 1974 | Amy Prentiss | Tom | Episode: "Baptism of Fire" |
| 1975 | The Rockford Files | Edgar Burch | Episode: "Counter Gambit" |
| 1975 | Sarah T. - Portrait of a Teenage Alcoholic | Mr. Wallace | Television film |
| 1975 | The Waltons | David Fletcher | Episode: "The Venture" |
| 1975, 1976 | Baretta | McDade / Potter | 2 episodes |
| 1976 | Gibbsville | Yostie | Episode: "Afternoon Waltz" |
| 1976, 1978 | Starsky and Hutch | Freddie / Lloyd Herman Eckworth | 2 episodes |
| 1977 | Mary Hartman, Mary Hartman | Officer Malloy | 2 episodes |
| 1977 | Red Alert | Sheriff Sweeney | Television film |
| 1978 | Superdome | Whitley | Television film |
| 1978 | James at 15 | Coach Federson | Episode: "Queen of the Silver Dollar" |
| 1979 | The French Atlantic Affair | Harry | 3 episodes |
| 1979 | Dear Detective | Capt. Gorcey | Episode: "Pilot" |
| 1979 | No Other Love | DeFranco | Television film |
| 1979 | The Gift | Legion Commander | Television film |
| 1980 | City in Fear | Sheldon Lewis | Television film |
| 1980 | Skag | Moran | Episode: "Pilot" |
| 1980 | High Noon, Part II: The Return of Will Kane | Harold Patton | Television film |
| 1981 | East of Eden | Sheriff Horace Quinn | 3 episodes |
| 1981 | Little House on the Prairie | Callahan | Episode: "Chicago" |
| 1983 | ABC Afterschool Special | Joe Lempke | Episode: "The Woman Who Willed a Miracle" |
| 1983 | Night Partners | Joe Kirby | Television film |
| 1984 | AfterMASH | Samuel Lynn | Episode: "The Case of the People of Florida vs. Joseph Landrum" |
| 1984 | The Outlaws | Warden MacDonald | Television film |
| 1985 | ABC Weekend Special | Rocco | Episode: "The Adventures of Con Sawyer and Hucklemary Finn" |
| 1985 | The Twilight Zone | Peter | Episode: "Dealer's Choice" |
| 1986 | The Hitchhiker | Detective Underhill | Episode: "Ghostwriter" |
| 1986 | The Right of the People | Mayor | Television film |
| 1986 | Resting Place | Sarge | Television film |
| 1986 | The Disney Sunday Movie | General Presser | Episode: "Hero in the Family" |
| 1986 | The Deliberate Stranger | Det. Sam Davies | Television film |
| 1986 | Amazing Stories | Grandpa | Episode: "Magic Saturday" |
| 1987 | Broken Vows | Detective Mulligan | Television film |
| 1987 | The Abduction of Kari Swenson | Don Nichols | Television film |
| 1987 | Murder Ordained | Vern Humphrey | Miniseries |
| 1989 | Brotherhood of the Rose | Hardy | 2 episodes |
| 1989 | Unsub | Ned Platt | 8 episodes |
| 1989 | Tales from the Crypt | Jonas | Episode: "Collection Completed" |
| 1990 | True Betrayal | Clyde Wilson | Television film |
| 1990 | The Civil War | Various (voice) | 9 episodes |
| 1990 | The Flash | Henry Allen | 2 episodes |
| 1991 | Deadly Identity | Harry | Television film |
| 1991 | Silverfox | Charles Blankenship | Television film |
| 1992 | Wild Card | Mose | Television film |
| 1993 | The Jackie Thomas Show | Arlen Thomas | Episode: "Aloha, Io-wahu" |
| 1994 | Home Improvement | Col. Fred Patterson | 2 episodes |
| 1994 | Probable Cause | Sadler | Television film |
| 1995 | From the Mixed-Up Files of Mrs. Basil E. Frankweiler | Morris | Television film |
| 1996 | The Outer Limits | Sanford Vallé | Episode: "The Refuge" |
| 1996 | Early Edition | Santa | Episode: "Christmas" |
| 1996 | Madness of Method | Rudolph Thorndyke | Television short film |
| 1998 | Tracey Takes On... | Jimmy Duff | Episode: "Sports" |
| 1998 | Men in White | Junior Assistant Dispatch Trainee Stanley Snyder | Television film |
| 1999 | The X-Files | Arthur Dales | Episode: "The Unnatural" |
| 1999 | The Wild Thornberrys | Gemsbok #1 (voice) | Episode: "Rain Dance" |
| 1999 | Big Guy and Rusty the Boy Robot | Mack (voice) | Multiple episodes |
| 1999 | Monster! | Lloyd Reeves | Television film |
| 2000 | NYPD Blue | Joe Kroft | Episode: "Roll Out the Barrel" |
| 2000 | Cover Me: Based on the True Life of an FBI Family | Aubrey Lang | Episode: "The Book of Danny" |
| 2000 | Ed | Mayor Wally Kendricks | Episode: "Home Is Where the Ducks Are" |
| 2001 | Gideon's Crossing | Dr. Matthews | Episode: "A Routine Case" |
| 2001 | Night Visions | Gus | Episode: "Reunion" |
| 2001 | The Mind of the Married Man | Randall Evans | 5 episodes |
| 2001 | Frasier | Rich Koechner | Episode: "Bully for Martin" |
| 2002 | What's New, Scooby-Doo? | Jeb (voice) | Episode: "Scooby-Doo Christmas" |
| 2003 | Charlie Lawrence | Cubby | Episode: "New Kid in School" |
| 2003 | Tracey Ullman in the Trailer Tales | Wally Westland | Television special |
| 2003 | The Guardian | Ezra Pence | Episode: "Big Coal" |
| 2010 | 'Til Death | Uncle Rudolph | Episode: "Let's Go" |
| 2010-2013 | Pound Puppies | Olaf (voice) | 46 episodes |
| 2012 | Army Wives | Bernie Wallacheck | Episode: "Battle Scars" |
| 2012 | Damages | Lyle Hewes | 3 episodes |
| 2012-2015 | Adventure Time | Cosmic Owl (voice) | 4 episodes |
| 2014 | Tim and Eric's Bedtime Stories | Detective | Episode: "Toes" |
| 2015 | Empire | Harold Blakeley | Episode: "The Lyon's Roar" |
[ Source: Wikipedia ]