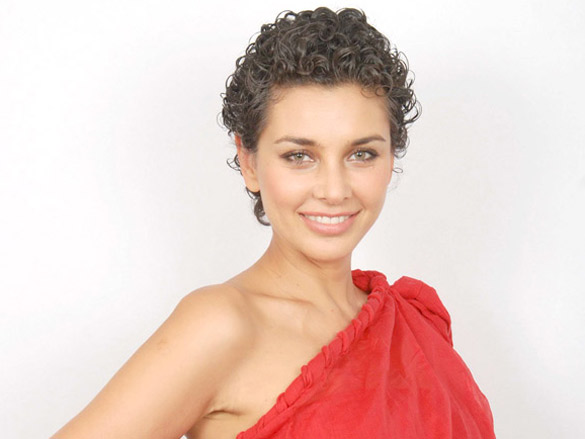 Lisa Ray
Birth name:
Lisa Rani Ray
Born:
April 4, 1972
Age:
51
Birthplace:
Toronto, Ontario, Canada[1][2]
Popularity:

Please login to contact Lisa Ray...
Biography
Lisa Rani Ray (born 4 April 1972)[1] is a Canadian actress, model, television host, philanthropist and social activist. In 2005 she appeared in the Canadian film Water, which premièred at the Toronto International Film Festival. In 2008 she starred alongside Sheetal Sheth in the romance films I Can't Think Straight and The World Unseen.
Ray made her Indian cinematic debut in 1994 with the Tamil film Nethaji, alongside Sarath Kumar, in which she appeared in a brief role. In 2001 she appeared in the Bollywood film Kasoor alongside Aftab Shivdasani. In 2002 she acted in the Telugu film Takkari Donga, alongside Mahesh Babu. On 16 November 2010, TLC India announced that it would film a new 5-part series, Oh My Gold, with Ray. It premiered in 2011. The series Oh My Gold was set against the cultural-yet-contemporary backdrop of India. Uncovering the beauty of various cities, Ray played both a host and a travel guide. In 2016, Ray appeared in Ram Gopal Varma's biographical Veerappan.[3]
Ray was born in Toronto to a Bengali Hindu father and a Polish mother[4] and grew up in the suburb of Etobicoke. She spoke Polish with her maternal grandmother and watched movies of
Federico Fellini
and Satyajit Ray with her cinephile dad.[2] During her childhood she spent some time in Calcutta.[5]
She excelled academically, doing five years of high school in four, while attending three different high schools: Etobicoke Collegiate Institute, Richview Collegiate Institute, and Silverthorn Collegiate Institute.[6]
Read more...
Career
1987-2000
Ray came to public attention when she appeared in an advertisement for Bombay Dyeing wearing a high-cut black swimsuit in the 1990s,[7][8][9] opposite Karan Kapoor.[10]
Subsequently, she returned to Canada to attend university to study journalism, but a car accident that injured her mother derailed those plans. Instead, she returned to India, where she appeared on the cover of Glad Rags wearing a red Baywatch-style swimsuit. The sensation that caused led to more magazine covers, spokesperson deals, and a job as host of her own show-business program. A Times of India poll named her the "ninth most beautiful woman of the millennium," the only model in the top ten.[6] She also anchored the TV show Star Biz on Star Movies, with actor/model Kelly Dorji. Lisa also appeared in a desert-themed music video for the late Nusrat Fateh Ali Khan's Aafreen Aafreen, and then took an assignment to anchor a TV show.[citation needed]
2001-2009
Lisa Ray being interviewed on
The Hour
After turning down a number of roles,[11] Ray made her Indian Film Industry debut in 2001 with the Hindi film Kasoor, opposite Aftab Shivdasani,[10] in which her voice was dubbed by Divya Dutta, because she could not speak Hindi.[12] Her work in that film caught the eye of Deepa Mehta, who cast Ray in the romantic Indian-Canadian romp Bollywood/Hollywood, in 2002.[2]
Realizing that acting was something that she wanted to pursue more seriously, Ray moved to London to concentrate on a career in the performing arts. While there, Ray studied at the Central School of Speech and Drama, the London Centre for Theatre Studies, the Desmond Jones school of Physical Theatre, and BADA. She graduated from the Academy of Live and Recorded Arts (ALRA), in 2004, with a post-graduate degree in acting.[13] While studying, Ray made a conscious effort to not accept any film offers until she had graduated. However, while still at ALRA, she received another call from Deepa Mehta, who made her an offer she simply could not refuse—the lead role of Kalyani in Mehta's highly controversial and much-anticipated feature Water.[13]
In 2005, Ray worked again with Mehta, in the Oscar-nominated film Water, in which she spoke her lines in Hindi, although her voice was dubbed in the final cut.[12] Since then, Ray has worked in productions from Canada, Europe, and the United States. Past roles include a farm girl in All Hat, a school teacher in A Stone's Throw, and a housewife in 1950s-apartheid South Africa in The World Unseen. In 2008 Ray starred, alongside Sheetal Sheth and Amber Rose Revah, as an Arab lesbian in the humorously titled I Can't Think Straight, directed by Shamim Sarif. "I think every film that I've done so far has been a turning point because I experimented with each one and grew professionally. The movies I chose, dealt with a lot of thought-provoking subjects."[14]
After graduation, Ray based herself out of Milan, Paris, and New York from 2004-2008, returning to Toronto upon her mother's death in late 2008.[13] In 2007, Ray completed filming for Kill Kill Faster Faster, which is a contemporary film noir inspired by the critically acclaimed novel of the same name, by Joel Rose. She appeared in a few uninhibited sex scenes, "something unheard of for an artist from India."[15] She guest-starred in the USA Network series Psych, directed by Jay Chandrasekhar, which aired on 30 November 2009. She also appeared in a guest role of a reporter, Dominique Ball in Defendor.
Ray attended the Toronto International Film Festival in support of her work in Cooking with Stella. At this event, Ray revealed that she has multiple myeloma with the media and the public. At the same time, Ray started an acclaimed blog, The Yellow Diaries, chronicling her cancer experience.
"I believe it can be cured," Ray wrote on her blog. "That's the Dirty Realist in me... I'm getting better. My prognosis, given my 'junior' status and stage of disease, is very good. I'm aiming for full remission."
Ray went on to help raise funds for the establishment of the first research chair for multiple myeloma at Princess Margaret Hospital, Toronto. She took part in Plan Canada's Because I am a Girl campaign, a global movement that fights for the rights of girls around the world who face discrimination because of their gender and age.[citation needed]
2010s
On Christmas in 2009, Ray received a stem cell transplant to treat her rare cancer. In April 2010, she announced she was cancer-free due to the transplant. She gave a candid interview on her personal cancer trauma and surviving it, appearing on the cover of the 2010 anniversary issue of the Indian men's luxury magazine The Man.[citation needed]
Ray was seen in UniGlobe Entertainment's cancer docu-drama titled 1 a Minute, scheduled for release in 2010.[16] The documentary was made by Namrata Singh Gujral and featured cancer survivors Olivia Newton-John, Diahann Carroll, Melissa Etheridge, Mumtaz, and Jaclyn Smith, as well as William Baldwin, Daniel Baldwin, and Priya Dutt, whose lives have been touched by cancer. The feature was narrated by Kelly McGillis. It also starred Bárbara Mori, Deepak Chopra, and Morgan Brittany.
Ray is an advocate for stem cell technology, recording a PSA for the McEwan Centre for Regenerative Medicine. Also, she completed a national media tour in Canada for Multiple Myeloma called Making Myeloma Matter, in early 2011, to raise public awareness.[citation needed]
In 2011, Ray acted in the acclaimed stage play Taj, opposite Kabir Bedi in Luminato.[17] She was at the Taj Mahal and the Estee Lauder Breast Cancer event to spread awareness about breast cancer. A strong advocate of stem cell research and a long-time yoga practitioner, Ray partnered with co-owners Paris and Annette, in 2011, to open Moksha Yoga Brampton.[18]
On 5 July 2010, Ray was honored to be a host of the informal lunch for Queen Elizabeth's visit to Toronto, Ontario.[19] Ray hosted the 2011 International Indian Film Academy IIFA Rocks fashion and music event and was a presenter at the IIFA Awards and the 2011 Giller Prize.
On 15 November 2011, Ray announced that she had been named to host season two of Top Chef Canada,[20] which is Food Network Canada's top-rated series. The show premiered in March 2012.
Ray had one TV series Endgame. In 2011 she appeared in Craig Goodwill's fantasy drama short film Patch Town and an Aprii episode of the Canadian-television drama series Murdoch Mysteries. In 2012, Goodwill cast Ray to star in his feature film Boy Toy, based on his Patch Town short film.[21]
In September 2012, Ray was named ambassador for the Pantene Beautiful Lengths campaign in Canada.[22] Pantene Beautiful Lengths is a charity campaign that asks people to grow and donate their hair to make real-hair wigs for women battling cancer.[citation needed]
In 2015, Insight Vacations announced Ray as their new Global Brand Ambassador for the Exotics and Gold Collections.[23]
Personal life
On 23 June 2009, Ray was diagnosed with multiple myeloma, a cancer of the white blood cells known as plasma cells, which produce antibodies. It is a rare disease.[12][24] In April 2010, she announced that she was cancer-free, after a stem cell transplant.[25] As multiple myeloma is an incurable disease, Ray is not completely cured of the disease.[26]
In February 2012, Ray announced her engagement to management consultant Jason Dehni.[27] On 20 October 2012, Ray and Dehni (then a banking executive and philanthropist) were married in California's Napa Valley.[28][29]
In an interview with Times of India, Ray has said that most of her diet consists of juices, smoothies, and other vegetarian food. She has also cut down on dairy intake.[30]
In September 2018, Ray announced that she and her husband became parents to twin daughters via surrogacy, in June 2018.[31]
Humanitarian work
Ray has been involved in bringing the attention of the people towards the rights of girls around the world. She has initiated a number of fundraisers and campaigns for Multiple Myeloma such as the "Because I'm a Girl" campaign. After her recovery, Ray launched "Make Myeloma Matter" media campaign, which helped raise awareness about the disease worldwide. She also actively advocated the stem cell technology and its benefits. In the same year she became the face of Hillberg & Berk Jewellery, a part of the proceeds of which went to Multiple Myeloma Canada.[32]
Raising Funds with Satya Paul
In 2012, Ray initiated an effort to fund the Indian Innovation Research Centre (IIRC). The IIRC is a non-profit cancer research body that began with the 'Living With Cancer' program that was initiated by Ray the same year.[33] Their mandate is to promote convergence of fundamental as well as translational cancer in India, it played an instrumental role in helping Lisa fight Multiple Myeloma and overcome a trying phase of her life.[34]
She partnered with Satya Paul to create a range of exclusive sarees for the wedding season. These sarees (that were worn by Lisa) were then auctioned online with 100% of the proceeds going to IIRC for the development of their cancer research.[35]
The Run 5K Walk
After being diagnosed with Multiple Myeloma, Ray launched The Princess Margret Run 5k Walk, an initiative to raise funds for MM patients. Multiple Myeloma although treatable has no cure, the walk was an event with a purpose to fund research at Bloom Share for Multiple Myeloma Research at the Princess Margret Hospital. The research would help develop drugs that could help MM patients stabilize their condition till the cure can be developed. The walk was a success pooling in money from across the county to help the cause.[36]
Greeniche
In 2015, Ray partnered with Canadian Health and Wellness brand Greeniche, a natural healthcare product brand with pure vegetarian formulas, managed by healthcare professionals.[37]
At the launch of the brand she commented "I'm honored to launch into a special role as wellness guru for Greeniche Naturals. As a cancer survivor, I have healed myself through nutrition, healthy choices and wellness techniques and now I can support others in living their life to the fullest by sharing tips online and through special videos. Hopefully these will help fuel your Passion for life."[38]
Beauty Gives Back
Ray joined the Beauty Gives Back campaign, which launched in Canada in 2015. The campaign addresses the cancer blues- the emotional fallout from cancer and its treatment. While launching the campaign Ray commented, "The beauty gives back campaign helps and motivates women to overcome the shackles of cancer and the process of its treatment. It seeks to give them their lost confidence back so that they continue their fight against the deadly disease with a new belief and dignity. It was an absolute honor to be the part of such a worthy cause which works towards giving face value to the emotional fallout from cancer."[39]
Awards
Voted Star of the Future at the 2002 Toronto International Film Festival,[40]
Top Ten most Beautiful Indian Woman of the Millennium by the Times of India
Won the Best Actress in a Canadian film for Water by the Vancouver Critics Circle[41]
Won 'Voice Achievers Award for 2009' for outstanding contribution in fields of film, trade, literature and sports[42]
Named one of Canada's 50 Most Beautiful Stars in Hello Canada's May 2009 issue.[43]
Honored with Fortis Lisa Ray Award for Conquering Cancer in 2010[44]
Honored with a Special Achievement Award at Miss India-Canada 2011[45]
Named one of Canada's 50 Most Beautiful Stars in Hello Canada's May 2012 issue.[46]
Honored with People's Choice Award at the 'Light of India' Awards 2012 in Arts & Entertainment section.[47]
Named one of Canada's 50 Most Beautiful Stars in Hello Canada's 2013 issue.[48]
Honored with the prestigious 'Diamond Jubilee Medal' in May 2013.[49]
Awarded the 'Facing Cancer Together' Look Good, Feel Better award in September 2012[50]
Won Anokhi Prestige award in 2013 in the category of Canadian Actor of the Decade for movie Water.[51]
Awarded prestigious 2014 Women of Action Honoree by Israel Cancer Research Fund.[52]
Awarded Medscape award for Most Inspirational Fighter of India 2015[53]
Philanthropy
2009 : 5K Your Way Walk/Run, MMWalk for the Cure
2009 : Plan Canada's 'Because I Am A Girl' campaign[54]
2010 : Plan Canada's 'Because I Am A Girl' campaign[54]
2010 : "1 a Minute", to inspire women and give them hope
2010 : Estee Lauder Breast Cancer Awareness[55]
2011 : 'Make Myeloma Matter' media campaign[56]
2011 : Artbound, in support of Free The Children
2011 : GIRL 20 SUMMIT
2012 : BE FAIR 2 RARE[57]
2012 : Wellspring Cancer 'Graduate' Fashion show
2012 : "Rhythm and Soul"-THE SPARK GALA 2012, to Ignite A Child's Potential[58]
2012 : Run or Walk, MM5K[59]
2012 : Plan Canada's 'Because I Am A Girl' campaign[54]
2012 : Ambassador for Pantene Beautiful Lengths campaign in Canada[22]
Filmography
Film
| Year | Title | Role | Notes |
| --- | --- | --- | --- |
| 1996 | Afreen Afreen | | Music Video |
| 1996 | Nethaji | Priya | Tamil film |
| 1998 | Jalwa | | Music Video |
| 2001 | Kasoor | Simran Bhargav | Hindi film |
| 2002 | Choron Ka Chor | | |
| 2002 | Takkari Donga | Bhuvana | Telugu film |
| 2002 | Bollywood/Hollywood | Sunita "Sue" Singh | |
| 2004 | Ball & Chain | Saima | |
| 2004 | Yuvaraja | Lovely | Kannada film |
| 2005 | Water | Kalyani | |
| 2005 | Seeking Fear | Nina Atwal | |
| 2006 | The Flowerman | Louise | Short film |
| 2006 | Quarter Life Crisis | Angel Matthews | |
| 2006 | A Stone's Throw | Lia | |
| 2007 | All Hat | Etta Parr | |
| 2007 | I Can't Think Straight | Tala | |
| 2008 | Kill Kill Faster Faster | Fleur | |
| 2008 | The World Unseen | Miriam | |
| 2008 | Toronto Stories | Beth | |
| 2009 | Defendor | Dominique Ball | |
| 2009 | Cooking with Stella | Maya Chopra | |
| 2009 | Somnolence | | |
| 2010 | Let the Game Begin | Eva Stout | |
| 2010 | Trader Games | Sarah | |
| 2011 | Patch Town | Bethany Franks | Short film |
| 2016 | Ishq Forever | Naina | Hindi film |
| 2016 | Veerappan | | Hindi film |
| 2017 | Dobaara | Liza Merchant | Hindi film |
Television
| Year | Title | Role | Notes |
| --- | --- | --- | --- |
| 2007 | Blood Ties | Elena | "Stone Cold" |
| 2008 | The Summit | Rebecca Downy | TV miniseries |
| 2009 | Psych | Sita | "Bollywood Homicide" |
| 2011 | Murdoch Mysteries | Mirela | "The Black Hand" |
| 2011 | Endgame | Rosemary Venturi | Regular role |
| 2012-2014 | Top Chef Canada | Host | Seasons 2-4 |
Ambassador
Brand ambassador of Rado (watches) in India
Lisa named Ambassador for 'Pantene Beautiful Lengths' Campaign
[ Source: Wikipedia ]