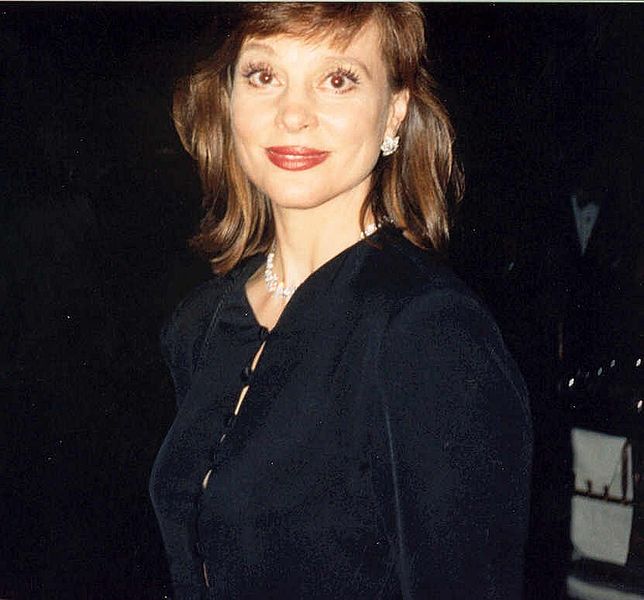 Leigh Taylor-Young
Born:
January 25, 1945
Age:
78
Birthplace:
Washington, D.C., U.S.
Popularity:

Please login to contact Leigh Taylor-Young...
Biography
Leigh Taylor-Young (born January 25, 1945) is an American actress who has appeared on stage, screen, podcast, radio and television.
Taylor-Young in a 1966 interview.[1]
Young was born on January 25, 1945, in Washington, D.C. She added the surname Taylor, which was the surname of her stepfather, a Detroit executive. Her father was a diplomat, and her younger siblings are actress/sculptor Dey Young and writer/director/producer Lance Young. The siblings were raised in Oakland County, Michigan. Leigh graduated from Groves High School, Beverly Hills, Michigan in 1962. Before attending Northwestern University as an economics major, she spent a summer shifting scenery, modelling, acting, and sweeping up at a Detroit little theater.[2] However, she left Northwestern before graduating to pursue a full-time acting career, making her professional debut on Broadway in Three Bags Full. About dropping out of college, the actress explained:
"I left there because I lost the most wonderful teacher. I didn't want to go back when she left. My parents naturally were upset, and I spent four months at home thinking what to do, then went to New York and California."[2]
Career
1960s
Ryan O'Neal
with Taylor-Young in
Peyton Place
Taylor-Young got her first big break in 1966, when she was cast as Rachel Welles on the primetime soap opera Peyton Place.[3] Her character was written in the show as a replacement for the character of Allison MacKenzie, previously played by Mia Farrow. The series' producer, Everett Chambers, cast her because of her "great warmth and sweet angelic qualities not unlike Mia". At the time she received the role, Taylor-Young had been in California for only a few days.[2] She initially went there in April 1966 to recuperate from an attack of pneumonia.[1] She impressed the head producer of Peyton Place, Paul Monash, with a performance from The Glass Menagerie and was immediately signed to a seven-year television and multiple motion picture contract.[1]
Shortly after, she told the press: "I'd have preferred to stay in New York to establish myself as an actress before coming to Hollywood."[4]
It was on this series that she met Ryan O'Neal, whom she later married. Taylor-Young had difficulty working on the show, explaining in an April 1967 interview:
"When I got my first check for, I thought to myself, 'isn't this wonderful — being paid to have fun.' But after working in 70 chapters of Peyton Place out here in Hollywood, I'm glad to get my paycheck. I can now understand why good actors and actress complain about going stale in television. It's difficult to give a character depth when there's a man with a stop watch standing beside you complaining that the company is spending $3,000 a minute. Yes, I've learned that when you act in a TV series it becomes your whole life."[5]
Despite the huge amount of publicity she received while working on Peyton Place, Taylor-Young left the soap opera in 1967 due to her pregnancy. Following this, she pursued a career in films, landing a lucrative seven-year contract with a major studio. Her first film role came opposite Peter Sellers in the comedy, I Love You, Alice B. Toklas (1968). The film was commercially successful, and she received a Golden Globe Award nomination for Most Promising Female Newcomer. This was followed by her appearance with husband Ryan O'Neal in The Big Bounce (1969).[6]
Read more...
1970s
For the next several years, her pictures tended to be high budget films, such as The Adventurers (1970), based on the novel by best-seller Harold Robbins, and The Horsemen, (1971) opposite leading man Omar Sharif. She is perhaps best known for her performance as Shirl, the "furniture" girl, in the science fiction classic Soylent Green (1973).[6]
However, for almost ten years after her appearance in Soylent Green, her career went into an extended hiatus as she concentrated on raising her only child, son Patrick.
1980s
The 1980s saw Leigh Taylor-Young return to both film and television, where her looks and voice often led to casting in roles of an aristocratic bent.[3] In 1981, she appeared in the high technology Michael Crichton production Looker. In 1985, she was cast as Virginia Howell in Jagged Edge, and appeared in the romantic comedy Secret Admirer.[6]
In addition to her film work, she guest-starred on such television series as McCloud, Fantasy Island, The Love Boat, Hart to Hart, Hotel and Spenser: For Hire. She returned to her soap opera roots in 1983, appearing in the short-lived primetime series The Hamptons. From 1987-89, she played Kimberly Cryder, a recurring character on Dallas, her first role in a major prime time soap since Peyton Place.[3][6]
Despite being best known for her film and television work, she has stated a preference for live theater where her career began. A favorite of Samuel Beckett, she starred opposite Donald Davis in Beckett's one act play, Catastrophe (included in a trilogy of one-act plays billed as The Beckett Plays) at the Edinburgh International Festival in 1984. Catastrophe with Taylor-Young also toured Los Angeles, New York City and London.[7]
1990s and 2000s
Taylor-Young's recent film credits have included minor roles in Honeymoon Academy (1990), Bliss (1997), and Slackers (2002), as well as direct-to-video films Addams Family Reunion (1998), Klepto (2003), Spiritual Warriors (2007) and The Wayshower (2011).[6]
Perhaps her best-known television work was on the CBS series Picket Fences, in which she played mercurial and cougarish mayor Rachel Harris from 1993 through 1995. She won an Emmy Award for the role in 1994, for Outstanding Supporting Actress in a Drama Series, as well as a Golden Globe nomination the following year.[8] From 2004 through 2007, she played Katherine Barrett Crane on the soap opera Passions.
In addition to her roles on Picket Fences and Passions, Taylor-Young has also appeared on series such as The Young Riders, Murder, She Wrote, Sunset Beach, Malibu Shores, 7th Heaven and Life. She had recurring roles on Beverly Hills, 90210, The Pretender, and UPN's The Sentinel. She also appeared in a handful of television films, including Perry Mason: The Case of the Sinister Spirit (1987), Who Gets the Friends? and Stranger in My Home (1997).
Personal life
Leigh Taylor-Young married Ryan O'Neal, her Peyton Place co-star, in 1967. Their wedding was a spontaneous one: while in Hawaii for a promotion for Peyton Place, an ABC manager offered the couple the opportunity to marry at his home.[5] The marriage produced a son, Patrick. Leigh and O'Neal divorced in 1973.
She lived in India for almost two years and returned to the United States in 1976. Her sister is actress Dey Young, who also appeared on Star Trek; and her brother is director Lance Young, who directed the movie Bliss. Leigh wed director Guy McElwaine in 1978 and they later divorced.[citation needed]
She married John Morton in January 2013 at PRANA, headquarters of the Movement of Spiritual Inner Awareness in Los Angeles.[9] She is an ordained minister in the Movement of Spiritual Inner Awareness, founded by the late John-Roger Hinkins and now led by her husband..[10]
Filmography
Film
| Year | Title | Role | Notes |
| --- | --- | --- | --- |
| 1968 | I Love You, Alice B. Toklas | Nancy | Nominated—Golden Globe Award for New Star of the Year - Actress |
| 1969 | The Big Bounce | Nancy Barker | |
| 1969 | Under the Yum Yum Tree | Jennifer | Television movie |
| 1969 | The Adventurers | Amparo Rojo | |
| 1970 | The Games | College Co-ed | Uncredited |
| 1970 | The Buttercup Chain | Manny | |
| 1971 | The Horsemen | Zareh | |
| 1971 | The Gang That Couldn't Shoot Straight | Angela | |
| 1973 | Soylent Green | Shirl | |
| 1980 | Marathon | Barrie | Television movie |
| 1980 | Can't Stop the Music | Claudia Walters | |
| 1981 | Looker | Jennifer Long | |
| 1985 | Secret Admirer | Elizabeth Fimple | |
| 1985 | Jagged Edge | Virginia Howell | |
| 1988 | Who Gets the Friends? | Aggie Harden | Television movie |
| 1989 | Accidents | Beryl Chambers | |
| 1990 | The Ghost Writer | Elizabeth Strack | Television movie |
| 1991 | Silverfox | Nita Davenport | Television movie |
| 1993 | Dreamrider | Dr. Sharon Kawai | |
| 1996 | An Unfinished Affair | Cynthia Connor | Television movie |
| 1997 | Strange In My Home | Margot | Television movie |
| 1997 | Bliss | Redhead | |
| 2002 | Slackers | Valerie Patton | |
| 2003 | Klepto | Teresa | |
| 2006 | Coffee Date | Diana | |
| 2007 | Dirty Laundry | Mrs. James | |
| 2011 | The Wayshower | Elva Hinkins | |
Television
Year
Title
Role
Notes
1966-1967
Peyton Place
Rachel Welles
70 episodes
1976
McCloud
Bonnie Foster
Episode: "Bonnie and McCloud"
1978
Fantasy Island
Leslie Tarleton
Episode: "I Want to Get Married"
1978
The Love Boat
Ann Sterling
Episode: "The Captain's Cup"
1982
Hart to Hart
Victoria Wilder
Episode: "Deep in the Hart of Dixieland"
1982
The Devlin Connection
Lauren Dane
9 episodes
1983
Hotel
Carole Jamison
Episode: "Secrets"
1983
The Hamptons
Lee Chadway
Episode: "1.1"
1985
Hotel
Stephanie McMullen
Episode: "Identities"
1986
Spenser: For Hire
Alicia Carlisle
Episode: "Angel of Desolation"
1986
Hotel
Sharon Lockwood
Episode: "Pressure Points"
1987-1989
Dallas
Kimberly Cryder
20 episodes
1990
Over My Dead Body
Linda Talmadge
Episode: "If Looks Could Kill"
1991
Evening Shade
Beck Kincaid
Episode: "Wood's Thirtieth Reunion"
1992
The Young Riders (TV series)
Polly
Episode: "Lessons Learned"
1992-1993
Civil Wars
Unknown
2 episodes
1993-1995
Picket Fences
Rachel Harris
16 episodes
Primetime Emmy Award for Outstanding Supporting Actress in a Drama Series
Nominated—Golden Globe Award for Best Supporting Actress - Series, Miniseries or Television Film
Nominated—Screen Actors Guild Award for Outstanding Performance by an Ensemble in a Drama Series
1995
Empty Nest
Gwen Langley
Episode: "Grandma, What Big Eyes You Have"
1995
JAG
Meredith
Episode: "A New Life - Part 1"
1995
Murder, She Wrote
Lainie Sherman Boswell
Episode: "A Quaking in Aspen"
1996-1999
The Sentinel
Naomi Sandburg
3 episodes
1996
Malibu Shores
Mrs. Green
Episode: "The Competitive Edge"
1997
7th Heaven
Nora Chambers
Episode: "Don't Take My Love Away"
1997
Rugrats
Story Reader
Episode: "Angelica Nose Best"
1997
Sunset Beach
Elaine Stevens
109 episodes
1998
Beverly Hills, 90210
Blythe Hunter
3 episodes
1998-1999
The Pretender
Michelle Lucca Stamatis
3 episodes
1999
Star Trek: Deep Space Nine
Yanas
Episode: "Prodigal Daughter"
2003
Strong Medicine
Catherine Beecher-Douglas
Episode: "Maternal Mirrors"
2004-2007
Passions
Katherine Barrett Crane
2007
Life
Doreen Turner
Episode: "Tear Asunder"
[ Source: Wikipedia ]