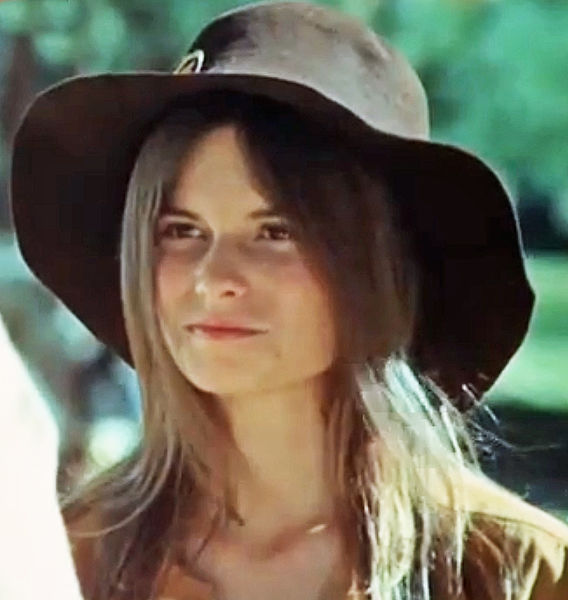 Kay Lenz
Birth name:
Kay Ann Lenz
Born:
March 4, 1953
Age:
70
Birthplace:
Los Angeles, California, U.S.
Popularity:

Please login to contact Kay Lenz...
Biography
Kay Ann Lenz (born March 4, 1953)[1] is an American actress. A former child performer, Lenz has worked primarily in television and has won two Emmy Awards.[2]
Lenz was born in Los Angeles, California, the daughter of Ted Lenz, a producer/commentator father and Kay Miller Lenz, a model/radio engineer mother. She appeared on television as a baby held by a guest on a program that her father produced.[3]
Read more...
Career
Lenz began working as a child actress, beginning with appearances in three episodes of This Is the Life when she was 14,[3] She went on to appear in such television shows as The Andy Griffith Show (under the stage name Kay Ann Kemper), Opie's Group (1967) as well as in stage productions. She made a brief appearance ([4] billed as Kay Ann Kemper) in a small role in American Graffiti (1973) as Jane, a girl at a dance.[1] She achieved recognition for her title-role performance as the free spirit who captivates William Holden in Breezy, directed by Clint Eastwood.
Lenz made guest appearances in The Streets of San Francisco, Gunsmoke, MacGyver, McCloud, Cannon, and Petrocelli, and played a lead role in the film White Line Fever (1975) before being cast in the miniseries Rich Man, Poor Man in 1976, for which she was nominated for an Emmy Award. She reprised her role for the sequel, Rich Man, Poor Man Book II (1977). Since the 1980s, she has played guest roles in numerous television series.
In 1984 she appeared in Rod Stewart's music video for the song "Infatuation". She won an Emmy in 1989 for Midnight Caller.[5] She was also nominated for an Emmy for her role as flinty lawyer Maggie Zombro in the police/legal drama Reasonable Doubts.[6]
Personal life
Lenz was the first wife of singer-actor David Cassidy. They married on April 3, 1977,[5][7] and divorced on December 28, 1983.[8] She has no children.
Filmography
Film
| Year | Title | Role | Notes[9] |
| --- | --- | --- | --- |
| 1973 | American Graffiti | Jane | as Kay Ann Kemper |
| 1973 | Breezy | Edith Alice Breezerman | Nominated — Golden Globe Award for Most Promising Newcomer - Female[3] |
| 1973 | Lisa, Bright and Dark | Lisa Schilling | |
| 1975 | White Line Fever | Jerri Kane Hummer | |
| 1976 | Moving Violation[10] | Cam Johnson | |
| 1976 | The Great Scout & Cathouse Thursday | Thursday | |
| 1978 | Mean Dog Blues | Linda Ramsey | |
| 1978 | The Initiation of Sarah | Sarah Goodwin | |
| 1979 | The Passage | Leah Bergson | |
| 1981 | Swan Lake | Odile | Voice role |
| 1982 | Fast-Walking | 'Little' Moke | |
| 1983 | Prisoners of the Lost Universe | Carrie Madison | |
| 1983 | Trial by Terror | Karen Armstrong | |
| 1986 | House | Sandy Sinclair | Nominated — Saturn Award for Best Supporting Actress |
| 1987 | Death Wish 4: The Crackdown | Karen Sheldon | |
| 1987 | Stripped to Kill | Detective Cody Sheenan | |
| 1988 | Fear | Sharon Haden | |
| 1989 | Headhunter | Katherine Hall | |
| 1989 | Physical Evidence | Deborah Quinn | |
| 1990 | Streets | Sargent | |
| 1991 | Shakespeare's Plan 12 from Outer Space | Sebastian | |
| 1992 | Falling From Grace | P.J. Parks | |
| 1992 | Wild West C.O.W.-Boys of Moo Mesa | Cowlamity Kate Cudster | Voice role |
| 1994 | Trapped in Space | Gillings | |
| 1995 | Gunfighter's Moon | Linda Yarnell | |
| 1995 | Shame II: The Secret | Ginny | Nominated — CableACE Award for Best Supporting Actress in a Movie or Miniseries |
| 1997 | A Gun, a Car, a Blonde | Peep/Madge | |
| 1998 | The Adventures of Ragtime | Detective Hill | |
| 2003 | Southside | Claire Coleman | |
| 2013 | The Secret Lives of Dorks | Mrs. Susie Gibson | |
| 2017 | The Downside of Bliss | Mary | |
Television
Year
Title
Role
Notes
1972
The Weekend Nun
Audree
ABC Movie of the Week
1974
Gunsmoke
Lettie
Aired Feb 11, 1974, S19 E 18, "The Foundling", played an unwed mother
1974
The ABC Afternoon Playbreak
Dorie
Daytime Emmy Award for Outstanding Actress in a Daytime Drama Special
1974
Nakia
Episode: "The Hostage"
1974
McCloud
Eve Randall
Episode: "Barefoot Girls of Bleeker Street"
1975
Petrocelli
Janet / Mary Wade
Episode: "Face of Evil"
1976
Rich Man, Poor Man
Kate Jordache
Nominated — Primetime Emmy Award for Outstanding Supporting Actress in a Miniseries or a Movie
1976
Jigsaw John
Miriam Buckley
1 episode
1977
Rich Man, Poor Man Book II
Kate Jordache
Miniseries
1978
How The West Was Won
Doreen
3 episodes
1980
Escape
Barbara Chilcoate
TV movie
1984
Magnum P.I.
Sally DeForest
1 episode
1984
The Fall Guy
Kim Donnelly
Episode: "Losers Weepers"
1985
Murder She Wrote
Jenny Wells
1 episode
1986
Hunter
Alicia Fiori
Episode: "Scrap Metal"
1987
Mr. Belvedere
Sharon Rogers
Season 3 Episode #18: "Kevin's Older Woman"
1987
Charles in Charge
Joan Robinson
1 episode
1987
Starman
Episode: The Probe
1988
Midnight Caller
Tina Cassidy
3 episodes
Primetime Emmy Award for Outstanding Guest Actress in a Drama Series (1989)
Nominated —Primetime Emmy Award for Outstanding Guest Actress in a Drama Series (1990)
1991
Reasonable Doubts
Maggie Zombro
Recurring role (season 1); main role (season 2); 32 episodes
Viewers for Quality Television Award for Best Supporting Actress in a Quality Drama Series (1993)
Nominated — Primetime Emmy Award for Outstanding Supporting Actress in a Drama Series (1993)
1994
The Tick
American Maid
Voice role; 21 episodes
1995
Lois & Clark
Constance Hunter
Episode: "Whine Whine Whine"
1996
Touched by an Angel
Rocky McCann
1 episode
1997
Journey of the Heart
Marvelle
Television film
2000
ER
Karen Palmieri
1 episode
2000
The Magnificent Seven
Ella Gaines
1 episode
2000-2001
Cover Me
Lisa Ramone
2 episode
2001
Once and Again
Stephanie Arlen
2 episodes
2002
Law & Order: Special Victims Unit
Linda Cavanaugh
1 episode
2007
House
Mrs Bradberry
1 episode
2008
NCIS
Connie Quinn Wheeler
1 episode
2009
Cold Case
Hillary Rhodes
1 episode
2010
The Closer
Mrs Tatem
1 episode
2011
Southland
Naomi Chester
1 episode
2013
CSI: Crime Scene Investigation
Laura Sidle
1 episode
2014
Bones
Harriet White
1 episode
2015
Adventure Time
Bird Woman/Gunther
Voice role; 1 episode
[ Source: Wikipedia ]