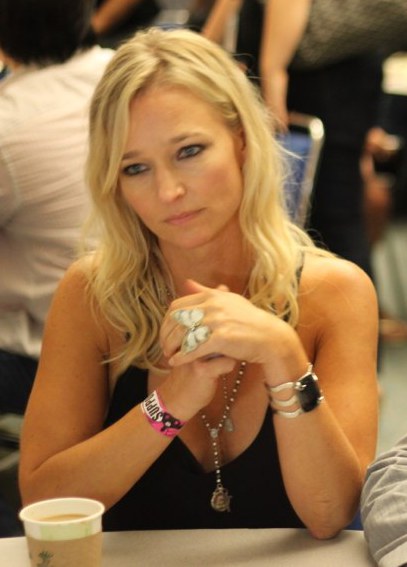 Kari Matchett
Born:
March 25, 1970
Age:
53
Birthplace:
Spalding, Saskatchewan, Canada
Popularity:

Please login to contact Kari Matchett...
Biography
Kari Matchett (born March 25, 1970) is a Canadian actress.[1] She has appeared in films such as Apartment Hunting (2000), Angel Eyes (2001), Men with Brooms (2002), Cypher (2002), Civic Duty (2006), The Tree of Life (2011), and Maudie (2016). She is perhaps best known for her roles as Joan Campbell on Covert Affairs and as Kate Filmore in the science fiction movie Cube 2: Hypercube.
Matchett was born in Spalding, Saskatchewan. She attended high school at Lethbridge Collegiate Institute in Lethbridge, Alberta. She attended the National Theatre School in Montreal and the Moscow Theatre School.
Matchett performed on stage for three years at the Stratford Shakespeare Festival in Ontario.
Read more...
Career
In Canada, her first major role was on The Rez, and her first starring role was as Colleen Blessed in Power Play (1998-2000). Matchett was a cast member on the A&E Network TV series A Nero Wolfe Mystery[2] (2001-2002), with Timothy Hutton in which she played several characters, including a recurring role as Lily Rowan. On Wonderfalls, she played Beth, the bisexual love interest of the main character's lesbian sister.
In 2002, she played Kate Filmore in the science fiction horror thriller Cube 2: Hypercube.[3]
In 2003, she starred with Timothy Hutton in the Syfy miniseries Five Days to Midnight.[2] Her next role was as Detective Elaine Bender in Blue Murder in 2004. She previously guest starred on Blue Murder in 2001 as a suspect in a murder investigation, for which she won a Gemini Award.
In 2005, Matchett starred in the ABC series Invasion, about aliens taking the form of humans. She also appeared in Plague City: SARS in Toronto. She also appeared as Mary Tate on Studio 60 on the Sunset Strip. She appeared in both Shark and Wild Card. She played a single mother stalked by her boyfriend in Intimate Stranger, in 2006. In the same year she starred with Peter Krause in Civic Duty.[2]
In 2007, she joined the cast of 24, as Lisa Miller. In June 2007, Matchett played Kate Armstrong in the TNT series Heartland. In 2007 and 2008, Matchett was cast as ER chief Skye Wexler on ER. In 2008 and 2009, she played Dennis Hopper's character's daughter, Jules, in the critically acclaimed Starz series Crash. She had a recurring role in the TNT series Leverage, reuniting with Nero Wolfe co-star Timothy Hutton, portraying Maggie Collins, the ex-wife of Hutton's character, Nathan "Nate" Ford. Matchett starred as Joan Campbell in the USA Network series Covert Affairs (2010-2014).
Matchett in September 2016
In 2016, Matchett appeared as Sandra in Maudie with Ethan Hawke. Matchett also played a supporting role in Terrence Malick's The Tree of Life, with Sean Penn and Brad Pitt.[4] Shot in 2008, the film premiered in competition at the Cannes Film Festival in May 2011 and received the Palme d'Or.[clarification needed]
Filmography
Film
Year
Film
Role
Notes
1998
Papertrail
Alison Enola
2000
Apartment Hunting
Sarah
2001
Angel Eyes
Candace
2002
Men with Brooms
Linda Bucyk
Cube 2: Hypercube
Kate Filmore
19 Months
Page
Cypher
Diane
2006
Civic Duty
Marla Allen
2011
Goose on the Loose
Donna Archer
The Tree of Life
Jack's ex
2015
Lead With Your Heart
Maura McCabe Walker
2016
Maudie
Sandra
2018
Into Invisible Light
Lydia
Post-production
Television
Year
Title
Role
Notes
1996
The Rez
Tanya Nanibush Beakhert
Forever Knight
Alyss de Brabant
"Dead of Knight"
Undue Influence
Marcie Reed
Ready or Not
Sheila Ramone (1996-1997)
6 episodes
1997
Psi Factor: Chronicles of the Paranormal
Mary O'Brien
"The Curse/Angel on a Plane"
Whatever Happened to Bobby Earl?
Nicki Corlis
Breach of Faith: A Family of Cops 2
Marina
Viper
Beatrice
"Triple Cross"
1998
Once a Thief
Claire Holland
"Wedding Bell Blues"
Poltergeist: The Legacy
Caroline Crane
"The Human Vessel"
A Marriage of Convenience
Elizabeth
Earth: Final Conflict
Siobhan Beckett
Earth: Final Conflict
Rho'ha
"Pandora's Box"
"Law & Order"
1998-2000
Power Play
Colleen Blessed
2000 Gemini Award nominee
1999
Rembrandt: Fathers & Sons
Saskia van Rijn
2000
Task Force: Caviar
Linda
2001
A Colder Kind of Death
Maureen Gault
2001 Gemini Award nominee
All Souls
Dr. Stefani Volette
"Spineless"
Blue Murder
Christina Kondeatis/Carol Clark
"Intensive Care"; Gemini Award
A Nero Wolfe Mystery
Lily Rowan, Celia Grantham, Sarah Jaffee, Rita Ramsey Sorrell, Carla Lovchen, Julie Jaquette, Jewel Jones, Susan McLeod, Meg Duncan, Jane Geer, Janet Stahl
17 episodes
2002
The Glow
Allison
2003
Betrayed
Judy Bryce
2004
5ive Days to Midnight
Claudia Whitey
Blue Murder
Det. Elaine Bender
14 episodes
Wonderfalls
Beth
A Very Married Christmas
Donna
2005
The Eleventh Hour
Carrina Mallett
"Zugzwang"
Puppets Who Kill
Laura
"Dan and the New Neighbour"
Plague City: SARS in Toronto
Amy
Wild Card
Gigi Germain
"My Boyfriend is an Axe Murderer"
2005-06
Invasion
Mariel Underlay
Main role
2006
Intimate Stranger
Karen Reese
Shark
Monica Tanner
"Dial M for Monica"
2007
24
Lisa Miller
10 episodes
Studio 60 on the Sunset Strip
Mary Tate
Heartland
Kate Armstrong
9 episodes
ER
Dr. Skye Wexler
5 episodes
2008
Ugly Betty
Dr. Wallace
"Betty's Baby Bump"
The Cleaner
Shelly Mullins
"Lie with Me"
Criminal Minds
Amy Bridges
"The Instincts"
Crash
Jules
6 episodes
2009
Flashpoint
Delia Semple
"Clean Hands"
The Philanthropist
Renee Adams
"San Diego"
The National Tree
Faith
Leverage
Maggie Collins
4 episodes
2010
Meteor Storm
Michelle
Miami Medical
Dr. Helena Sable
"An Arm and a Leg," "Man on the Road"
2010-14
Covert Affairs
Joan Campbell
Main role
2012
Saving Hope
Dr. Kendra Watt
"A New Beginning"
The Riverbank
Kate Mason
2013
Elementary
Kathryn Drummand
"The Deductionist"
2015
Murdoch Mysteries
Miss Heloise
"The Devil Wears Whalebone"
2017
The Good Doctor
Liam's Mother
"22 Steps"
Awards and nominations
Year
Award
Category
Nominated work
Result
Ref
2000
Gemini Awards
Best Performance by an Actress in a Continuing Leading Role in a Dramatic Series
Power Play
Nominated
2001
Gemini Awards
Best Performance by an Actress in a Featured Supporting Role in a Dramatic Program or Miniseries
A Colder Kind of Death
Nominated
Best Performance by an Actress in a Guest Role in a Dramatic Series
Blue Murder
Nominated
2003
ACTRA Toronto Awards
Outstanding Performance - Female
A Nero Wolfe Mystery
Nominated
[5]
2017
ACTRA Toronto Awards
Outstanding Performance - Female
Maudie
Nominated
[6]
[ Source: Wikipedia ]