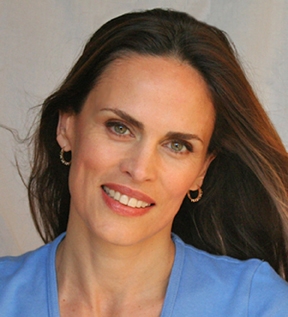 Justina Vail
Birth name:
Justina Vail
Born:
August 20, 1963
Age:
60
Birthplace:
Kuala Lumpur, Malaysia
Popularity:

Please login to contact Justina Vail...
Biography
Justina Vail Evans (née Vail, previously credited as Justina Vail) (born 20 August 1963) is a British actress, life coach, author and hypnotherapist.[1]
Vail was born in Kuala Lumpur, Malaysia in 1963 to British parents. She acquired her first acting role in Hong Kong where a British television show was filming.[2]
Read more...
Career
Professionally, Vail's most notable role was as a Russian scientist Dr. Olga Vukavitch in the late 1990s and early 2000s UPN science fiction television series Seven Days. Vail received positive reviews for her performance on the show.[3] In 2000, she won a Saturn Award for best supporting actress, winning out over Stargate SG-1's Amanda Tapping.[4] In 2001, however, there were reports of dissatisfaction on set. Co-star Don Franklin expressed his dissatisfaction with the show,[5] and Vail was reported to have left the show entirely[6] (according to some show sources over a dispute with Seven Days co-star Jonathan LaPaglia[7]), only to later return and finish the third season.[5]
Vail also guest-starred in an episode of Highlander: The Series. The episode (along with several others like it) were attempts to pilot female immortal leads for the short-lived Highlander: The Raven. Reviews of the episode were mixed, offering criticism of Vail's character, but not her performance. Ultimately, Vail's character was not the one chosen for the new show.[8]
Personal life
Vail is married to Jeff Evans, a doctor, leadership development consultant and best-selling author based in Los Angeles, California.[9] Vail is also an author. She is a recurring columnist for Backstage magazine,[10] and she has published the book How to be a Happy Actor in a Challenging Business: A Guide to Thriving Through it All. It was awarded the top prize of the "How To" category for the 2012 Hollywood Book Festival.[11]
Filmography
Year
Title
Role
Notes
1990
Yellowthread Street
Caroline
(TV series, 1 episode: "Slicing the Dragon")
1990
Shadow of China
Caroline
1991
Super Force
Hostess
(TV series, 1 episode: "Come Under the Way: Part 2")
1991
The Adventures of Superboy
Dr. Winger's Assistant
(TV series, 2 episodes)
1991
The Commish
Anna Trentino
(TV series, 1 episode: "Sleep of the Just")
1992
The Adventures of Superboy
Dr. Odessa Vexman
(TV series, 2 episodes)
1993
Journey to the Center of the Earth
Devin
Television movie
1994
The X-Files
The Unholy Spirit
(TV series, 1 episode: "3")
1995
Marker
Irina
(TV series, 1 episode: "From Russia Without Love")
1996
Naked Souls
Amelia
1996
Seinfeld
Amanda
(TV series, 1 episode: "The Bizarro Jerry")
1996
Carnosaur 3: Primal Species
Proudfoot
1996
Jerry Maguire
Former Girlfriend
1997
Pacific Blue
Maggie Garrity
(TV series, 1 episode: "Runaway")
1997
Highlander: The Series
Katya
(TV series, 1 episode: "Justice")
1997
Suddenly Susan
Gina
(TV series, 1 episode: "Where the Wild Things Aren't")
1997
Kiss the Girls
Beautiful Girl
1998
Conan
Zotana
(TV series, 1 episode: "The Crystal Arrow")
1998-2001
Seven Days
Dr. Olga Vukovitch
(TV series, 66 episodes)
Saturn Award for Best Supporting Actress on Television
2009
General Hospital
Dr. Ingrid Hensen
(TV series, 6 episodes)
2010
Cold Case
Zelda Panay '71
(TV series, 1 episode: "Metamorphosis")
Bibliography
How to Be a Happy Actor in a Challenging Business: A Guide to Thriving Through It All, CreateSpace, 2012, ISBN 978-1-47752-221-9
[ Source: Wikipedia ]