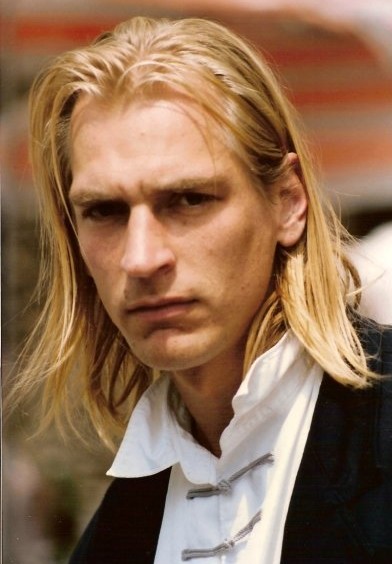 Julian Sands
Birth name:
Julian Richard Morley Sands
Born:
January 4, 1958
Age:
65
Birthplace:
Otley, West Riding of Yorkshire, England, UK
Popularity:

Please login to contact Julian Sands...
Biography
Julian Richard Morley Sands[1] (born 4 January 1958) is an English actor known for his roles in films such as The Killing Fields, A Room with a View, Warlock, Arachnophobia, and Vatel. On television, he is known for playing Vladimir Bierko in 24, and Jor-El in Smallville.
Julian Sands began his film career appearing in supporting roles in films, including
Oxford Blues
(1984) and
The Killing Fields
(1984). He also had a cameo as a Greek soldier in the BBC adaptation of
The Box of Delights
in 1984.[2] He was cast as the romantic lead in the 1985 film
A Room with a View
. In 1985, following the success of
A Room with a View
and
Ken Russell
's
Gothic
(1986) Sands decided to move to Hollywood and pursue a career in American films. He appeared in several of them—both lower-tier and higher-budget.
He played the title role in the horror film Warlock (1989) and its sequel, Warlock: The Armageddon (1993), the role of Franz Liszt in Impromptu (1991), the role of Yves Cloquet in Naked Lunch (1991), and prominent roles in Arachnophobia (1990), Boxing Helena (1993) and Leaving Las Vegas (1995). He played "Erik, aka the Phantom" in the 1998 horror-film version of The Phantom of the Opera. He starred opposite Jackie Chan in the action-comedy film The Medallion (2003). And he played Lord Olivier in BBC Four's In Praise of Hardcore (2005), a drama about the critic and impresario Kenneth Tynan.[3]
In television work, he was the voice of Valmont in the Jackie Chan Adventures cartoon (Seasons 1 and 2) (succeeded by the British actors Andrew Ableson and Greg Ellis in the remaining seasons). He played the Doci of the Ori in two episodes of Stargate SG-1—in its ninth and tenth seasons (a role he reprised in the film, Stargate: the Ark of Truth). He played a college professor in a Season One episode of The L Word. In 2001, he starred in Stephen King's Rose Red. Sands portrayed Austrian ambassador Klemens von Metternich in the 2002 miniseries Napoléon. In the 2006 season of 24, he played terrorist Vladimir Bierko.[4]
Sands played Jor-El, Superman's biological father on Smallville, and reprised the role in the series' final (tenth) season. In 2009, he played Reg Hunt in Bollywood Hero.[5] In 2012, he played Alistair Wesley in the seventh episode of the second season of Person of Interest.[4]
In August 2011, he appeared onstage at the Edinburgh Fringe Festival in A Celebration of Harold Pinter, directed by John Malkovich at the Pleasance Courtyard.[6][7] His performance in A Celebration of Harold Pinter was well-received; one theatre, the Irish Repertory Theatre, added an extra three weeks to the show's run.[8]
Sands was nominated for "Outstanding Solo Performance" for the 58th Annual Drama Desk Awards (2013).[9][needs update]
In 2011, Sands appeared in the mystery thriller film The Girl with the Dragon Tattoo, an English-language remake of the original version, as the younger version of Henrik Vanger. In 2012, Sands voiced the character of DeFalco in Call of Duty: Black Ops 2. On 26 April 2013, it was announced that Sands would appear as Miles Castner, a wealthy international businessman during the eighth season of Dexter.[10]
Read more...
Personal life
Sands was born in Otley, Yorkshire and educated at Lord Wandsworth College, Long Sutton, Hampshire. He has a sister and four brothers, one of whom, Quentin, was selected by She magazine as "Britain's Sexiest Man" of 1998.[11]
Sands' first marriage was to Sarah Harvey, a British journalist. They have one child, Henry Morley Sands (born 20 September 1985); the couple divorced in 1987.[12] In 1990, he wed Evgenia Citkowitz (born 1964), a journalist and the daughter of the Anglo-Irish novelist and socialite Lady Caroline Blackwood and American composer-pianist Israel Citkowitz. Sands and Citkowitz have two daughters Natalya (14 August 1996) and Imogen (31 December 1999).
Filmography
Film
Julian Sands at the 1990 Cannes Film Festival. He had grown his hair long for the character of Franz Liszt in
Impromptu
.
Year
Title
Role
Notes
1982
Privates on Parade
Sailor
1984
Oxford Blues
Colin Gilchrist Fisher
The Killing Fields
Jon Swain
1985
After Darkness
Laurence Hunningford
The Doctor and the Devils
Dr. Murray
A Room With A View
George Emerson
1986
Gothic
Percy Bysshe Shelley
Harem - the loss of innocence
Forest
1987
Siesta
Kit
1988
Vibes
Dr. Harrison Steele
Wherever You Are...
Julian Castor
1989
Warlock
Warlock
Murder on the Moon
Kirilenko
Tennessee Nights
Wolfgang Leighton
Manika
Daniel
1990
The Sun Also Shines at Night
Sergio Giuramondo
Arachnophobia
Dr. James Atherton
1991
Impromptu
Franz Liszt
The Wicked
Gustav
Husband and Lovers
Stefan
Naked Lunch
Yves Cloquet
1992
Tale of a Vampire
Alex
Crazy in Love
Mark Constable
1993
Warlock: The Armageddon
Warlock
Boxing Helena
Dr. Nick Cavanaugh
1994
The Browning Version
Tom Gilbert
The Turn of the Screw
Mr. Cooper
Mario and the Magician
Professor Fuhrmann
Witch Hunt
Finn Macha
1995
Leaving Las Vegas
Yuri Butso
The Great Elephant Escape
Clive Potter
1996
The Tomorrow Man
Ken
1997
One Night Stand
Charlie's Nurse
End of Summer
Rev. Basil March
1998
The Phantom of the Opera
Erik, The Phantom of the Opera
Long Time Since
Michael James
1999
The Loss of Sexual Innocence
Adult Nic
2000
Mercy
Dr. Dominick Broussard
Timecode
Quentin
Vatel
Louis XIV
The Million Dollar Hotel
Terence Scopey
2002
The Scoundrel's Wife
Doctor Lenz
2003
The Medallion
Snakehead
2004
Romasanta
Manuel Blanco Romasanta
Curse of the Ring
Hagen
2005
Her name is Carla
Bill
Easy Six
Packard Schmidt
2006
La piste
Gary
The Haunted Airman
Dr. Hal Burns
2007
Ocean's Thirteen
Greco Montgomery
2008
Stargate: The Ark of Truth
Doci
Cat City
Nick Compton
Heidi 4 Paws
Peter the Goatherder (voice)
2009
Blood and Bone
Franklin McVeigh
2010
Golf in the Kingdom
Peter McNaughton
2011
The Girl with the Dragon Tattoo
Young Henrik Vanger
2012
Hirokin
Viceroy Griffin
Suspension of Disbelief
DCI Hackett
2013
All Things to All Men
Cutter
The Last Impresario
Himself - Interviewee
2014
Cesar Chavez
Victore Representative
Jetty
Skylar Nielsen
Six Dance Lessons in Six Weeks
Winslow Cunard
Me
Sam Citkowitz
2015
Extraordinary Tales
Narrator
2018
Walk Like a Panther
Television
Year
Title
Role
Notes
1984
The Box of Delights
Greek soldier
Episode: Beware of Yesterday
1986
Harem
Charles Forest
Episodes 1 and 2
2000 - 02
Jackie Chan Adventures
Valmont
26 episodes, voice
2001
Rose Red
Nick Hardaway
TV mini-series, 3 episodes
2002
Ozzy and Drix
Penicillin G
Episode: Strep-Finger, voice
2004
Dark Kingdom: The Dragon King
Hagen
TV
2005
Law & Order: Special Victims Unit
Barclay Pallister
Episode: Design
2005
Stargate SG-1
Doci
Episode: Origin, The Fourth Horseman Part 1
2006
Law & Order: Criminal Intent
Paul Reinhardt
Episode: Dramma Giocoso
2006
24
Vladimir Bierko
TV - recurring, 11 episodes
2007
Agatha Christie's Marple
Thomas Royde
Episode: Towards Zero
2007
Ghost Whisperer
Ethan Clark
2 episodes
2009
Beyond Sherwood Forest
Malcolm
TV movie
2010
Castle
Teddy Farrow
Episode: Inventing the Girl
2012
Person of Interest
Alistair Wesley
Episode: Critical
2013
Dexter
Miles Castner
TV - recurring
2014
Banshee
Priest
3 episodes
Crossbones
William Jagger
TV - recurring, 8 episodes
2015
Gotham
Dr. Gerald Crane/"Todd"
2 episodes
We're Doomed! The Dad's Army Story
John Le Mesurier
2018
Medici: Masters of Florence
Piero di Cosimo de' Medici
Charities
Julian Sands supports the following charitable cause: Environment.
[ Source: Wikipedia ]