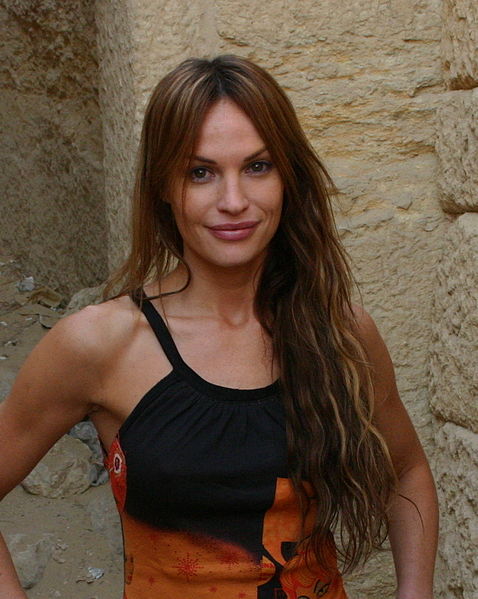 Jolene Blalock
Born:
March 5, 1975
Age:
48
Birthplace:
San Diego, California, U.S.
Popularity:

Please login to contact Jolene Blalock...
Biography
Jolene Blalock (born March 5, 1975) is an American actress and model, best known for playing the Vulcan first officer T'Pol on the UPN science-fiction series Star Trek: Enterprise. She has also guest-starred on television series and films and has appeared in several feature films.
Jolene Blalock was born and raised in San Diego, California, with three siblings.[1] She spent her childhood developing surfing and developing artistic skills.[2] She said of her childhood:[3]
I was such an awkward-looking child, I've no idea what happened. I didn't have a good childhood because I never could get along with other kids. I was the child that sat in the corner eating lunch by herself. I worked in the library at lunchtime because I had no real friends. I read a lot and educated myself a different way because me and school didn't get along. Even boys were never interested in me. I remember playing kiss-chase in the first and second grade. I would run but no one would ever chase me.
— Jolene Blalock, Interview in the Daily Star
Career
Early work
Blalock left home at age seventeen to model in Europe and Asia.[2] She has appeared on the cover of many men's lifestyle magazines, was twice featured in Maxim's "Girls of Maxim" gallery, and was named the 10th sexiest woman in the world in 2003 by FHM. She posed for a clothed fashion layout in Playboy in April 2002. She was later interviewed by the magazine for its "20Q" section in February 2005.
Blalock spent years dieting as a model and was relieved to move into acting, saying: "I'm jaded by my experiences in the modelling industry. You're never skinny or perfect enough and it was difficult mentally making the transition to acting."[1]
She made her television debut on the sitcom Veronica's Closet, before guest appearances on Love Boat: The Next Wave, CSI: Crime Scene Investigation, JAG and starring as Medea in a television movie adaptation of Jason and the Argonauts (2000). She also appeared in the movie On the Edge (2001) and the miniseries The Diamond Hunters (2001) before being cast on Star Trek: Enterprise.[1][2]
Read more...
Star Trek: Enterprise (2001-2005)
Landing a role on Enterprise was Blalock's biggest break and she described it as a dream come true.[1] She admitted she was excited at being a newcomer to the series:[4]
We're really fortunate. More than 100 people are working together on this every day and we haven't had one argument. It's incredible. I've had bad days in my personal life, but it's always a joy to go to work. There's also a sense of immortality that the show gives you, that you're working on something that will never die, that your contribution will last forever. That's a very special feeling.
— Jolene Blalock, Interview in The Express on Sunday
She has not participated in conventions or given interviews regarding her role on Star Trek: Enterprise except for FedCon XIV in May 2005, but did agree to join the cast reunion for an interview during the Blu-ray conversion and production.[5] She also appeared as a parody version of herself attending a Star Trek convention in a 2009 episode of the sitcom 10 Items or Less titled "Star Trok".
2003-present
Blalock appeared in the film Slow Burn with LL Cool J and Ray Liotta which was shot in 2003 between seasons two and three of Enterprise, unveiled at the Toronto International Film Festival in September 2005, and finally saw limited theatrical release in 2007.
She guest-starred in two episodes of Stargate SG-1 as Ishta, leader of a group of female Jaffa.
She was scheduled to appear on an episode of Lost during the 2005-2006 season as a former love interest of Sawyer (Josh Holloway). Though she filmed some scenes, the flashback scenes in that episode were changed from Sawyer to Michael (Harold Perrineau) and her scenes were never used in an episode nor featured as "deleted scenes" in the DVD set's bonus material. Set photos from the shooting of a scene surfaced in 2008.[6]
She played Captain Lola Beck in Starship Troopers 3: Marauder, which was released directly to DVD in the United States on August 5, 2008.
She made an appearance on the House episode titled "Teamwork" as Lexa, the wife of the porn star featured as the patient in this episode (airdate: November 16, 2009).
She played Sister Nicci, a Sister of the Dark, in the second season of Legend of the Seeker, appearing in episode nine, "Dark", broadcast on January 23, 2010, and episode 10, "Perdition", broadcast on January 30, 2010.
Blalock had a supporting role as Stacy in the William Kaufman action thriller Sinners and Saints, set in post-Katrina New Orleans, which premiered in Los Angeles on June 30, 2010.
Personal life
She is married to Michael Rapino, CEO of Live Nation. The two met when he booked her for a beer commercial in Los Angeles.[1] He lived in England and while working on Star Trek: Enterprise, she found conducting a long-distance relationship difficult, running up an "astronomical" phone bill.[1] She proposed to him and the two married in Negril, Jamaica, on April 22, 2003. They have three children.[7][8][9][10][11]
Blalock is a passionate dog lover and has appeared on the cover of the popular British dog publication K9 Magazine.[12]
Acting roles
Year
Title
Role
Notes
1998
Veronica's Closet
Woman #3
Episode: "Veronica's Breast Efforts"
1999
Love Boat: The Next Wave
Woman
Episode: "Prom Queen"
2000
Queen for a Day
Hot Babe in Yellow
2000
G vs E
Libby
Episode: "Cougar Pines"
2000
D.C.
Kristi
Episode: "Truth"
Episode: "Justice"
2000
Jason and the Argonauts
Medea
TV movie
2000
CSI: Crime Scene Investigation
Laura Garris
Episode: "Crate 'n Burial"
2001
The Diamond Hunters
Ruby Grange
TV series
2001
JAG
Corporal Lisa Antoon
Episode: "Touch and Go"
2001
On the Edge
Charlie's Wife
TV movie
2001-2005
Star Trek: Enterprise
Sub-Commander/Commander T'Pol
98 episodes
Saturn Award for Best Supporting Actress on Television (2001)
2003-2004
Stargate SG-1
Ishta
2 episodes
2005
Slow Burn
Nora Timmer
2006
I Dream of Murder
Joanna
TV movie
2007
Shadow Puppets
Kate
2008
Starship Troopers 3: Marauder
Captain Lola Beck
2008
CSI: Miami
Feratelli Porter
Episode: "Bombshell"
2009
House
Lexa
Episode: "Teamwork"
2009
10 Items or Less
Herself
Episode: "Star Trok"
2010
Legend of the Seeker
Sister Nicci
Episode: "Dark"
Episode: "Perdition"
2011
One Kine Day
2012
Sinners and Saints
Stacy
2012
Killing Frisco
Jolene
2014
Sex Tape
Catalina
[ Source: Wikipedia ]