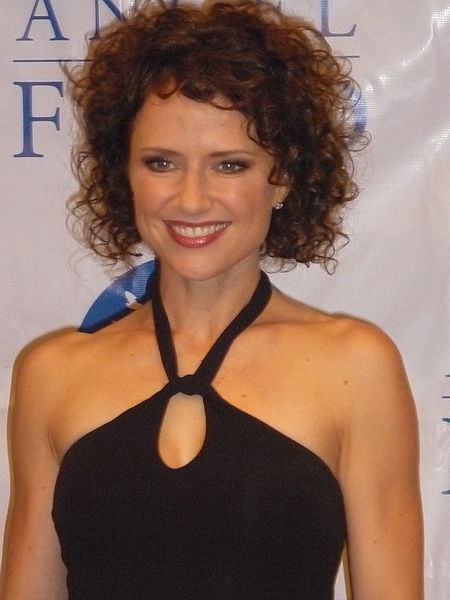 Jean Louisa Kelly
Born:
March 9, 1972
Age:
51
Birthplace:
Worcester, Massachusetts, U.S.
Popularity:

Please login to contact Jean Louisa Kelly...
Biography
Jean Louisa Kelly (born March 9, 1972) is an American actress. After making her film debut as Tia Russell in Uncle Buck (1989) alongside John Candy, she appeared in a wide range of other films including The Fantasticks (1995) and Mr. Holland's Opus (1995). From 2000 to 2006, she was known for portraying Kim Warner on the CBS sitcom Yes, Dear.[1]
Before attending college, she already had roles in the original Broadway cast of Sondheim's
Into the Woods
[2] (as Snow White and understudy to Red Riding Hood) and as Tia Russell in the film
Uncle Buck
with John Candy. She also took roles in college productions, including with the Barnard College Gilbert and Sullivan Society.[3]
In the mid-1990s, after graduating from college, Kelly became well known for a series of television commercials she did for MCI long distance,[2] in which she played a telephone operator who challenged AT&T. In 1995, she starred as Louisa in the musical film The Fantasticks with Joey McIntyre and Joel Grey, although the film was shelved until 2000. The same year, she appeared in her most prominent role since Tia, as Rowena Morgan, the muse for the title character of Mr. Holland's Opus. In the 1990s, other films followed. Later starring roles in films have included Landfall (2001) and Little Red Light (2003). Kelly appeared Off Broadway at the York Theatre in the title role in Paul McKibbins and B.T. McNicholl's The It Girl, based on the 1927 movie It. She also appeared in the York's "Mufti" series as Lois Lane in It's a Bird, It's a Plane, It's Superman.
In 1996, Kelly voiced the title role in the second season of the animated series Princess Gwenevere and the Jewel Riders. After several made-for-TV movies, Kelly's broadest exposure came from her roles in situation comedies, first guest starring in such shows as Mad About You, and then as a cast member of the short-lived NBC version of Cold Feet. From 2000 to 2006, she starred as Kim Warner on the long-running sitcom Yes, Dear.[4] On April 30, 2006, she guest starred in the ABC drama Grey's Anatomy[5] and has continued to guest star in television dramas.
In 2010, she was cast in a guest starring role in an episode of the television spy drama Burn Notice—playing a widow who had been swindled out of her life savings by a con man.
She currently appears as Bernice Pope in the Yahoo production of Sin City Saints.[6]
She released an album of children's music called Color of Your Heart in 2013.[7][8] On April 14, 2015, she released a collection of original songs in a five-song EP called Willing.[9] Her latest musical release is an album entitled "For My Folks" and features a collection of standards.[10]
Read more...
Personal life
Kelly was born in Worcester, Massachusetts, the daughter of J. Joseph Kelly III and Wendy Kelly.[3][11][12] Her father was a high school English teacher, and her mother taught piano. She attended Easton High School in Easton, Maryland.[2] In 1994, Kelly graduated from Columbia University's Columbia College with a Bachelor of Arts in English.[3]
In 1997, she married James Pitaro.[12]
As of 2010, Kelly resides in Los Angeles. She is close friends with Jennifer Garner,[13] having hosted the baby shower for Garner's daughter Violet Anne Affleck and interviewed Garner for Self magazine in 2005.[volume & issue needed]
Filmography
Film
| Year | Title | Role | Notes |
| --- | --- | --- | --- |
| 1989 | Uncle Buck | Tia Russell | |
| 1992 | American Shaolin | Maria | |
| 1995 | The Fantasticks | Luisa Bellamy | |
| 1995 | Mr. Holland's Opus | Rowena Morgan | |
| 1998 | Origin of the Species | Laura | |
| 1999 | A Stranger in the Kingdom | Athena Allen | |
| 2001 | Landfall | Marguerite Harris | |
| 2003 | Little Red Light | Amanda Meyer | Short film |
| 2010 | Locked Away | Chloe | |
| 2010 | Public Access | Nancy | Short film |
| 2014 | 1000 to 1: The Cory Weissman Story | Tina Weissman | Video |
| 2017 | Out of the Wild | Jesse King | Video |
Television
| Year | Title | Role | Notes |
| --- | --- | --- | --- |
| 1994 | Breathing Lessons | Daisy | Movie |
| 1994 | One More Mountain | Mary Graves | Movie |
| 1995 | Tad | Julia Taft | Movie |
| 1996 | Harvest of Fire | Rachel | Movie |
| 1996 | Princess Gwenevere and the Jewel Riders | Princess Gwenevere (voice) | Main role (10 episodes) |
| 1997 | Homicide: Life on the Street | Sarah Langdon | Episode: "Kaddish" |
| 1997 | Stolen Women: Captured Hearts | Sarah White | Movie |
| 1998 | Ruby Bridges | Jane Coles | Movie |
| 1998 | The Day Lincoln Was Shot | Lucy Lambert Hale | Movie |
| 1998 | Law & Order | Coral Galvin | Episode: "Scrambled" |
| 1998/99 | Mad About You | Diane | 3 episodes |
| 1999 | The Cyberstalking | Holly Moon | Movie |
| 1999 | Cold Feet | Shelley Sullivan | Main role (8 episodes) |
| 2000-06 | Yes, Dear | Kim Warner | Main role (122 episodes) |
| 2001 | Ally McBeal | Lisa | Episode: "The Ex-Files" |
| 2006 | Grey's Anatomy | Rose Ward | Episode: "Blues for Sister Someone" |
| 2008 | Ghost Whisperer | Jennifer Quinlan / Nora Sutherland | Episode: "First Do No Harm" |
| 2008 | Eli Stone | Julie Lazer | Episode: "Heal the Pain" |
| 2008 | Gary Unmarried | Beth | Episode: "Gary and Allison Brooks" |
| 2009 | Surviving Suburbia | Melissa Mann | Episode: "Desperate Housewife" |
| 2009 | The Three Gifts | Cherie Green | Movie |
| 2010 | The Glades | Becky | Episode: "A Perfect Storm" |
| 2010 | Burn Notice | Emily | Episode: "Blind Spot" |
| 2010-13 | Hero Factory | Natalie Breez / Operator | Recurring role; 6 episodes |
| 2011 | Paul the Male Matchmaker | Darla | 2 episodes |
| 2011 | CSI: Miami | Amy Wells | Episode: "Stoned Cold" |
| 2012 | CSI: Crime Scene Investigation | Sheila DeMarcus | Episode: "Code Blue Plate Special" |
| 2013 | Chance at Romance | Roz | Hallmark Channel TV movie |
| 2013 | The Good Mother | Rachel | Lifetime TV Movie |
| 2014 | Zoe Gone | Det. Patricia Henderson | Lifetime movie |
| 2015 | Sin City Saints | Bernice Pope | Yahoo Studios |
[ Source: Wikipedia ]