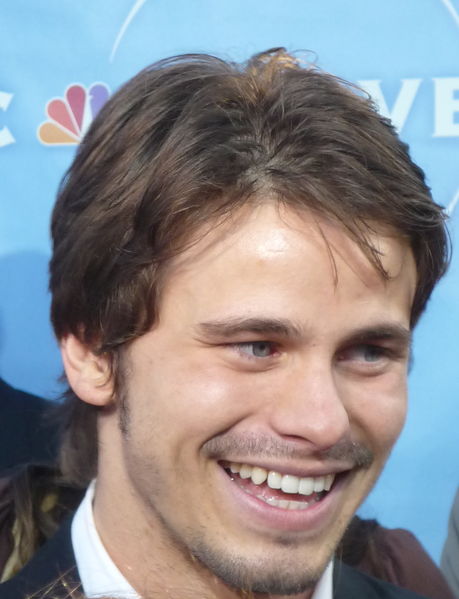 Jason Ritter
Born:
February 17, 1980
Age:
43
Birthplace:
Los Angeles, California, U.S.
Popularity:

Please login to contact Jason Ritter...
Biography
Jason Ritter (born February 17, 1980) is an American actor. He is known for his roles as Kevin Girardi in the television series Joan of Arcadia, Ethan Haas in The Class, Sean Walker in the NBC series The Event, and as the voice of Dipper Pines in Gravity Falls. He also played the recurring role of Mark Cyr in the NBC television series Parenthood, for which he received an Emmy Award nomination. In 2017, he starred in the TV comedy series Kevin (Probably) Saves the World.
Ritter was born on February 17, 1980 in Los Angeles, California, to actors
Nancy Morgan
and
John Ritter
. He is also a grandson of actors Tex Ritter and Dorothy Fay. His stepmother is actress
Amy Yasbeck
. The actor has three siblings, including actor Tyler Ritter.
Ritter first appeared in the opening credits of his father's show, Three's Company. He was the little blonde haired boy running up to Joyce DeWitt in the petting zoo scene.[1][2]
He attended middle and high school at the Crossroads School in Santa Monica, California, with Simon Helberg, who became his roommate at NYU.[3] He then attended and graduated from New York University's Tisch School of the Arts, where he studied at the Atlantic Theater Company. He also studied at the Royal Academy of Dramatic Art in London, UK.
Read more...
Career
Ritter in 2007
Ritter appeared in The Dreamer of Oz: The L. Frank Baum Story, co-starring as Baum's son alongside his own father. In 2002, he appeared in the movies PG and Swimfan. In 2003, Ritter had a major role in the slasher/horror film Freddy vs. Jason as Will Rollins. He appeared in Raise Your Voice and Happy Endings. He portrayed Jeb Bush in the Oliver Stone film W. In 2007, he also voiced substitute teacher, Mr. Fisk, in an episode of All Grown Up!, the grown up version of Rugrats, a teacher whom Angelica falls in love with.
In 2008, he released Good Dick, a movie which he produced and starred in along with his long term girlfriend at the time, Marianna Palka (with whom he began a relationship after meeting in Queens in October 1999),[4] who also wrote and directed the film.
Among his theater credits are Wendy Wasserstein's Third at Lincoln Center, for which he won the Clarence Derwent Award and the Martin E. Segal Award for his portrayal of the title character; the Off Broadway production of The Beginning of August, and the role of Tim in the world premiere of Neil LaBute's play The Distance From Here at London's Almeida Theatre. Ritter has volunteered as an actor with the Young Storytellers Program.
In 2012, Ritter starred in the Disney Channel series, Gravity Falls, a show about twins Dipper and Mabel Pines who are sent to live with their "Grunkle" Stan, and decipher the weird events of Gravity Falls, Oregon. Ritter voiced Dipper in the show. [5]
Ritter has appeared in the MTV show Punk'd. Ritter also starred as Sean Walker in the season-long NBC drama series The Event, which premiered on September 20, 2010.[6][7] Ritter will be seen alongside Kate French in the upcoming short film, Atlantis, a romance film centered on two strangers who fall in love during the preparation for the final launch of the NASA space shuttle Atlantis.[8] He had a recurring role on NBC's Parenthood.[9][10][11] His performance on the show earned him an Emmy Award nomination in 2012.[12]
In March 2013 it was announced that he would play Gavin opposite Alexis Bledel's Stacey in Us & Them, FOX's sitcom pilot based on the British television show Gavin & Stacey.[13] It was eventually picked up to series, however it was canceled by FOX before the show could premiere as they were not content with the script quality.[14] However in September 2018, Sony Crackle picked up the series's seven episodes for streaming starting October 1.[15]
Ritter has also been featured in the American period sitcom Another Period as Lord Frederick Bellacourt. His character is the illiterate twin brother of Beatrice, with whom he is involved in an incestuous relationship.
In 2018, Ritter had a supporting role in The Tale, an autobiographical feature film written and directed by Jennifer Fox. The film premiered at the 2018 Sundance Film Festival on January 20, 2018 and later on HBO on May 26, 2018.
Personal life
In 2017, Ritter became engaged to actress Melanie Lynskey after four years of dating.[16]
Filmography
Film
| Year | Title | Role | Notes |
| --- | --- | --- | --- |
| 1991 | The Real Story Of Christmas Tree | Little Acorn (voice) | Short film |
| 1999 | Mumford | Martin Brockett | |
| 2001 | Earth Day | Jack (voice) | Short film |
| 2002 | PG | Paul | Short film |
| 2002 | Swimfan | Randy | |
| 2003 | Smash the Kitty | Josh | Short film |
| 2003 | Freddy vs. Jason | Will Rollins | |
| 2004 | Raise Your Voice | Paul Fletcher | |
| 2005 | Perceptions | Michael | |
| 2005 | Happy Endings | Otis McKeen | |
| 2005 | Our Very Own | Clancy Whitfield | |
| 2005 | Placebo | Daniel | Short film |
| 2006 | Lenexa, 1 Mile | Sean Hickey | |
| 2006 | The Wicker Man | Bar Guy #2 | |
| 2007 | The Education of Charlie Banks | Mick Leary | |
| 2008 | The Deal | Lionel Travitz | |
| 2008 | Good Dick | The Man | |
| 2008 | W. | Jeb Bush | |
| 2009 | The Perfect Age of Rock 'n' Roll | Eric Genson | |
| 2009 | Peter and Vandy | Peter | |
| 2010 | The Dry Land | Michael | |
| 2010 | Morning | Hotel Receptionist | |
| 2011 | A Bag of Hammers | Benjamin Platt | |
| 2011 | The Perfect Family | Frank Cleary Jr. | |
| 2011 | The Brooklyn Brothers Beat the Best | Kyle | |
| 2011 | They're with Me | Isaac Solomon | Short film |
| 2011 | Atlantis | Ben | Short film |
| 2011 | The Five Stages of Grief | Orion | Short film |
| 2012 | The Break In | Larry | Short film |
| 2012 | Angel of Death | Victim 1 | Short film |
| 2012 | Trying | Mark | Short film |
| 2012 | The Golden Age | Mitch | Short film |
| 2012 | Manhattan Mixup | Fritz | Short film |
| 2012 | Free Samples | Wally | |
| 2013 | I Am I | Jonathan | |
| 2013 | The Big Ask | Owen | |
| 2013 | The Sidekick | Kid Loco | Short film |
| 2013 | The Goldfish | Yoni | Short film |
| 2013 | The East | Tim | |
| 2013 | The End of Love | Jason | |
| 2014 | Hits | Julian | |
| 2014 | Wild Canaries | Damien Anders | |
| 2014 | There's Always Woodstock | Garret | |
| 2014 | About Alex | Alex | |
| 2014 | 7 Minutes | Mike | |
| 2014 | You're Not You | Will | |
| 2014 | We'll Never Have Paris | Kurt | |
| 2015 | The Steps | Jeff | |
| 2015 | Embers | Guy | |
| 2015 | The Meddler | Jacob | |
| 2015 | Always Worthy | Jeff Fredrick | |
| 2016 | The Intervention | Matt | |
| 2016 | Carrie Pilby | Matt | |
| 2017 | The Labyrinth | Usher | |
| 2017 | Bitch | Bill | |
| 2018 | The Tale | Bill | |
Television
| Year | Title | Role | Notes |
| --- | --- | --- | --- |
| 1990 | The Dreamer of Oz: The L. Frank Baum Story | Harry Neal Baum | Television film |
| 1999 | Days of Our Lives | Todd | Supporting role (Season 34) |
| 1999 | Undressed | Allan | Main role (Season 3) |
| 2001 | Law & Order | Nick Simms | "Teenage Wasteland" (Season 11, Episode 12) |
| 2002 | Hack | Teddy Griffin | "My Brother's Keeper" (Season 1, Episode 5) |
| 2003 | Law & Order: Special Victims Unit | Billy Baker | "Dominance" (Season 4, Episode 20) |
| 2003-2005 | Joan of Arcadia | Kevin Girardi | Main role; 45 episodes |
| 2006-2007 | The Class | Ethan Haas | Lead role; 19 episodes |
| 2009 | WWII in HD | Jack Yusen (voice) | Main role; 2 episodes |
| 2009 | Mercy | Gabe Tyler | "Some of Us Have Been to the Desert" (Season 1, Episode 9) |
| 2010-2011 | The Event | Sean Walker | Main role; 22 episodes |
| 2010-2014 | Parenthood | Mark Cyr | Recurring role; 32 episodes |
| 2012 | County | Jack Malloy | Pilot[17][18] |
| 2012-2016 | Gravity Falls | Dipper Pines (voice) | Lead role; 40 episodes |
| 2013 | Robot Chicken | Reindeer / Sergeant (voice) | "Born Again Virgin Christmas Special" (Season 6, Episode 21) |
| 2013 | Call Me Crazy: A Five Film | Bruce | Television film, segment: "Lucy" |
| 2013-2018 | Drunk History | Various characters | 8 episodes |
| 2014 | Us & Them | Gavin Shipman | Lead role; unaired |
| 2014 | Person of Interest | Simon Lee | "Prophets" (Season 4, Episode 5) |
| 2014 | Key & Peele | Male Customer | "Concussion Quarterback" (Season 4, Episode 5) |
| 2014 | Garfunkel and Oates | Jason | "Maturity" (Season 1, Episode 8) |
| 2015-2016 | Girls | Scott | Recurring role; 5 episodes |
| 2015-present | Another Period | Frederick Bellacourt | Main role; 26 episodes |
| 2016 | Wander Over Yonder | Skipper (voice) | "The Cartoon" (Season 2, Episode 13) |
| 2016 | Goliath | FBI Agent Farley | 3 episodes |
| 2016 | Gilmore Girls: A Year in the Life | Ranger Bill | Episode: "Fall" |
| 2017-2018 | Kevin (Probably) Saves the World | Kevin Finn | Main role; 16 episodes |
| 2017 | The Long Road Home | Troy Denomy | 3 episodes |
| 2017-present | Skylanders Academy | Dark Spyro (voice) | 12 episodes |
| 2019 | Raising Dion | Pat | |
Web
Year
Title
Role
Notes
2008
T Takes
The Guest in Room 23
"Lobby" (Season 1, Episode 1)
2012
Weasel Town
Haunches
Voice; Main role
2012
Sketchy
Tom
"You Got Retweeted" (Season 1, Episode 18)
2013
Ghost Ghirls
William / Brad Wojciehowicz
"Home Is Where the Haunt Is" (Season 1, Episode 1)
"Comedy Of Terrors" (Season 1, Episode 7)
2016
Grandaddy - "Way We Won't"
Hitchhiker
Music video
2016
Kevin Pollak's Chat Show
Himself/Guest
Episode 276
Awards and nominations
| Year | Title | Category | Result | Ref. |
| --- | --- | --- | --- | --- |
| 2012 | Parenthood | Primetime Emmy Award for Outstanding Guest Actor in a Drama Series | Nominated | [19] |
| 2017 | Tales of Titans | Primetime Emmy Award for Outstanding Actor in a Short Form Comedy or Drama Series | Nominated | |
[ Source: Wikipedia ]