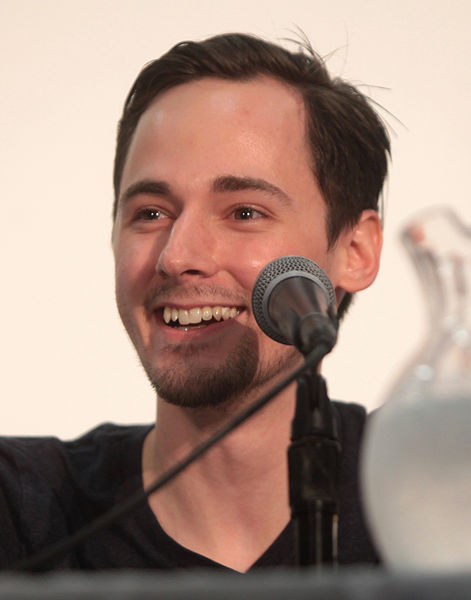 Jake Thomas
Born:
January 30, 1990
Age:
33
Birthplace:
Knoxville, Tennessee, U.S
Popularity:

Please login to contact Jake Thomas...
Biography
Jake Thomas (born January 30, 1990)[1] is an American actor, perhaps best known for his role as Matt McGuire, the title character's younger brother, in the Disney Channel show Lizzie McGuire (2001-04). In 2002, he won a Young Artist Award for supporting actor for his performance in A.I. Artificial Intelligence (2001). He also appeared in Cory in the House (2007-08), playing the role of Jason Stickler.
Thomas was born in Knoxville, Tennessee, the son of Kim Simms Thomas, a television reporter and writer, and Bob Thomas, a radio personality, actor and writer.[2] The youngest of three children, he has two older siblings, Chad and Brooke. Thomas attended Farragut High School. Thomas also works as a commercial entertainment photographer.
Thomas played Eric Miller in the Without a Trace episode "Wannabe" and a young Hugh Hefner in the television movie Hefner: Unauthorized. He made a guest appearance on 3rd Rock from the Sun and guest starred in Cory in the House as Jason Stickler.
Thomas travels between Los Angeles and Knoxville, Tennessee. He recently played Finn Avery in the YouTube web series Storytellers directed by YouTube star Joey Graceffa.
Read more...
Filmography
| Year | Film | Role | Notes |
| --- | --- | --- | --- |
| 1999 | 3rd Rock from the Sun | Kid | 1 episode, Y2dicK |
| 1999 | Touched by an Angel | Thomas | |
| 1999 | Hefner: Unauthorized (TV) | Young Hef (Age 9) | a.k.a. Hugh Hefner: The True Story |
| 1999 | The Man Show | Jake | Bad Old Days |
| 2000 | If Tomorrow Comes | Young Adam | |
| 2000 | The Cell | Young Carl Rudolph Stargher | |
| 2001-04 | Lizzie McGuire | Matthew "Matt" McGuire | 65 episodes, Main role |
| 2001-05 | Express Yourself | Himself | Interstitial series |
| 2001 | A.I. Artificial Intelligence | Martin Swinton | a.k.a. Artificial Intelligence: A.I. |
| 2002 | Body & Soul | Raymond White | 1 episode, Shadow Boxing |
| 2003 | The Lizzie McGuire Movie | Matthew "Matt" McGuire | |
| 2003 | Sixteen to Life (TV) | Mike | |
| 2003 | National Lampoon's Christmas Vacation 2: Cousin Eddie's Island Adventure (TV) | Clark 'Third' Johnson | |
| 2003-07 | The Grim Adventures of Billy and Mandy | Nigel Planter | Voice role; 4 episodes |
| 2004 | Without a Trace | Eric Miller | 1 episode, Wannabe |
| 2004 | DinoCroc | Michael Banning | Decapitated in film |
| 2004 | Soccer Dog: European Cup | Zach Connolly | |
| 2005 | Center of the Universe | Waylon | 1 episode, The New Neighbours |
| 2005 | Brave: The Search for Spirit Dancer (VG) | Brave | Video game,voice |
| 2006 | Trick or Treat | Isaac Ackerman | |
| 2007-08 | Cory in the House | Jason Stickler | 11 episodes |
| 2008 | Aces 'N' Eights (TV) | Noah | |
| 2008 | ER | Nick | 1 episode, As the day she was born |
| 2008 | Cold Case | Hugh Mastersen '78 | 1 episode, Roller girl |
| 2009 | Lie to Me | James Cole | 1 episode, Pilot |
| 2009 | Eleventh Hour | Brian Dahl | 1 episode, Eternal |
| 2009 | House | Ryan | 1 episode, Unfaithful |
| 2009 | Trust Me | Steve | 1 episode, Odd Man Out |
| 2009 | CSI: Miami | Lucas Galinetti | 1 episode, Chip/Tuck |
| 2009 | Rules of Engagement | Toby | 1 episode, Twice |
| 2009 | Ghost Whisperer | Andrew Carlin | 1 episode, Endless Love |
| 2010 | Criminal Minds | Scott Kagan | 1 episode, Middle Man |
| 2010 | Maternal Obsession | Kevin | Lifetime Movie |
| 2011 | Secret Life of the American Teenager | Boy Dancing | 1 episode: "And Circumstance" |
| 2011 | Betrayed at 17 | Shane Ross | Lead role |
| 2012 | NCIS | Alec Dell | 1 episode: "Namesake" |
| 2012 | CSI: NY | Steve Davis | 1 episode: "Clue: CSI" |
| 2013-14 | Storytellers | Finn Avery | 6 episodes (Main role) |
| 2014 | Taken Away | Lucas | a.k.a. Ambivalence |
| 2015 | Romantically Speaking | Martin | |
| 2018 | Baja | Bryan Johnson | |
| 2018 | The Unwilling | Darren | |
[ Source: Wikipedia ]