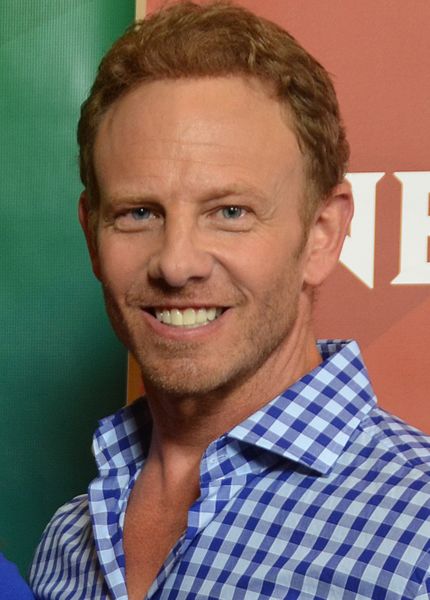 Ian Ziering
Birth name:
Ian Andrew Ziering
Born:
March 30, 1964
Age:
58
Birthplace:
Newark, New Jersey, U.S.
Popularity:

Please login to contact Ian Ziering...
Biography
Ian Andrew Ziering (/ˈaɪən ˈzɪərɪŋ/; born March 30, 1964) is an American actor and voice actor best known for his role as Steve Sanders on the television series Beverly Hills, 90210, which he played from 1990 to 2000. He is also the voice of Vinnie on Biker Mice from Mars. Since 2013, he has starred as Fin Shepard in the Sharknado film series.
Ian Ziering was born in Newark, New Jersey, the son of Muriel and Paul M. Ziering, an educator and saxophonist.[1][2][3] He grew up in West Orange, New Jersey and has two older brothers, Jeff and Barry. Ziering was raised Jewish (his family is from Russia and Austria).[4][5] He graduated from West Orange High School in 1982, and from William Paterson University in 1988.[6]
Read more...
Career
In 1990, Ziering was chosen as Steve Sanders on the hit series Beverly Hills, 90210. Sanders was a high school student and friend of Brandon Walsh, one of the series' other central characters. He is one of only four series regulars to appear on the show for its entire duration.
In 1998, Ziering was cast as the voice Dr. Niko "Nick" Tatopoulos in Godzilla: The Series, which was a direct follow-up to the 1998 Hollywood Godzilla re-imagining. Ziering replaced Matthew Broderick, who played Nick Tatopolous in the movie.[7]
He was a celebrity dancer on Season 4 of Dancing with the Stars.[8] His professional dance partner was Cheryl Burke, who won the competition in Season 2 with partner Drew Lachey and also Season 3 with partner Emmitt Smith. He made it to the semi-final round of Season 4, and received a perfect score (three 10s) from the judges for one of his two dances in the semi-finals. However, it was not enough to reach the finals: he and Cheryl were eliminated during the results show the next day, May 15, 2007. The experience of working with Ziering made Burke want to "slit her wrists" she said in 2016.[9] She later apologized, not to Ziering but for making a thoughtless reference to suicide. Ziering did not comment publicly on Burke's comments beyond re-tweeting a message from a different former co-worker that praised him as a great person to be around.
Ziering in September 2008
In 2006, Ziering produced, directed and starred in the short film Man vs. Monday, which won the Audience Choice Award at the 2006 Ft. Lauderdale Film Festival.[citation needed] Also in 2006, Ian won the Best Actor Award at the 2006 Monaco Film Festival for his portrayal of Francis in the independent film Stripped Down.[citation needed]
Ian has also appeared in the television series JAG, What I Like About You, The Doctors as Erich Aldrich and Guiding Light as Cameron Stewart. He also had a role in the videogame Freelancer as the protagonist, Edison Trent.
On June 18, 2007, Variety reported that Ziering had auditioned the previous week for the opportunity to succeed Bob Barker as host of The Price Is Right.[10] The job ultimately went to Drew Carey.[11] Ziering's ex-wife, Nikki, was a model on the show from 1999 to 2002.
In May, 2013, it was announced that Ziering would be performing with Chippendales as a celebrity guest star for four weeks at the Rio All Suite Hotel and Casino in Las Vegas.[12]
In 2015, he appeared on Celebrity Apprentice on NBC.
In 2018, he competed on Worst Cooks in America: Celebrity Edition. [13]
Personal life
Ziering married Playboy model Nikki Schieler in July 1997. They filed for divorce in February 2002, citing irreconcilable differences.[14] Nikki has said that the separation was contentious, and that she was not given any support or help moving out.[15]
On February 3, 2010, Ziering announced his engagement to Erin Ludwig.[16] The couple married at a ceremony in Newport Beach, California, on May 28, 2010. They have two daughters, Mia Loren (born April 25, 2011)[17] and Penna Mae (born April 25, 2013).[18]
Filmography
Film
| Year | Title | Role | Notes |
| --- | --- | --- | --- |
| 1981 | Endless Love | Sammy Butterfield | film debut |
| 1995 | Savate | Cain Parker | Direct-to-Video |
| 1995 | No Way Back | Victor Serlano | |
| 1996 | Mighty Ducks the Movie: The First Face-Off | Wildwing (voice role) | Direct-to-Video |
| 2005 | Domino | Himself | |
| 2005 | Six Months Later | Michael | Short film |
| 2006 | Stripped Down | Francis | |
| 2006 | Man vs. Monday | Dan Smith | Short film; also Director |
| 2007 | Tyrannosaurs Azteca | Cortes | |
| 2009 | Step Seven | Richard Miller/Brother Abraham | Short film |
| 2010 | Hopelessly Devoted | unknown role | Short film |
| 2011 | The Legend of Awesomest Maximus | Testiclees | |
| 2012 | That's My Boy | TV Version Donny | |
| 2012 | McKenna Shoots for the Stars | Mr. Brooks | |
| 2013 | Disney's Vehicle Movies | unknown (voice role) | Short film |
| 2013 | Snake & Mongoose | Keith Black | |
| 2014 | Christmas in Palm Springs | Teddy | |
| 2016 | Killer Deal | Nick Steel | Short film; also Producer |
| 2017 | F*&% the Prom | Ken Reede | |
Television
Year
Title
Role
Notes
1981-1982
The Doctors
Erich Aldrich
television debut
2 episodes
1987
Guiding Light
Cameron Stewart
Episode: "1.22.1987"
1988
ABC Afterschool Specials
Randy Forrester
Episode: "Terrible Things My Mother Told Me"
1990
CBS Schoolbreak Special
Donnie
Episode: "Flour Babies"
1990
Married...with Children
The Kid
Episode: "The Unnatural"
1990-2000
Beverly Hills, 90210
Steve Sanders/Ronnie Robertson
series regular; 292 episodes
Producer of 8 episodes
Director of Episode: "I'm Using You 'Cause I Like You"
Writer of Episode: "Sentenced to Life" (story by)
1992
Melrose Place
Steve Sanders
3 episodes
1992
The Legend of Prince Valiant
unknown (voice role)
2 episodes
1992
Parker Lewis Can't Lose
Himself
Episode: "Geek Tragedy"
1993-1996
Bike Mice from Mars
Vinnie (voice role)
series regular; 65 episodes
1994
Aaahh!!! Real Monsters
Gludge (voice role)
Episode: "Smile and Say Oblina/The Great Wave"
1994
Beverly Hills, 90210: A Christmas Special
Himself
Television Movie
1995
The Women of Spring Break
George Peck
Television Movie
1996
Subliminal Seduction
Darrin Danver
Television Movie
1996-1997
Mighty Ducks
Wildwing (voice role)
series regular; 24 episodes
1998
V.I.P.
Peter, Tasha's ex-husband
Episode: "Bloody Val-entine"
1998
All-Star Party for Aaron Spelling
Himself
Television Special
1998
78th Annual Miss America Pageant
Himself (Judge)
Television Special
1998-1999
Hollywood Squares
Himself (Panelist)
recurring role; 10 episodes
1998-2001
Godzilla: The Series
Dr. Nick Tatopoulos (voice role)
series regular; 40 episodes
1999
Love Boat: The Next Wave
Joshua Krumb
Episode: "Don't Judge a Book by Its Lover"
1999
Batman Beyond: The Movie
Mason Forrest (voice role)
Television Movie
1999
Batman Beyond
Episode: "The Winning Edge"
2000
Twice in a Lifetime
Dr. Steven Weaver/Lance Kensington
Episode: "Even Steven"
2001
Inside Schwartz
Parker
uncredited; Episode: "Event Night"
2001
JAG
Captain William Shepard
Episode: "Ambush"
2001
The Test
Himself (Panelist)
Episode: "The PDA Test"
2002
Son of the Beach
Harry Johnson
3 episodes
2002
What I Like About You
Paul Cody
Episode: "Copy That"
2003
Spider-Man
Harry Osborn (voice role)
series regular; 13 episodes
2006-2007
Biker Mice from Mars
Vinne/Brie Fish/Taonga (voice role)
series regular; 29 episodes
2007
Side Order of Life
Brian Fowler
3 episodes
2007
Drawn Together
Chase Huffington (voice role)
Episode: "Drawn Together Babies"
2007
Dancing with the Stars
Himself (Contestant)
Reality Television
2008
Love Storm
John Wilson
Television Movie
2008
Your Mama Don't Dance
Himself (Host)
series regular; 8 episodes
2009
The Christmas Hope
Nathan Andrews
Television Movie
2010
CSI: NY
Thom Weir
Episode: "Pot of Gold"
2010
Elopement
David Drummond
Television Movie
2011
Happily Divorced
Robert, Support Group Leader
Episode: "Spousal Support"
2013
Sharknado
Fin Shepard
Television Movie
2013
Deadtime Stories
Mr. Tyler
Television Miniseries; Episode: "Terror in Tiny Town"
2013
Hell's Kitchen
Himself (Restaurant Patron)
Episode: "9 Chef's Compete"
2013
Shark After Dark
Himself (Guest)
Television Miniseries; Episode: "Sharkmania!"
2013
Oprah: Where Are They Now?
Himself (Guest)
Episode: "90210 Star Ian Ziering"
2014
Sharknado 2: The Second One
Fin Shepard
Television Movie
2014
Sproutnado: Ocean Weather Report
Weather Reporter
Television Movie
2014
94th Annual Miss America Pageant
Himself (Judge)
Television Special
2014
On Your Marc!
Himself (Guest)
Episode: "Ian Ziering"
2014
Sproutnado: Synchronized Swimming
Himself - Swimmer
Television Movie
2014
Sproutnado: So Many Numbers in the Ocean
Himself - Swimmer
Television Movie
2014
Sproutnado: Shark Costume Delivery
Himself - Movie Star
Television Movie
2014
The Wil Wheaton Project
Himself (Guest)
Episode: "Wil Master: Axis of Wheaton"
2014
America's Healthiest Heroes
Himself (Host)
Television Series
2014-2016
Celebrity Name Game
Himself (Celebrity Player)
recurring role; 5 episodes
2015
Defiance
Conrad Von Bach
Episode: "The Beauty of Our Weapons"
2015
Sharknado 3: Oh Hell No!
Fin Shepard
Television Movie
2015
Lavalantula
Fin Shepard
Television Movie
2015
The Apprentice
Himself (Contestant)
series regular; 8 episodes
2016
The Muppets.
Himself
Episode: "A Tail of Two Piggies"
2016
Hashtaggers
Himself
Episode: "#Colin'sRival with Ian Ziering"
2016
Sharknado: The 4th Awakens
Fin Shepard
Television Movie; also Co-Executive Producer
2017
Sharknado 5: Global Swarming
Fin Shepard
Television Movie; also Co-Executive Producer
2017
Battle of the Network Stars
Himself (Contestant)
Episode: "Primetime Soaps vs. ABC Stars"
2018
The Thundermans
Young Thunder Man
Episode: "The Thundredth"
2018
Aussie Girl
Himself
Episode: "Crafty Service"
2018
Worst Cooks in America
Himself (Contestant)
series regular; 6 episodes
2018
Celebrity Family Feud
Himself (Contestant)
Episode: "Sherri Shepherd vs. Ian Ziering"
2018
The Last Sharknado: It's About Time
Fin Shepard
Television Movie; also Co-Executive Producer
Video Games
| Year | Title | Role | Notes |
| --- | --- | --- | --- |
| 2003 | Freelancer | Edison Trent (voice role) | Microsoft Game Studios |
| 2007 | Biker Mice from Mars | Vinnie (voice role) | PlayStation 2 & Nintendo DS |
Dancing with the Stars season 4
Week#
Dance / Song
Judges' Score
Result
Inaba
Goodman
Tonioli
1
Cha-Cha-Cha / "Mony Mony"
7
7
7
No Elimination
2
Quickstep / "Don't Get Me Wrong"
7
8
7
Safe
3
Jive / "Hard Headed Woman"
8
8
8
Safe
4
Waltz / "He Was Beautiful"
7
9
8
Safe
5
Samba / "Dance Like This"
8
8
8
Safe
6
Paso Doble / "Waiting for Tonight"
Swing / "Rock This Town"
8
No
8
Scores
8
Given
Safe
7
Tango / "Holding Out for a Hero"
Mambo / "Gimme the Light"
9
9
9
9
9
9
Safe
8
Foxtrot / "Baby, It's Cold Outside"
Rumba / "Imagine"
8
8
7
8
7
9
Safe
9

Tango / "Maneater"
Jive / "All Shook Up"
9
10
10
10
9
10
Eliminated
[ Source: Wikipedia ]