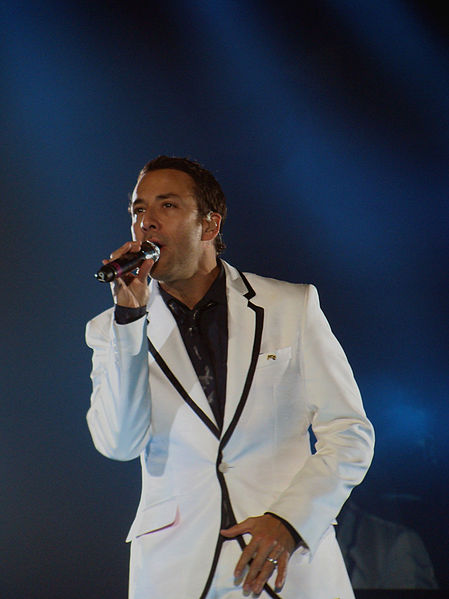 Howie Dorough
Birth name:
Howard Dwaine Dorough
Born:
August 22, 1973
Age:
48
Birthplace:
Orlando, Florida, U.S.
Popularity:

Please login to contact Howie Dorough...
Biography
Howard Dwaine Dorough (born August 22, 1973)[1] is an American singer, songwriter, and actor. He is best known as a member of American music group Backstreet Boys.
Howard Dwaine Dorough was born in Orlando, Florida,[1] where he met future friend and bandmate
AJ McLean
through a mutual vocal coach.[2] His mother, Paula Flores, is Puerto Rican,[3] and his father, Hoke Dwaine Dorough (1938-2008),[4] was Irish American.
Dorough's love and passion for entertainment started when he was three years old, begun by jumping on his grandparents' bed, singing "Babyface" with his little guitar. He started performing around age six or seven, thanks to his sister, singing during mass in church choir and having his first role in the musical adaptation of The Wizard of Oz as a singer and actor. His mother started to enroll him in children's community theaters and got him in singing/voice and acting lessons by putting him in a performing arts academy where he also took dance lessons in classical ballet, tap, and jazz. During school, Dorough also performed in choir, talent shows and school productions, including a school TV show called Macho & Camacho. He also managed to land roles in movies, such as Parenthood and Cop and a Half, as well as act in a Nickelodeon TV production and star in a commercial for Walt Disney World under the stage name Tony Donetti.[5]
After high school, Dorough auditioned for Backstreet Boys under his stage name, but they lost his contact info; however, after six months, they were able to track him down, thanks to AJ.[5][6] He came to fame in the mid-1990s as a member of the Backstreet Boys. He graduated from Edgewater High School in the Top 10 of his class[citation needed] and attended Valencia College with *NSYNC member, Chris.[7]
Read more...
Career
Backstreet Boys
Main article: Backstreet Boys
Dorough, along with AJ McLean, Brian Littrell, Nick Carter, Kevin Richardson started the Backstreet Boys in 1993. They were then booked to perform at many venues such as high schools and shopping malls and eventually managed to sign a contract with Jive Records in 1994. They slowly became popular in European countries, starting with Germany, and embarked on a tour in support of their debut album. The album slowly climbed up to the top ten slots in most countries and was on its way to sell more than 8 million copies.
As their second album, Backstreet's Back was being released in Europe, they released their first album in the United States which was a compilation of both their international debut and Backstreet's Back. The album climbed to No. 4 on the Billboard 200 and eventually sold over 14 million copies. Meanwhile, Backstreet's Back became an even bigger success than their debut album, opening at the number one spot in many countries.
They started recording Millennium in 1998 and released it in May 1999. It became one of the biggest selling albums of all time taking the number one place in many countries. Their first single from Millennium's follow up album, Black & Blue, Shape Of My Heart was released to radio on October 3. Black and Blue recorded first week sales of 1.59 million copies in the US, making the Backstreet Boys the first artists to back to back million-plus sales of albums.
After releasing their greatest hits album they went on hiatus and regrouped in 2003. They released their next album, Never Gone in 2005. While it was negatively reviewed by critics it enjoyed a lot of commercial success. They released their next album, Unbreakable in 2007 and the follow-up This Is Us, in 2009. Their eighth album In a World Like This was released on July 30, 2013. The band is currently working on their 9th studio album, which is expected to be released around in October 2018 or early 2020 with a new headlining tour to follow. All in all, they have become one of the biggest selling artists of all time with record sales exceeding 100 million worldwide.
Solo projects
Dorough worked as a producer for singer/songwriter George Nozuka and Katelyn Tarver as part of his management partnership with former 3deep member CJ Huyer, called HC Entertainment formed in 2004. Since 2010 he's also managing a Canadian band Neverest, who was under Dorough's company, 3 Street Management.
Dorough's first solo album Back to Me was released on November 9, 2011. The first single "100" received moderate success and airplay primarily in Canada.[8] Also in November 2011 Dorough joined Britney Spears for her Femme Fatale Tour in South America.[9]
TV and film appearances
Dorough guest-starred in the television series Sabrina, the Teenage Witch in the episode "The Big Head" as an egotistic rock star named Strum. He also guest-starred on an episode of Roswell, and voiced Santa Claus on the Nickelodeon preschool animated series Dora the Explorer in the Christmas episode "A Present for Santa". In September 2002, Howie and the rest of The Backstreet Boys made special guest appearances on the children's cartoon Arthur. In 2013 Dorough made his motion picture debut by appearing in the comedy This Is the End along with the rest of the Backstreet Boys.
Other ventures
Dorough also founded a company called Sweet D, Inc. with his older brother John.[10] The company specializes in real estate development and has built numerous condominiums, hotels, and waterfront properties.[11] He's also founded and held the positions of CEO, chairman, and director in several other companies, most notably Dorough Lupus Foundation and Howiedoit Productions, Inc.[12][13]
Personal life
In 1998, Dorough's sister, Caroline Dorough-Cochran, died of lupus. After her death, Dorough established the Dorough Lupus Foundation. The foundation helps raise awareness about the disease, financial support for those who cannot afford treatment, and money for research.[14]
On December 8, 2007, Dorough married his longtime girlfriend Leigh Boniello in a traditional Catholic ceremony.[15][16] Their first child, James Hoke Dorough, was born on May 6, 2009.[17] In August 2012, Dorough stated via Twitter that he and his wife were expecting another baby boy.[18] The couple welcomed their second child, Holden John Dorough, on February 16, 2013.[19]
Discography
See also: Backstreet Boys discography
Albums
Title
Year
Peak positions
JPN
[20]
Back to Me

Released: November 9, 2011 (Japan)
Released: November 15, 2011 (United States)
Label: avex trax (JP), RCA (US)
Formats: CD, digital download

56
Live from Toronto

Released: March 13, 2012
Format: Digital download

—
Singles
Year
Single
Album
2011
"100"
Back to Me
"Lie to Me"
2012
"Going Going Gone"
Collaborations
"Show Me What You Got" (Howie Dorough featuring BoA)
"I'll Be There" (Howie Dorough featuring Sarah Geronimo)
"It Still Matters ~愛は眠らない(Ai wa Nemuranai)~" (The Gospellers featuring Howie Dorough)
"I Like It" (co-writer) (So Real, Mandy Moore)
"If I Say" (Howie Dorough featuring U)
"Worth Fighting For" (Howie Dorough featuring U)
"New Tomorrow" (featuring Howie D) (A Friend in London feat Howie Dorough)
Filmography
TV series & Movies
Year
Film
Role
Notes
1989
Parenthood
1990
Welcome Freshmen
1998
Sabrina the Teenage Witch
Himself
Episode: "Battle of the bands"
1998-1999
Saturday Night Live
Himself and Musical guest
"Julianne Moore/Backstreet Boys" (Season 23: episode 16)
"Sarah Michelle Gellar/Backstreet Boys" (Season 24: episode 19)
2002
Sabrina the Teenage Witch
Strum
Season 7 episode 2 "The Big Head"
2002
Arthur
Himself
Episode: "Arthur, It's Only Rock and Roll" Guest Voice
2002
Sesame Street
Himself
2005
The Ellen DeGeneres Show
Himself
Musical Guest With The Backstreet Boys
2012
Late Night with Jimmy Fallon
Himself
Musical Guest with Backstreet Boys
2013
This Is the End
himself
With the Backstreet Boys, performing "Everybody (Backstreet's Back)"
2014
I Heart Nick Carter
Himself
minor
2000-2014
Dora The Explorer
Voice Acting
Played Santa In A Present For Santa And The Singing Bridge In Dora's Pirate Adventure
Charities
Howie Dorough supports the following charitable causes: Alzheimer's, Children, Lupus.
[ Source: Wikipedia ]