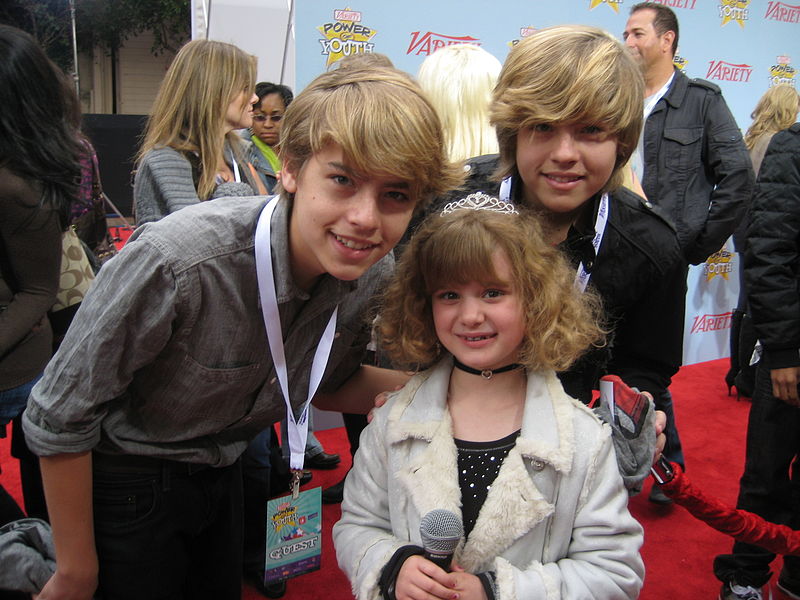 Dylan Sprouse
Birth name:
Dylan Thomas Sprouse
Born:
August 4, 1992
Age:
31
Birthplace:
Arezzo, Tuscany, Italy
Popularity:

Please login to contact Dylan Sprouse...
Biography
Dylan Thomas Sprouse (born August 4, 1992)[1] is an American actor and the twin brother of Cole Sprouse. He is known for his role as Zack Martin on the Disney Channel series The Suite Life of Zack & Cody and its spin-off, The Suite Life on Deck.
Sprouse was born in Arezzo, Italy, to American parents Matthew Sprouse and Melanie Wright, while they were teaching at an English language school in Tuscany.[2] Dylan was born 15 minutes before his younger twin brother Cole Sprouse.[3] Four months after his birth, the family moved back to their parents' native Long Beach, California.[4]
Read more...
Career
Sprouse started his career in 1993 on television, alongside his twin brother Cole Sprouse, sharing the role of Patrick Kelly in Grace Under Fire until 1998. For the next several years, he continued to appear in several films and television series with his brother. In 2017, he was cast in the thriller film Dismissed as the lead role of Lucas Ward.[5] In the same year, he booked a short film Carte Blanche and was cast in comedy film Banana Split as Nick.[6][7] The following year he joined a short film Daddy as Paul and the Chinese film Turandot opposite actress Guan Xiaotong as the character Calaf.[8]
Education and entrepreneurship
Following the end of The Suite Life on Deck in 2011, Sprouse attended New York University's Gallatin School of Individualized Study and obtained a four-year degree in video game design.[9] In 2018, Sprouse opened All-Wise Meadery in Williamsburg, Brooklyn.[10][11]
Filmography
With the exception of Piggy Banks and Snow Buddies, all appearances prior to 2017 were either roles shared with Cole Sprouse—that is, in which the two portrayed one single character—or projects on which they both worked but portrayed separate characters.
Film
| Year | Title | Role | Notes |
| --- | --- | --- | --- |
| 1999 | Big Daddy[12] | Julian McGrath | |
| 1999 | The Astronaut's Wife[12] | Twin | |
| 2001 | Diary of a Sex Addict[13] | Sammy Jr. | Direct-to-video film |
| 2001 | I Saw Mommy Kissing Santa Claus[14] | Justin Carver | |
| 2002 | The Master of Disguise[12] | Young Pistachio Disguisey | |
| 2002 | Eight Crazy Nights[12] | KB Toys soldier | Voice |
| 2003 | Apple Jack[15] | Jack Pyne | Short film |
| 2003 | Just for Kicks[16] | Dylan Martin | Direct-to-video film |
| 2004 | The Heart Is Deceitful Above All Things[17] | Older Jeremiah | |
| 2005 | Piggy Banks[18] | Young John | Alternate title: Born Killers |
| 2006 | Holidaze: The Christmas That Almost Didn't Happen[19] | Kid | Voice; direct-to-video film |
| 2007 | A Modern Twain Story: The Prince and the Pauper[20] | Tom Canty | |
| 2008 | Snow Buddies[12] | Shasta | Voice; direct-to-video film |
| 2009 | The Kings of Appletown[21] | Will | |
| 2010 | Kung Fu Magoo[22] | Justin Magoo | Direct-to-video film |
| 2017 | That High and Lonesome Sound | | Short film |
| 2017 | Dismissed[23][5] | Lucas Ward | Direct-to-video film |
| 2018 | Carte Blanche[7] | Gideon Blake | Indie film |
| 2018 | Banana Split[24] | Nick | Post-production |
| 2018 | Daddy[25] | Paul[not in citation given] | Short film; post-production |
| 2018 | Turandot[8] | Calaf | Filming |
Television
| Year | Title | Role | Notes |
| --- | --- | --- | --- |
| 1993-98 | Grace Under Fire[12] | Patrick Kelly | Main role |
| 1998 | Mad TV[26] | Kid | 2 episodes |
| 2001 | The Nightmare Room[27] | Buddy | Episode: "Scareful What You Wish For" |
| 2001 | That '70s Show[28] | Bobby | Episode: "Eric's Depression" |
| 2005-08 | The Suite Life of Zack & Cody[12] | Zack Martin | Lead role |
| 2006 | The Emperor's New School[29] | Zam | Voice; episode: "Oops, All Doodles/Chipmunky Business" |
| 2006 | That's So Raven[30] | Zack Martin | Episode: "Checkin' Out" |
| 2008 | According to Jim[31] | Himself | Episode: "I Drink Your Milkshake" |
| 2008-11 | The Suite Life on Deck[32] | Zack Martin | Lead role |
| 2009 | Wizards of Waverly Place[33] | Zack Martin | Episode: "Cast-Away (To Another Show)" |
| 2009 | Hannah Montana[33] | Zack Martin | Episode: "Super(stitious) Girl" |
| 2010 | I'm in the Band[34] | Zack Martin | Episode: "Weasels on Deck" |
| 2011 | The Suite Life Movie[12] | Zack Martin | Television film |
| 2012 | So Random![35] | Himself | Episode: "Cole and Dylan Sprouse" |
Music videos
| Year | Title | Artist | Role | Ref. |
| --- | --- | --- | --- | --- |
| 2018 | "Consequences" | Camila Cabello | Love Interest | |
Other
| Year | Title | Role | Notes |
| --- | --- | --- | --- |
| 2018 | The Super Slow Show[36] | Himself | Web series; episode: "Hollywood Stunt Falls in Slow Motion" |
| 2018 | Total War: Warhammer II[37] | Alith Anar | Video game; voice |
Awards and nominations
Year
Award
Category
Work
Result
1999
YoungStar Awards
Best Performance by a Young Actor in a Comedy Film
Big Daddy
Nominated[38]
2000
Blockbuster Entertainment Awards
Favorite Supporting Actor - Comedy
Big Daddy
Nominated[39]
MTV Movie Awards
Best On-Screen Duo
Big Daddy
Nominated[40]
Young Artist Awards
Best Performance in a Feature Film - Young Actor Age Ten or Under
Big Daddy
Nominated[41]
2006
Young Artist Awards
Best Performance in a TV Series (Comedy or Drama) - Leading Young Actor
The Suite Life of Zack & Cody
Nominated[42]
2007
Popstar Magazine's Poptastic Awards
"Favorite Television Actor"
The Suite Life of Zack & Cody
Nominated[43]
Young Artist Awards
Best Performance in a TV Series (Comedy or Drama) - Leading Young Actor
The Suite Life of Zack & Cody
Nominated[44]
2008
Kids' Choice Awards
Favorite Television Actor
The Suite Life of Zack & Cody
Nominated[45]
Popstar Magazine's Poptastic Awards
Favorite Television Actor
The Suite Life of Zack & Cody
Nominated[46]
2009
Kids' Choice Awards
Favorite Television Actor
The Suite Life of Zack & Cody
Won[47][48]
Popstar Magazine's Poptastic Awards
Favorite Television Actor
The Suite Life on Deck
Nominated[49]
2010
Kids' Choice Awards
Favorite Television Actor
The Suite Life on Deck
Won[50][51]
2011
Kids' Choice Awards
Favorite Television Actor
The Suite Life on Deck
Won[52][53]
Discography
"A Dream Is a Wish Your Heart Makes" [54] (2005)
"A Dream Is a Wish Your Heart Makes" [55] (2008)
[ Source: Wikipedia ]