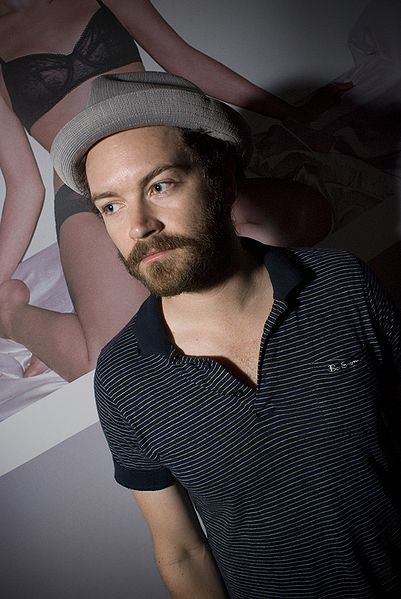 Danny Masterson
Born:
March 13, 1976
Age:
47
Birthplace:
Long Island, New York, U.S.
Popularity:

Please login to contact Danny Masterson...
Biography
Daniel Peter "Danny" Masterson (born March 13, 1976)[1] is an American actor and disc jockey.[2] Masterson is known for his roles as Steven Hyde in That '70s Show (1998-2006) and as Jameson "Rooster" Bennett in The Ranch (2016-2018).
Masterson was born on Long Island, New York, the son of Carol, a manager, and
Peter Masterson
, an insurance agent.[3] He grew up in Garden City and East Williston, New York.[4] He has one brother, actor
Christopher Masterson
. Their maternal half siblings Jordan Masterson and
Alanna Masterson
are also actors. He also has a paternal half brother Will Masterson.
A child model from age 4, who was featured in magazine articles as well as television commercials beginning at age 5, Masterson starred in musicals as a child at the age of eight, and began acting as well. His singing voice "disappeared" by the time he was a teenager. By the time he was sixteen, he had appeared in over one-hundred commercials,[5] including ones for Swift Premium,[citation needed] Kellogg's Frosted Flakes,[citation needed] Hardee's,[6] Hostess, Tang,[7] and Clearasil.[8]
Read more...
Career
Acting career
In the early 1990s, Masterson had a role in Beethoven's 2nd, and starred as Justin in Cybill. These roles launched a film career, including a minor role in the John Travolta film Face/Off. After starring in the third and fourth seasons of Cybill, Masterson decided he wanted to move on from Cybill and audition for a show originally titled Teenage Wasteland, which later was changed to That '70s Show.[9] The original casting director for That '70s Show, Debby Romano, resisted Masterson's audition because he was slightly older than the rest of the cast, but ultimately allowed him to audition. She stated that, "he came in and he was just so funny," and that he redefined where the role was going and made the role of Steven Hyde the, "tough, funny guy."[citation needed]
Masterson appeared in all eight seasons of That '70s Show. His appearance on That '70s Show launched a breakthrough in Masterson's career, allowing him to pursue other endeavours between tapings. After the show concluded Masterson starred in several movies and made guest appearances on television shows including Punk'd and MADtv. Along with Kutcher and Valderrama, he co-hosted the Fox TV special Woodstock 1999. He had a role in the 2008 comedy Yes Man. Masterson stars with his real-life wife, Bijou Phillips, in the 2009 drama The Bridge to Nowhere.
In 2011, Masterson guest starred as James Roland in USA Network's White Collar (episode "Where There's A Will"). He portrayed Jerry Rubin in the 2010 movie, The Chicago 8, written and directed by Pinchas Perry. The Chicago 8 is a film based on the actual Chicago Eight in the late 1960s and early 1970s, and explores the events around the trial. It was filmed in September and October 2009. The film is based closely on the trial transcripts and most of the action takes place in the courtroom.[10]
In 2012, the comedy series Men At Work premiered on TBS, co-starring Masterson and Michael Cassidy, James Lesure and Adam Busch.[11] In 2012, Masterson appeared in the film Alter Egos, directed by Jordan Galland.[12]
Masterson starred alongside Sam Elliott, Ashton Kutcher, and Elisha Cuthbert in the Netflix comedy series The Ranch.
Music
Masterson began DJing at Los Angeles night clubs in 1999 as a hobby, but it soon became a side business.[13] Masterson is a self-described "rock and hip hop fanatic,"[9] and is also a fan of indie, electro, and funk music, all of which he primarily DJs with.[13][6]
Business ventures
For a time, Masterson owned a lounge and bar in Park City, Utah, called Downstairs.[14][15]
He appeared as part of a poker team, the Unabombers, the 2005 GSN series The James Woods Gang vs. The Unabombers.[16] He has hosted celebrity poker events, such as the Phat Farm Stuff Casino Weekend Poker Tournament, in which he won the tournament.[17]
Personal life
Masterson is a Scientologist.[18][19] He started dating Bijou Phillips in 2005,[20] they became engaged in 2009,[21] and married on October 18, 2011.[22] Their daughter, Fianna Francis Masterson was born on February 14, 2014.[23][24][25]
Rape allegations
In March 2017, four women alleged that they were raped by Masterson in the early 2000s, prompting a Los Angeles Police Department investigation.[2] Masterson, through his agent, has denied the allegations, and Masterson has not been charged or arrested. In response to the accusations, Netflix fired Masterson from its comedy series The Ranch on December 5, 2017, saying in a statement, "Yesterday was his last day on the show, and production will resume in early 2018 without him." Masterson stated that he is "obviously very disappointed in Netflix's decision to write my character off of The Ranch."[26] A fifth woman who dated Masterson made similar accusations in December 2017.[27] He was dropped as a client by United Talent Agency.[28]
At The Drive-In vocalist Cedric Bixler-Zavala said in November 2017 that his wife was raped by Masterson, and that his band's song "Incurably Innocent" is about the incident.[29][30][31]
Charity work
Masterson has been involved with the New York Rescue Workers Detoxification Project, a controversial organization[32] with ties to the Church of Scientology.[33] He played in a charity softball game in New York's Central Park to help raise money for children in need of neurosurgery,[34] designed guitars for a MusiCares fundraiser,[35] and has supported such as the Hollywood Police Activities League (a national youth development program for at-risk youth).[36] He has played on the World Poker Tour Celebrity Invitational for the charity Chrysalis, with all proceeds going to said charity.[37] He has also played the World Series of Poker's Ante up for Africa event.[38]
Filmography
Film
Year
Title
Role
Notes
1993
Beethoven's 2nd
Seth
N/A
1995
Bye Bye Love
Mikey
N/A
1997
Face/Off
Karl
N/A
Trojan War
Seth
N/A
Star Kid
Kevin
N/A
1998
Wild Horses
Danny
N/A
Too Pure
Tipper
N/A
The Faculty
"Fucked-up" kid
N/A
1999
Dirt Merchant
Dirt Merchant
N/A
2000
Dracula 2000
Nightshade
N/A
2001
Alex in Wonder
Patrick
N/A
2002
Hip, Edgy, Sexy, Cool
N/A
N/A
Comic Book Villains
Conan
N/A
Hold On
N/A
N/A
2005
Pancho's Pizza
N/A
N/A
2006
Puff, Puff, Pass
Larry
N/A
2007
Smiley Face
Steve
N/A
You Are Here
Derek
N/A
2008
Yes Man
Rooney
N/A
The Brooklyn Heist
Fitz
N/A
2009
Wake
Shane
N/A
Made for Each Other
Morris "The Executioner" Rodriguez
N/A
The Bridge to Nowhere
Kevin
N/A
2012
The Chicago 8
Jerry Rubin
N/A
California Solo
Paul
N/A
Alter Egos
Jimmy
N/A
The Polterguys
Tim Burr
N/A
2015
In Passing
Neighbor
Short film
2016
Hot Bot
Agent Koontz
N/A
Urge
Neal
N/A
2018
Killing Winston Jones
Ethan Jones
Post-production
Television
Television
Year
Title
Role
Notes
1988
Jake and the Fatman
Butch
Episode: "After You're Gone"
1993
Joe's Life
Leo Gennaro
11 episodes
1994
Roseanne
Jimmy Phillips
2 episodes
1994-1997
NYPD Blue
John
2 episodes
1995
Extreme
Skeeter
7 episodes
1996
American Gothic
Ray
Episode: "Rebirth"
Seduced by Madness
Seth
Television film
Tracey Takes On...
King the Dog
Episode: "Family"
Party of Five
Matt
3 episodes
Her Last Chance
Ryan
Television film
1996-1998
Cybill
Justin Thorpe
16 episodes
1997
Sliders
Renfield
Episode: "Stoker"
1998-2006
That '70s Show
Steven Hyde
Main cast; 200 episodes
Nominated - Teen Choice Award for TV Choice Sidekick
Nominated - Teen Choice Award for Best Performance in a TV Series by a Young Ensemble

2001
Strange Frequency
Randy
Television film
Grounded for Life
Vince
Episode: "Baby You Can't Drive My Car"
How to Make a Monster
Jeremy
Uncredited; Television film
2002-2004
MADtv
Various
2 episodes
2003
King of the Hill
Cory
Voice; Episode: "Megalo Dale"
Robot Chicken
Various
Voice; 2 episodes
Stephen King's Dead Zone
Dr. Alex Conners
Episode: "Vanguard"
2005
Entourage
Himself
Episode: "Aquamansion"
2006
Kim Possible
Quinn
Voice; Episode: "And the Mole-Rat Will Be CGI"
2011
Raising Hope
Lucy's Boyfriend
Episode: "Don't Vote for This Episode"
White Collar
James Roland
Episode: "Where There's A Will"
2012-2014
Men at Work
Milo Foster
Main cast; 30 episodes
2012
Supah Ninjas
Limelight/ Lemuel Lightner
Episode: "Limelight"
2013
Haven
Anderson Harris
Episode: "Shot in the Dark"
2014
Royal Pains
David Van Dyke
Episode: "Ganging Up"
2016-2018
The Ranch
Jameson "Rooster" Bennett
Series regular; 50 episodes
2016
@midnight
Himself
Episode: "394"
WWE Raw
Himself
October, 3, guest with Ashton Kutcher
2017
Easy
Annie's Boyfriend
Episode: "Baby Steps"
Music Videos

| Year | Title | Role | Notes |
| --- | --- | --- | --- |
| 1999 | Cheap Trick - That '70s Song (In the Street) | Hyde | With Cast of That '70s Show |
| 2011 | Eduardo Fresco - The Way I Fiesta (ft. Clayton Vice) | DJ | |
Producer
Year
Title
Notes
2008
The Brooklyn Heist
Producer;
Jury Award for Best Florida Comedy
2014
Men at Work
Producer; 10 episodes
2016-2018
The Ranch
Co-Executive Producer
[ Source: Wikipedia ]