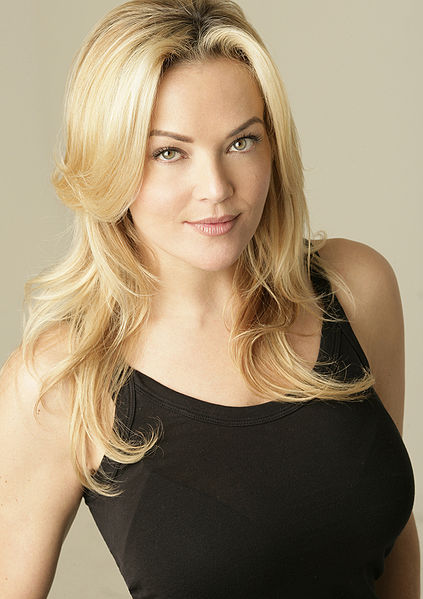 Brandy Ledford
Birth name:
Brandy Lee Ledford
Born:
February 4, 1969
Age:
54
Birthplace:
Denver, Colorado, United States
Popularity:

Please login to contact Brandy Ledford...
Biography
Brandy Lee Ledford (born February 4, 1969) is an American actress, model and Penthouse magazine's 1992 "Pet of the Year". Ledford also posed numerous times for Club International, a pornographic magazine, from 1990 to 1991 using the alias Jisel. She played the role of Desiree on Modern Family, starred as Dawn Masterton on Baywatch Hawaii, and Doyle in the science fiction TV series Andromeda.
In addition to
Andromeda
and
Baywatch Hawaii
, Ledford also starred in the SciFi Channel series
The Invisible Man
and the critically acclaimed
Whistler
, for which she was nominated for two Best Actress awards, at the Leo Awards and Gemini Awards.
Read more...
Personal life
Ledford was born in Denver, Colorado. In the early 1990s, she was married to snowboarder Damian Sanders, and appears in Critical Condition and Snowboarders in Exile as herself. She was also married to actor Martin Cummins, with whom she has a child.
Filmography
Penthouse: Fast Cars Fantasy Women (video) (1991) as Jisel
Penthouse Pet of the Year Play-Off 1991 (video) (1991) as Herself - Penthouse Pet of the Year
Penthouse Satin & Lace (video) (1992) as Herself - Penthouse Pet of the Year (as Jisel)
Penthouse Satin & Lace II: Hollywood Undercover (video) (1993) as Herself - Penthouse Pet of the Year
Indecent Behaviour (1993) as Elaine Croft (as Brandy Sanders)
Demolition Man (1993) as "wrong number" naked on video-phone (as Brandy Sanders)
Penthouse: 25th Anniversary Pet of the Year Spectacular (video) (1994) as Herself - Penthouse Pet of the Year
Penthouse Dreamgirls (video) (1994) as Herself - Penthouse Pet of the Year
Silk Stalkings (TV series) episode 'Vengeance' (1994) as Tamara Knight (as Brandy Sanders)
National Lampoon's Last Resort (video) (1994) as Mermaid (as Brandy Sanders)
The George Carlin Show (TV series) episode 'George Runs Into an Old Friend' (1994) as Tammi
High Tide (TV series) episode 'The Grind' (1995) as Sandra Peck (as Brandy Sanders)
Walker, Texas Ranger (TV series) episode 'Point After' (1995) as Lisa Burns (as Brandy Sanders)
Married... with Children (TV series) episode 'The Naked and the Dead, But Mostly the Naked' (1995) as Brandi (as Brandy Sanders)
Killing for Love (1995) as Celena
Fracture (video short) (1996) as wife #2
Blue Devil, Blue Devil (1996)
Irresistible Impulse (video) (1996) as Heather McNeill (as Brandy Sanders)
Pier 66 (1996) (TV) as Alex Davies
Panic in the Skies! (1996) (TV) as F.A. Charlene Davis
Fast Track (TV series) in 23 episodes (1997-98) as Mimi Chandler
First Wave (TV series) episode 'Cul-De-Sac' (1998) as Michelle(alien female)
Welcome to Paradox (TV series) episode 'Our Lady of the Machine' (1998) as Seargent Darcy
The Outer Limits (TV series) episode 'Nightmare' (1998) as Dr. Elana Chomsky
Poltergeist: The Legacy (TV series) episode 'Gaslight' (1999) as Vicky
Viper (TV series) episode 'Tiny Bubbles' (1999) as Tina Bloom
The Drew Carey Show (TV series) episode 'DrugCo' (1999) as Model
Search Party (TV series) episodes 'Search Party Marathon (Honolulu)' (1999), 'Hawaii (II)' (1999), 'Hawaii (III)' (2000) as Celebrity Contestant (as Brandy Ledford)
We All Fall Down (2000) as Ultimate Woman
My Five Wives (2000) as Blanche
Just Candy (2000)
Baywatch Hawaii (TV series) in 15 episodes (1999-2000) as Dawn Masterton
First Target (2000) (TV) as Kelsey Innes
Separate Ways (2001)
Zebra Lounge (2001) as Wendy Barnet
Rat Race (2001) as Vicky
Strange Frequency (TV series) episode 'Disco Inferno' (2001) as Christine
The Invisible Man (TV series) in 17 episodes (2001-2002) as Alex Monroe
Smallville (TV series) episode 'Stray' (2002) as Mrs. Gibson
We'll Meet Again (2002) as Molly Lasch
The Ice Men (2004) as Renee
Faultline (2004) (TV) as Lynn Larson McAllister
Stargate SG-1 (TV series) (Season Eight) episode 'Endgame' (2004) as Zaren
Cold Squad (TV series) episode 'No Life Like It' (2004) as Cori Thompson
Behind the Camera: The Unauthorized Story of 'Charlie's Angels' (2004) (TV) as Candy Spelling
Andromeda (TV series) (Season Five) in 20 episodes (2005) as Doyle
Stargate Atlantis (TV series) (Season Two) episode 'Inferno' (2006) as Norina
Whistler (TV series) (Season One) in 8 episodes (2006-2007) as Shelby Varland
A Woman's Rage or The Love of Her Life (2008) as Kathryn Brown
Modern Family (TV series) episode "The Bicycle Thief" (2009) as Desiree
"NCIS: LA" (TV series)
[ Source: Wikipedia ]