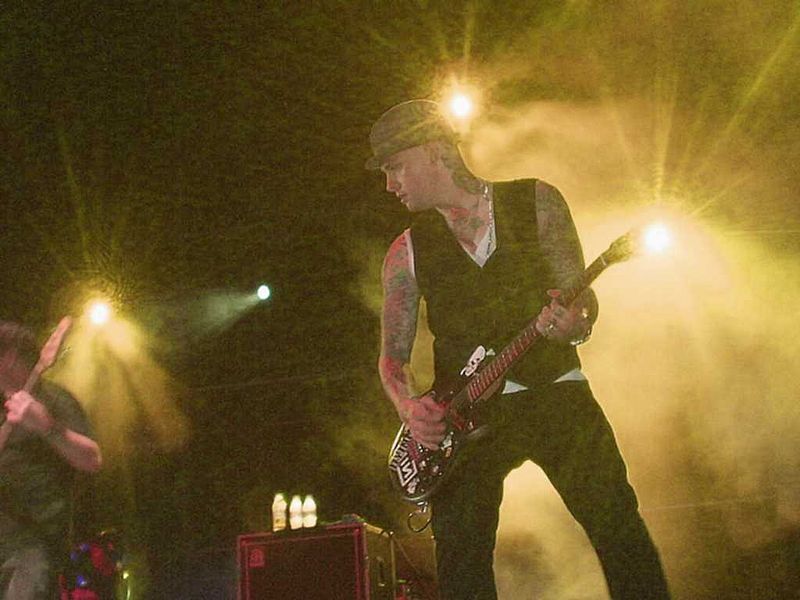 Benji Madden
Born:
March 11, 1979
Age:
44
Popularity:

Please login to contact Benji Madden...
Biography
Benjamin Levi Madden (né Combs; born March 11, 1979) is an American guitarist, vocalist, songwriter, and producer. He is the lead guitarist and backing vocalist for the band Good Charlotte, as well as pop rock collaboration The Madden Brothers. He formed both of these acts with his identical twin brother, Joel Madden. Benji was a coach on The Voice Australia from 2015-16 with his brother Joel.
Madden was born Benjamin Levi Combs on March 11, 1979, in Waldorf, Maryland, to Robin Madden and Roger Combs.[1][2] He has an identical twin, Joel Madden, with whom he formed the band Good Charlotte.[1] He has an older brother named Josh and a younger sister, Sarah. All attended La Plata High School in La Plata, Maryland.[2]
Read more...
Career
Madden started the fashion line called Made Clothing, along with his brothers Joel and Josh, but the line became defunct. In early 2006, it became DCMA Collective. A DCMA Collective store opened in Los Angeles on March 15, 2008, but later closed.
In 1996 Madden started a band with his twin brother Joel named Good Charlotte. The band still tours.
While still playing in Good Charlotte, Madden and Joel wrote and produced for other artists. Madden was a co-writer and co-producer of some of the songs on Hilary Duff's Most Wanted (2005) compilation album. He later helped write the songs "Amnesia" for pop rockers 5 Seconds of Summer and "No Ordinary Girl" for pop artist Kalin and Myles. He has appeared as a back-up vocalist for artists such as MxPx, Kill Hannah, Apoptygma Berzerk, Mest, The 69 Eyes, Sean Kingston, Three 6 Mafia, Chamillionaire, and Matisyahu.[3] As of September 2009 Madden has guest played in the band Taintstick, led by radio talk show host, professional MMA fighter, and pro skateboarder, Jason Ellis.
On April 3, 2010, Madden took part in a boxing match against MTV and VH1 host Riki Rachtman at Ellismania 5: Get These Brawls. The event was hosted by Jason Ellis at The Joint in the Hard Rock Hotel and Casino in Las Vegas. Madden beat Rachtman by knockout at 1 minute and 42 seconds into the first round.[4]
On November 11, 2011, Madden and his brother Joel Madden released a free mix-tape, "The Madden Brothers: Before Volume 1". It contains new artists the brothers were personally interested in. Their brother Josh Madden helped to produce the mix-tape. then Unknown Rappers, Machine Gun Kelly, Rockie Fresh, Kreayshawn, Cassie Veggies, HXLT, and Wiz Khalifa all appeared on the mix-tape.
In 2012, Benji appeared on the TV show The Voice Australia, alongside Joel as joint mentor-judges.
In early 2013, Benji helped write Tonight Alive's song "Breakdown". He sang back-up vocals at the end of the song and made an appearance in the video.
In 2014, electronic dance music artist TJR released his track "Come Back Down", which features Benji on the track's vocals. The Madden Brothers recording "Greetings from California" was released on September 16, 2014.
In mid-2014, both of the Madden brothers appeared as coaches on The Voice Kids Australia in a double chair, after the example of the Dutch The Voice of Holland and The Voice Kids (Netherlands season 1) edition in which the singer's duo Nick & Simon appeared as a judging duo between 2010 and 2015. In early 2015, Benji joined Joel as a coach on the main edition of The Voice, bringing the number of coaches up to five.
In 2015 Madden and his two brothers formally started their company MDDN, of which Benji is CEO, offering artist management, artist development and creative services. The company gained success quickly with the brothers taking management of Jessie J, Sleeping with Sirens, Hollywood Undead, Waterparks, Antiflag, Chase Atlantic, K Camp, Architects and more.
Personal life
Madden lives in Beverly Hills, California, with his wife, Cameron Diaz.
In January 2008, media outlets reported that Madden and his long-time fiancée, Australian starlet Sophie Monk, had split up.[5] In response to the rumors, Good Charlotte's rep told Us Weekly: "Benji Madden and Sophie Monk are together and very happy." However, in mid-February it was officially announced by Monk's Sydney agent, that "Sophie and Benji have officially split. The decision was mutual and they remain amicable."[6]
Madden began dating actress Cameron Diaz in May 2014. The two were unofficially engaged before Christmas Day in 2014 [7] and were spontaneously married on 5 January 2015,[8] in a Jewish ceremony, at their Beverly Hills home.[9]
He has many tattoos, including a tattoo of Benjamin Franklin, which covers his entire back.[10]
Madden is an avid MMA and boxing fan. He has competed in several amateur fights since 2010. Growing up in Maryland, Madden and his brother became big fans of the Baltimore Orioles and the Washington Redskins. He has the Orioles O's tattooed by his ear. He owns a Bengal cat named Danzig and has a collection of both new and old cars, including a Porsche 911, 1964 Chevrolet Impala, Lamborghinis, Audi R8, Jeep Grand Cherokee, and a 1963 Ford Galaxie.
Discography
With Good Charlotte
Main article: Good Charlotte discography
With The Madden Brothers
Before — Volume One (2011)
Greetings from California (2014)[11]
Vocal appearances
Year
Song
Artist(s)
Album
2001
"Let's Go"
X-Ecutioners
2002
"January"
Goldfinger
Open Your Eyes
2003
"Jaded (These Years)"
Mest
Mest
"It's Alright"
MxPx
Before Everything & After
"On the Outs"
2004
"Are You Ready?"
Hazen Street
Hazen Street
"All That"
"Last Train Home"
Lostprophets
Start Something
2007
"Tightly Wound"
MxPx
Secret Weapon
"Sex Without Love"
Ben Lee
Ripe
2008
"My Own Way"
Three 6 Mafia
Last 2 Walk
2009
"Apollo (Live on Your TV)"
Apoptygma Berzerk
Rocket Science
"Darkness into Light"
Matisyahu
Light
"Dead N' Gone"
The 69 Eyes
Back in Blood
"Shoulda Let U Go"
Sean Kingston
Tomorrow
"Snowblinded"
Kill Hannah
Wake Up the Sleepers
2013
"Breakdown"
Tonight Alive
2014
"Come Back Down"
TJR[12]
Filmography
Film
Year
Title
Role
Notes
2001
Not Another Teen Movie
Prom band member
2006
Live Freaky Die Freaky
Interrogator #1
Voice only
Material Girls
Mistaken valet #2
Fast Future Generation
Himself
2007
Punk's Not Dead
2008
Paris, Not France
2009
6 Beers of Separation
Television
Year
Title
Role
Notes
2004
Punk'd
Himself
1 episode
2009
Australian Idol
Himself (guest judge)
2 episodes
2011
The Electric Company
Himself
2014
The Voice Kids
Himself (coach)
All episodes
2015
The Voice Australia
2016
The Voice Australia
Music videos
Rancid - "Fall Back Down"
The White Tie Affair - "Candle (Sick and Tired)"
Junior Sanchez - "Elevator"
Young Dre The Truth - "Cheah Bah"
Mest - "Jaded (These Years)"
The 69 Eyes - "Dead N' Gone"
Fenix Tx - "Threesome"
Rad Omen - "Rad Anthem"
Brand New - "Jude Law and a Semester Abroad"
Escape the Fate - "10 Miles Wide"
The Madden Brothers - "Oh My God"
The Fray-Love Don't Die
The Madden Brothers - "We Are Done"
[ Source: Wikipedia ]