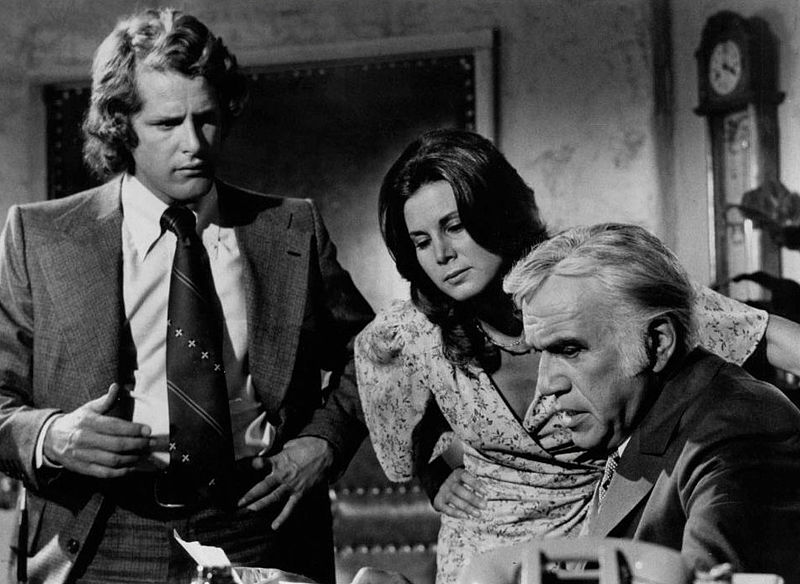 Ben Murphy
Birth name:
Benjamin Edward Castleberry Jr.
Born:
March 6, 1942
Age:
81
Birthplace:
Jonesboro, Arkansas, U.S.
Popularity:

Please login to contact Ben Murphy...
Biography
Benjamin Edward Murphy (born Benjamin Edward Castleberry Jr., March 6, 1942[1]) is an American actor.[2] He is best known for his role as Kid Curry in the ABC television series Alias Smith and Jones.
Murphy was born in Jonesboro, Arkansas to Nadine (née Steele) and Benjamin E. Castleberry. When his mother remarried in 1956, Ben was adopted by his stepfather, Patrick Henry Murphy.[3] Murphy grew up in Clarendon Hills, Illinois, a suburb of Chicago.[1]
An alumnus of Benet Academy in Lisle, Illinois.[4] He attended eight colleges before deciding to pursue an acting career.[1]
Read more...
Career
| | |
| --- | --- |
| | This section of a biography of a living person does not include any references or sources. Please help by adding reliable sources. Contentious material about living people that is unsourced or poorly sourced must be removed immediately. |
Murphy appeared in a supporting role in The Name of the Game, a series featuring a rotating leading cast including Tony Franciosa, Gene Barry, and Robert Stack. Murphy played a semi regular role as 'Joseph Sample' assistant to Robert Stack's leading character 'Dan Farrell' in Stack's segments of the show.
From 1971-73, he starred in Alias Smith and Jones with Pete Duel (1971-72) and Roger Davis (1972-73). After Alias Smith and Jones, Murphy joined Lorne Greene in the 1973 ABC crime drama Griff. He played detective S. Michael "Mike" Murdock, assistant to Greene's character, Wade "Griff" Griffin, a Los Angeles retired police officer turned private eye. The series had some notable guest stars but folded after thirteen weeks.
Ben Murphy, Patricia Stich and Lorne Greene in
Griff
.
In the 1983-84 season, Murphy co-starred with Marshall Colt in the ABC drama series Lottery!. Murphy played Patrick Sean Flaherty, the man who informed lottery winners of their stroke of fortune, and Colt, formerly with James Arness on NBC's short-lived crime drama, McClain's Law, portrayed the Internal Revenue Service agent, Eric Rush, who made sure the winners pay the U.S. government up front.
In 1985, Murphy co-starred as department store heir, Paul Berrenger, on the short-lived drama, Berrenger's. His character was at odds with his former wife, Gloria (Andrea Marcovicci) and his own father, Simon (Sam Wanamaker) due to his romance with executive, Shane Bradley (Yvette Mimieux).
Murphy starred in his own series Gemini Man, in which he played a secret agent who could become invisible for 15 minutes a day through the use of a special wristwatch. However, the show did not run beyond a single season. Murphy has since appeared in guest-starring parts, including a murder suspect in CBS's Cold Case.
Filmography
Year
Film
Role
Notes
1967
The Graduate
Shaving Student
Uncredited
1968
The Virginian
Mike Bradbury
2 episodes
It Takes a Thief
King Pineau
Episode: "A Matter of Royal Larceny"
Yours, Mine, and Ours
Larry
The Outsider
Patrick Forrester
Episode: "Tell It Like It Is... and You're Dead"
1968-71
The Name of the Game
Joseph Sample
6 episodes
1969
The Thousand Plane Raid
Lt. Archer
Anatomy of a Crime
Patrick Forrester
TV film
1970
Medical Center
Jerry Lambert
Episode: "His Brother's Keeper"
The Mod Squad
Bob
Episode: "A Far Away Place So Near"
1971-73
Alias Smith and Jones
Jed 'Kid' Curry (Thaddeus Jones)
50 episodes
1973
The Letters
Joe Randolph
TV film
Runaway!
Les Reever
TV film
Love, American Style
Bart
Segment: "Love and the Postal Meeter"
1973–74
Griff
Mike Murdoch
1974
Heatwave!
Frank Taylor
This Is the West That Was
Wild Bill Hickok
1975
Sidecar Racers
Jeff Rayburn
Marcus Welby, M.D.
Alan Peterson (1
Episode: "Four Plus Hot"
1976
Code Name-Minus One
Sam Casey
TV film
Gemini Man
Sam Casey
11 episodes
Bridger
Kit Carson
1979
Fantasy Island
Billy Blake
2 episodes - 1979 and 1983
1979-80
The Chisholms
Will Chisholm
1979-84
The Love Boat
Gregory King
5 episodes
1980
Secret War of Jackie's Girls
Buck
TV film
1982
Trapper John, M.D.
Ned Travers
Episode: "Medicine Man"
Time Walker
Prof. Douglas McCadden
star
1983
Uncommon Valor
Jim Merritt
TV film
The Winds of War
Warren Henry
7 episodes
Matt Houston
Terry Noble
Episode: "The Beverly Hills Social Club"
The Cradle Will Fall
Dr. Richard Carroll
1983–84
Lottery![2]
Patrick Sean Flaherty
17 episodes
1984
Finder of Lost Loves
David Carson
Episode: "Losing Touch"
Hotel
Robbie Joe Carson
Episode: "Fantasies"
1985
Berrenger's
Paul Berrenger
11 episodes
Gidget's Summer Reunion
Ron Levering
TV film
Scarecrow and Mrs. King
Alan Chamberlin
Episode: "A Lovely Little Affair"
Murder, She Wrote
Scott Lodge
Episode: "Reflections of the Mind"
1986
Stark: Mirror Image
Steve Graves
TV film
1988
Dirty Dozen: The Series (FOX)
Major Danko
6 episodes
1989
The Twilight Zone
Jack Haines
Episode: "Love Is Blind"
1990
Shades of L.A.
Chuck Yellin
Episode: "Shades of L.A."
1991
Life Goes On
Jordan Parnell
Episode: "Proms and Prams"
In the Heat of the Night
Tom Dalton
Episode: "The More Things Change"
1992
FBI: The Untold Stories
Agt. Jack Simpson
Episode: "Colonel Penn"
1994-95
Dr. Quinn, Medicine Woman
Ethan Cooper
3 episodes
1995
High Sierra Search and Rescue
Roger Harmon
Episode: "Past, Present"
1996
Silk Stalkings
Senator Grant Hemmings
Episode: "Family Values"
Baywatch Nights
Robert Houston
Episode: "Epilogue"
1997-2004
JAG
Lt. Col. John Farrow
Captain Neilsen
3 episodes
Episode: "Ghosts of Christmas Past"
1998
Air America
Cornelius Stratton
Episode: "Hostage Situation"
1999
E! Mysteries and Scandals
Himself
Episode: "Peter Duel"
Pacific Blue
Chief Frank Swerdlow
Episode: "Swimming in the Dead Pool"
Seven Days
Col. Seth Mattinger
Episode: "HAARP Attack"
2000
Hanging Up
Richard
(scenes deleted)
2001
To Protect and Serve
Officer Friendly
The District
Congressman Phillip Hallett
Episode: "Lost and Found"
2003
The Drew Carey Show
Reverend Henderson
Episode: "Two Girls for Every Boy"
Navy NCIS
Capt. Veitch
Episode: "Sub Rosa"
2004
Judging Amy
Brad Vickers
Episode: "My Little Runaway"
2005
Freezerburn
General Dwight Rourke
2006
Cold Case
Travis Whitman - 2006
Episode: "Debut"
The Uniform Motion of Folly
Vincent
2007
McBride Semper Fi
General Dwight Rourke
TV film
2010
The Genesis Code
Professor Campbell
[ Source: Wikipedia ]