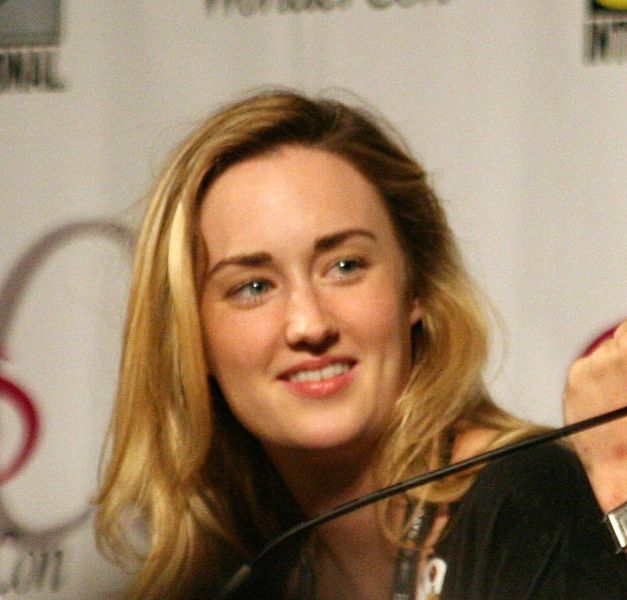 Ashley Johnson
Birth name:
Ashley Suzanne Johnson
Born:
August 9, 1983
Age:
40
Birthplace:
Camarillo, California, U.S.
Popularity:

Please login to contact Ashley Johnson...
Biography
Ashley Suzanne Johnson (born August 9, 1983)[1] is an American actress, voice actress and singer. She is best known for her roles as Chrissie Seaver in Growing Pains, Ellie in The Last of Us, Annie Warbucks in Annie: A Royal Adventure!, Alex Marshall in What Women Want, Terra in Teen Titans and its spin-off Teen Titans Go!, Gwen Tennyson in the Ben 10 franchise and Gretchen Priscilla Grundler in Disney's Recess. She currently stars in the NBC drama Blindspot as FBI forensic specialist Patterson, and is a recurring cast member of Geek and Sundry's show Critical Role.
In 2013 and 2014 she won BAFTA Awards for her performances as Ellie in The Last of Us and The Last of Us: Left Behind.
Johnson was born in Camarillo, California, the youngest child of Nancy Spruiell Johnson, an independent film producer, and Clifford Johnson, the captain of an exploration ship. Her father died in July 2000 from Hepatitis C and cancer.[2] She is of Norwegian,[3] Swedish, Danish, Irish, Scottish, and Native American descent. When she was nine days old, her father got a new job and the family moved to Franklin, Michigan. Johnson graduated from high school at 15.[
citation needed
]
Read more...
Career
Johnson's career began at age six, when she played the role of Chrissy Seaver on the sitcom Growing Pains from 1990 to 1992. The character's age was accelerated from a toddler between seasons for plotting purposes. By the time she was 12, Johnson had been in the casts of eight TV series. She later reprised her role as Chrissy in The Growing Pains Movie and Growing Pains: Return of the Seavers. In the one season series Phenom (1993-94), she played the mischievous younger sister of a rising teenage tennis star. Johnson appeared in the 1994 sitcom All-American Girl, which also lasted for only one season. She played DJ's overbearing girlfriend Lisa in the 1995 Roseanne episode "The Blaming of the Shrew", and played Alex Marshall, the daughter of Mel Gibson's character, in the 2000 comedy What Women Want. In 2008, she became a regular on the drama Dirt as Sharlee Cates. In 2009, Johnson appeared in "Omega", the season one finale of Joss Whedon's Dollhouse.[citation needed]
In 2012, she appeared in The Avengers (also directed by Whedon) as a waitress who is saved by Captain America (Chris Evans). She was intended to appear in future Captain America films as his newest love interest (given that a brief scene in the film was implied), but that plan was shelved and instead, actress Emily VanCamp took over as Sharon Carter for the next two films. Although her role was minor, the Blu-ray edition of The Avengers contains some deleted scenes that expand her role in the movie and further her interactions with Captain America.[4][5]
As a voice actress, she played Sean on the cartoon movie The First Snow of Winter in the US version in 1998, Gretchen Grundler on the Walt Disney TV animated series Recess, Terra in the Teen Titans animated series during the show's second and fifth season, Jinmay on Super Robot Monkey Team Hyperforce Go! and Gwen Tennyson on Ben 10: Alien Force and in future variations of the Ben 10 franchise. Four of her roles have love interests who are voiced by Greg Cipes (Chiro in Super Robot Monkey Team Hyperforce Go!, Kevin in Ben 10, Beast Boy in Teen Titans, and Michelangelo in Teenage Mutant Ninja Turtles).
She co-starred in the PlayStation exclusive The Last of Us as the character Ellie, which was released to critical acclaim and commercial success.[6] She subsequently won a video game BAFTA for Best Performer and a VGX Award for Best Voice Actress for her role in the game. On March 12, 2015, Johnson won another BAFTA for Best Performer for the same role in the game's downloadable content, The Last of Us: Left Behind.[7]
Johnson appears in several Geek & Sundry shows, including playing occult specialist Morgan on the web series Spooked on Hulu, playing Alhambra and Dead of Winter on the board gaming web series TableTop,[8][9] and playing Pike Trickfoot/Yasha in the Geek and Sundry series Critical Role.[10]
As of 2015, she plays FBI forensic specialist Patterson in the NBC drama series Blindspot.[11] In 2015, Ashley Johnson was the voice actress of a main character in Minecraft: Storymode by TellTale and Mojang, Petra the Warrior.
Personal life
Johnson studied violin and piano at the International School of Music; she also plays guitar and cello. When not acting or studying music, Johnson co-runs the photography company Infinity Pictures with her friend, production assistant Mila Shah.[12]
Johnson's older brother Chris worked on the television show The District. Her older sister Haylie Johnson is best known for her role as Haylie on Kids Incorporated. Haylie is married to Jonny Lang.[13]
Johnson has been in a relationship since 2012 with Brian Wayne Foster, an American writer, poet and singer.[14][15]
Filmography
Film
Year
Title
Role
Notes
Source
1990
Lionheart
Nicole Gaultier
1995
Nine Months
Shannon Dwyer
1998
Dancer, Texas Pop. 81
Josie Hemphill
1999
Marionette
1999
Anywhere but Here
Sarah
2000
The Indescribable Nth
Doris
Short film; voice role
2000
What Women Want
Alex Marshall
2001
Recess: School's Out
Gretchen Grundler
Voice role
2001
Rustin
Lee Wolford
2003
The Failures
Lilly Kyle
2004
Killer Diller
Angie
2004
King of the Corner
Elena Spivak
2005
Nearing Grace
Merna Ash
2006
The Pity Card
Gretel
Short film
2006
Fast Food Nation
Amber
2006
Grad Night
Student
2007
The Brothers Solomon
Patricia
2008
Pie'n Burger
Holly
Short film
2008
Otis
Riley Lawson
2008
Columbus Day
Alana
2009
Spread
Eva
2009
Punching the Clown
Tracy
2010
Alleged
Rose Williams
2011
The Help
Mary Beth Caldwell
2012
The Avengers
Waitress Beth
2012
Much Ado About Nothing
Margaret
2015
Paradox
Sophie
2015
When Marnie Was There
Additional voices[16]
Voice role
English version
2016
Punching Henry
Danielle
2018
Weight
Liza
2018
Juvenilles
Ms. Taylor
2019
Limited Partners
Filming
Television
Year
Title
Role
Notes
Source
1990-1992
Growing Pains
Christine Ellen "Chrissie" Seaver
47 episodes
1993
Men Don't Tell
Cindy
Movie
1993
In the Shadows, Someone's Watching
Blind Girl
Movie
1993
The Town Santa Forgot
Granddaughter (voice)
Movie
1993
Timmy's Special Delivery: A Precious Moments Christmas
Additional Voices (voice)
1993-1994
Phenom
Mary Margaret Doolan
22 episodes
1994
All-American Girl
Casey Emmerson
12 episodes
1995
Roseanne
Lisa
Episode: "The Blaming of the Shrew"
1995
Annie: A Royal Adventure!
Annie Warbucks
Movie
1995-96
Maybe This Time
Gracie Wallace
18 episodes
1995
Mina and the Count
Mina (voice)
Episode: "Interlude with a Vampire"
1996-1998
Jumanji
Peter Shepherd (voice)
40 episodes
1997
Moloney
Katherine 'Kate' Moloney
3 episodes
1997
Wings
Rebecca
Episode: "Ms. Write"
1997-2001
Recess
Gretchen Grundler (voice)
129 episodes
1998
Kelly Kelly
Maureen Kelly
7 episodes
1998
ER
Dana Ellis
2 episodes
1999
Partners
Janie
Movie
2000
The Growing Pains Movie
Chrissy Seaver
Movie
2001
Recess Christmas: Miracle on Third Street
Gretchen Grundler (voice)
Video
2002
Lloyd in Space
Violet (voice)
5 episodes
2002
Roswell
Eileen Burrows
2 episodes
2002
Ally McBeal
Serena Feldman
Episode: "Heart and Soul"
2002
Providence
Daphne Wallace
3 episodes
2002
Touched by an Angel
Natalie
Episode: "Bring on the Rain"
2002
The Guardian
Betsy Fortunato
Episode: "Sacrifice"
2003
Kidz History: The Revolutionary War
Colonist
Video
2003
Recess: All Growed Down
Gretchen (voice)
Video
2003
Recess: Taking the Fifth Grade
Gretchen (voice)
Video
2003
Married to the Kellys
Shari
Episode: "Lewis May Have a Girlfriend"
2004
Growing Pains: Return of the Seavers
Chrissy Seaver
2004
Married to the Kellys
Shari
Episode: "Chris and Mary Fight"
2004-2006
Super Robot Monkey Team Hyperforce Go!
Jinmay (voice)
12 episodes
2004-2006
Teen Titans
Terra (voice)
7 episodes
2004-2010
King of the Hill
Emily / Jamie
7 episodes
2005
The X's
Kimla
Episode: "License to Slumber"
2006
Lilo & Stitch: The Series
Gretchen Grundler (voice)
Episode: "Lax: Experiment #285"
2007
Monk
Susie the Maid
Episode: "Mr. Monk Is at Your Service"
2007
CSI: Crime Scene Investigation
Dreama Little
Episode: "Ending Happy"
2007
Heartland
Rebecca Colton
Episode: "Mother & Child Reunion"
2008
Dirt
Sharlee Cates
4 episodes
2008
The Middleman
Eleanor Draper
Episode: "The Ectoplasmic Panhellenic Investigation"
2008
Raising the Bar
Elise Denton
Episode: "Hang Time"
2008
The Mentalist
Clara Tennant
Episode: "Seeing Red"
2008-10
Ben 10: Alien Force
Gwen Tennyson,

Carol Smith, Cicely, Girl, Mother, Mr. Smoothy Employee

45 episodes
2009
Dollhouse
Wendy, Caroline, Hayden Leeds
2 episodes
2009
Cold Case
Grace Stearns in 1966
Episode: "The Crossing"
2010
Funny or Die Presents...
Girlfriend
Episode: "1.1"
2010
Lie to Me
Valerie
Episode: "Beat the Devil"
2010-2018
Drunk History
Elizabeth Hamilton, Elizabeth Cherry, Sara Northrup
Episodes: "Drunk History Vol. 1: Featuring Michael Cera"; "Shit Shows"; "Dangerous Minds"
2010
Christmas Cupid
Jenny
Movie
2010-2012
Ben 10: Ultimate Alien
Gwen Tennyson,

Diamondhead (Gwen), Clockwork (Gwen), Humungousaur (Gwen), Upchuck (Gwen), Rath (Gwen), Sunny, Mrs. Rozum, Pierce's Girlfriend, Teen Girl, Fan

52 episodes
2011
In Plain Sight
Sarah Collins, Sarah Peterschwim
Episode: "Something A-mish"
2011-2013
Pound Puppies
Toyoshiko, Gina, Amelia, Giblet (voice)
4 episodes
2011-2012
The Killing
Amber Ahmed
7 episodes
2012
Private Practice
Kelly
Episode: "The Time Has Come"
2012
Drop Dead Diva
Veronica Kramer
Episode: "Road Trip"
2012-2014
Ben 10: Omniverse
Gwen Tennyson,

Future Gwen, Gwen 10, XLR8 (Gwen), Wildvine (Gwen), Margie, Student 2, Woman

21 episodes
2013-2016
Teen Titans Go!
Terra (voice)
4 episodes
2013
Masters of Sex
Flora Banks
Episode: "Fallout"
2014
Garfunkel & Oates
Jane
Episode: "Speechless"
2015
Stalker
Stephanie
Episode: "My Hero"
2015
Naruto Shippuden
Shiseru (voice)
Episodes: 290-295 ("Power Saga")
English version
[17]
2015-2017
Teenage Mutant Ninja Turtles
Renet (voice)
6 episodes
2015-present
Blindspot
Patterson
Series regular
2016; 2019
Infinity Train
Tulip, Steward (voice)
[18]
Video games
Year
Title
Role
Notes
2005
Teen Titans
Terra
2008
Ben 10: Alien Force
Gwen Tennyson
2009
FusionFall
Gwen Tennyson
2009
Ben 10 Alien Force: Vilgax Attacks
Gwen Tennyson
2010
Ben 10 Alien Force: The Rise of Hex
Gwen Tennyson
2010
Ben 10 Ultimate Alien: Cosmic Destruction
Gwen Tennyson
2011
Cartoon Network: Punch Time Explosion
Gwen Tennyson
2013
The Last of Us
Ellie
VGX Award for Best Voice Actress
2013 BAFTA Games Award for Best Performer
2014 BAFTA Games Award for Best Performer [19]
2014
Infamous First Light
Jenny
2015
Tales from the Borderlands
Gortys
2015
Skylanders: SuperChargers
Gadfly Glades Collector
[20]
2015
Marvel Heroes
Spider-Gwen
[21]
2015
Lego Dimensions
Terra (voice)
Uncredited
2015-2017
Minecraft: Story Mode
Petra
2016
Lego Marvel's Avengers
Beth the Waitress
[22]
2016
The Witness
[23]
2018
The Last of Us Part II
Ellie
2018
Pillars of Eternity II: Deadfire
Narrator / Pike Trickfoot / Ydwin (voice)
[24][25]
Web series
| Year | Title | Role | Notes |
| --- | --- | --- | --- |
| 2013-2015 | Tabletop | Herself | Season 1 Ep. 17, Season 3 Ep. 8 |
| 2014 | Spooked | Morgan | 4 episodes |
| 2015-present | Critical Role | Pike Trickfoot (campaign 1), Yasha (campaign 2) | RPG web series, cast member[26] |
| 2016 | Force Grey: Giant Hunters | Dagny Halvor | RPG web series, cast member[27] |
[ Source: Wikipedia ]