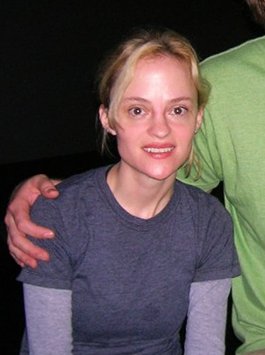 Angela Bettis
Birth name:
Angela Marie Bettis
Born:
January 9, 1973
Age:
50
Birthplace:
Austin, Texas, U.S.
Popularity:

Please login to contact Angela Bettis...
Biography
Angela Marie Bettis (born January 9, 1973) is an American film and stage actress, film producer, and director best known for her lead roles in the 2002 TV adaptation of the Stephen King novel Carrie, the title character in May (2002), and in Girl, Interrupted as an anorexic psychiatric patient Janet Webber.
In addition to her work in film, Bettis also starred in two Broadway productions: The Father in 1996 with Frank Langella, and as Abigail Williams in a 2002 revival of Arthur Miller's The Crucible alongside Liam Neeson and Laura Linney.
Bettis was born in Austin, Travis County, Texas, to Mary Lynn (née Guthrie) and Richard Joseph Bettis, twin sister of Joseph "Joe" Edward Bettis, and graduated from Westlake High School. Her debut role was a lead in the romantic tragedy,
Sparrow
, directed by
Franco Zeffirelli
, at the age of 18. After that film, she attended The American Musical and Dramatic Academy. She later went on to star in a film called
The Last Best Sunday
, before supporting
Winona Ryder
in
Girl, Interrupted
and
Kim Basinger
in
Bless the Child
.
In 2002, she starred as Abigail Williams in a production of The Crucible on Broadway alongside Laura Linney and Liam Neeson.[1] Bettis is most famous for her work in independent horror films, and especially her working relationship with writer/director Lucky McKee. Her title role in McKee's 2002 film May won her something of a cult following. Since then, she has appeared in McKee's Masters of Horror episode, "Sick Girl", and provided a voice-over for his film The Woods. In 2006, their May roles reversed, when McKee acted for Bettis in her directorial debut, Roman, based on a McKee script. In 2011, she played a major role in McKee's adaptation of Jack Ketchum's The Woman.
Bettis starred as Carrie White in Carrie, a made-for-TV remake of Brian De Palma's 1976 classic, and headlined Tobe Hooper's Toolbox Murders, an in-name-only remake of an obscure 1970s horror film. She also starred in the crime thriller Scar.[2] She had a guest role on the TV show Dexter's fifth season as Emily Birch, the first victim of Jordan Chase.[3]
Read more...
Filmography
Film
Year
Title
Role
Notes
1993
Sparrow
Maria
Storia di una capinera original title
1999
The Last Best Sunday
Lolly Ann Summers
1999
Girl, Interrupted
Janet Webber
2000
Bless the Child
Jenna O'Connor
2001
Perfume
Wilemina
2001
Vallen
Caitlin
2002
People Are Dead
Angela the Broadway actress
Producer
2002
May
May Dove Canady
Catalan International Film Festival for Best Actress
Silver Raven on the Brussels International Festival of Fantasy Film
Fangoria Chainsaw Award for Best Actress
Málaga International Week of Fantastic Cinema Award for Best Actress
Nominated — Online Film Critics Society Award for Best Actress
2002
Coastlines
Effie Bender
2003
Hollywould
Holly
Short film
2004
Toolbox Murders
Nell Barrows
Nominated — Fangoria Chainsaw Award for Best Actress
2004
Love Rome
Mary
2005
The Circle
Jay
Experimental film shot in a long take
2005
Last Days of America
America the Woman
Short film
2006
The Woods
Voice in the Woods
Voice
2006
Roman
Elixer Bluff Acting Troup
Also director, voice
2007
When Is Tomorrow
Rachel
Producer
2007
Scar
Joan Burrows
2008
Wicked Lake
The Mother
2008
Blue Like You
Red
Short film
2010
Drones
Amy
2010
All My Friends Are Funeral Singers
Zel
2010
My Alien Mother
Mother
Producer
2011
The Woman
Belle Cleek
2011
Legs
Jen
Producer
2012
Sinister
Fran
Scenes deleted
2017
Song to Song
Angela
Scenes deleted
Television

| Year | Title | Role | Notes |
| --- | --- | --- | --- |
| 1998 | Touched by an Angel | Laura | Episode: "Beautiful Dreamer" |
| 1998 | Legacy | Jenna | Episode: "Brother Love" |
| 1999 | Sliders | Jill | Episode: "New Gods for Old" |
| 2001 | The Flamingo Rising | Alice King | Television movie |
| 2001 | The Ponder Heart | Bonnie Dee Peacock | Television movie |
| 2002 | Carrie | Carrie White | Television movie |
| 2006 | Masters of Horror | Ida Teeter | Episode: "Sick Girl" |
| 2009 | House | Susan | Episode: "Broken" |
| 2010 | Dexter | Emily Birch | Episodes: "Hop a Freighter", "In the Beginning" |
| 2010-2011 | CSI | Rosalind Johnson | 3 episodes |
| 2013 | Criminal Minds | Tess Mynock | Episode: "Alchemy" |
| 2013 | Twisted Tales | Lidia | Segment: "Shockwave" |
| 2015 | Dig | Fay | |
| 2017 | Arkansas Traveler | Myrtle | web series |
Producer

| Year | Title | Notes |
| --- | --- | --- |
| 2001 | Lovindapocalypse | video documentary |
| 2002 | People Are Dead | |
| 2002 | Lovindapocalypse 2 | video documentary |
| 2003 | Hollywould | Short film |
| 2003 | Lovindapocalypse 3 | video documentary |
| 2005 | Last Days of America | Short Film |
| 2007 | When Is Tomorrow | |
| 2011 | Legs | |
Director

| Year | Title | Notes |
| --- | --- | --- |
| 2009 | Roman | Voice |
| 2012 | The ABCs of Death | Segment: "E Is for Exterminate" |
[ Source: Wikipedia ]