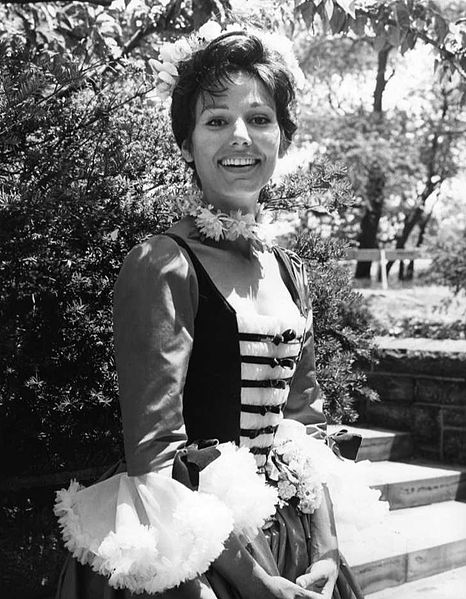 Paula Prentiss
Birth name:
Paula Ragusa
Born:
March 4, 1938
Age:
85
Birthplace:
San Antonio, Texas, U.S.
Popularity:

Please login to contact Paula Prentiss...
Biography
Paula Prentiss (born Paula Ragusa; March 4, 1938) is an American actress best known for her film roles in Where the Boys Are, Man's Favorite Sport?, The Stepford Wives, What's New Pussycat?, In Harm's Way, The Black Marble, and The Parallax View,[1] and the cult television series He & She.
Prentiss was born
Paula Ragusa
in San Antonio, Texas, the daughter of Paulene (née Gardner) and Thomas J. Ragusa, a Social Sciences professor at San Antonio's University of the Incarnate Word, who was of Sicilian descent.
Before high school, Paula, who grew to 5 ft 10 in (1.78 m), was always the tallest person in class.[2][3][4][5] She attended Lamar High School in Houston, Texas.[6] In 1958 while studying drama at Northwestern University, she met future husband Richard Benjamin, who impressed her with his sophistication and height (he was taller than she was). While attending Northwestern she was discovered by Metro-Goldwyn-Mayer and was offered a film contract.[4][7]
Read more...
Career
Prentiss leapt to fame playing the role of Tuggle in Where the Boys Are (1960);[8][9] her romantic co-star was Jim Hutton.[10] The film was a hit and response to Prentiss and Hutton was very favourable, so MGM decided to reteam them in three more comedies, promoting them as a new William Powell and Myrna Loy: The Honeymoon Machine (1961) with Steve McQueen, Bachelor in Paradise (1961) with Bob Hope, and The Horizontal Lieutenant (1962).[1] They were the two tallest male and female contract players at Metro-Goldwyn-Mayer.[11][12]

Hutton and Prentiss were also meant to be in Follow the Boys (1963), a Where the Boys Are style comedy, but he dropped out, and Prentiss' co-star was Russ Tamblyn. Howard Hawks cast her as the female lead opposite Rock Hudson in Man's Favorite Sport? (1963) at Universal - her first film outside MGM. Hawks would later say: "Paula Prentiss was good, but she couldn't remember what she was doing from one shot to the next. Her shots never matched".[13]
Prentiss appeared on stage in a production of As You Like It. She had excellent roles in The World of Henry Orient (1964) and In Harm's Way (1965) and made a cameo as herself in Looking for Love (1964). She also had a strong support part in What's New, Pussycat? (1965) with Peter Sellers.
Health Problems
Prentiss and Benjamin as the stars of
He & She
in 1967
While shooting What's New Pussycat? Prentiss had a nervous breakdown and took time out from acting. For one season (1967-1968), Prentiss co-starred with her husband, Richard Benjamin, in the CBS sitcom He & She.[1] Prentiss was nominated for an Emmy Award for Best Performance by an Actress in a Comedy.
In 1969 she appeared Off Broadway in a double bill, Arf and The Great Airplane Snatch.
Prentiss returned to films with a small role in Catch-22 (1970). She had the female lead in Move (1970) with Elliott Gould, and Born to Win (1971) with George Segal and was one of the leads in Last of the Red Hot Lovers with Alan Arkin. Neither of these were big hits so Prentiss did a TV movie The Couple Takes a Wife (1972).
She was the female lead in Crazy Joe (1974) and had a small but pivotal part in The Parallax View (1974) with Warren Beatty.[14] She was second lead in The Stepford Wives (1975), alongside Katharine Ross.[15]
In 1976 Prentiss and Benjamin appeared on Broadway in The Norman Conquests. Then they travelled to Australia to make No Room to Run (1977).
Prentiss was in Having Babies II (1977), Friendships, Secrets and Lies (1979), and Top of the Hill (1980). She had a star part in The Black Marble (1980) but it was not widely seen.
She did Saturday the 14th (1981) with her husband and was in director Billy Wilder's last film, Buddy Buddy (1981), with Jack Lemmon and Walter Matthau. She then made Packin' It In (1983) with her husband and did a TV movie M.A.D.D.: Mothers Against Drunk Drivers (1983).
Later Years
Prentiss guest starred on shows like Murder, She Wrote and Burke's Law.
Except for brief cameo roles, Prentiss had not appeared in a feature film for more than 30 years until 2016's I Am the Pretty Thing That Lives in the House, a horror film directed by Oz Perkins that premiered Sept. 10, 2016 at the Toronto International Film Festival.
Personal life
Prentiss and actor/director Richard Benjamin were married on October 26, 1961.[4][16] Besides the series He & She.[4][16] the couple appeared together in such films as Catch-22 (1970) and Saturday the 14th (1981), the made-for-television films No Room to Run (made in Australia) and Packin' It In, as well as in various plays.[17][18] Benjamin also directed Prentiss in a brief appearance in Mrs. Winterbourne.
Family
Prentiss and Benjamin have two adult children, Ross and Prentiss. Ann Prentiss was Paula's younger sister and also an actress.
Filmography
Film
Year
Title
Role
Notes
1960
Where the Boys Are
Tuggle Carpenter
Laurel Award for Best Female Comedy Performance
Nominated—Top Female New Personality
1961
The Honeymoon Machine
Pam Dunstan
1961
Bachelor in Paradise
Linda Delavane
1962
The Horizontal Lieutenant
Lt. Molly Blue
1963
Follow the Boys
Toni Denham
1964
Man's Favorite Sport?
Abigail Page
1964
The World of Henry Orient
Stella Dunnworthy
1964
Looking for Love
Paula Prentiss
1965
In Harm's Way
Beverly McConnell
1965
What's New Pussycat?
Liz Bien
1970
Catch-22
Nurse Duckett
1970
Move
Dolly Jaffe
1971
Born to Win
Veronica
1972
Last of the Red Hot Lovers
Bobbi Michele
1974
Crazy Joe
Anne
1974
The Parallax View
Lee Carter
1975
The Stepford Wives
Bobbie Markowe
1980
The Black Marble
Sgt. Natalie Zimmerman
1981
Saturday the 14th
Mary
1981
Buddy Buddy
Celia Clooney
2007
Hard Four
Sweet Cherrie
2016
I Am the Pretty Thing That Lives in the House
Iris Blum
Television
Year
Title
Role
Notes
1967-68
He & She
Paula Hollister
Main role
Nominated—Primetime Emmy Award for Outstanding Lead Actress in a Comedy Series
1972
The Couple Takes a Wife
Barbara Hamilton
TV film
1977
No Room to Run
Terry McKenna
TV film
1977
Having Babies II
Trish Canfield
TV film
1979
Friendships, Secrets and Lies
Sandy
TV film
1980
Top of the Hill
Norma Ellsworth Cully
TV film
1981
Mr. and Mrs. Dracula
Sonia Dracula
TV series
1983
Packin' It In
Dianne Webber
TV film
1983
M.A.D.D.: Mothers Against Drunk Drivers
Lynne Wiley
TV film
1992
Murder, She Wrote
Leonora Holt
"Incident in Lot 7"
1995
Burke's Law
Carla Martinet
"Who Killed the Hollywood Headshrinker?"
[ Source: Wikipedia ]