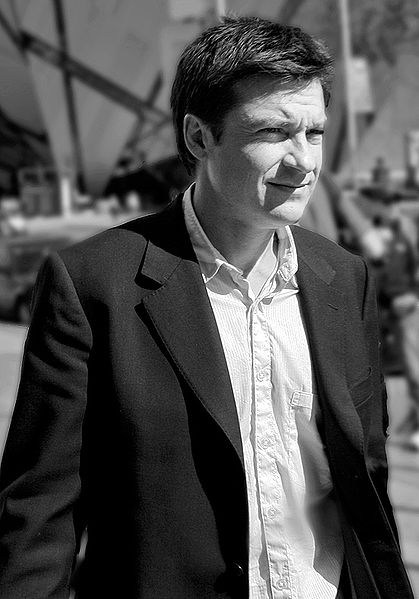 Jason Bateman
Birth name:
Jason Kent Bateman
Born:
January 14, 1969
Age:
54
Birthplace:
Rye, New York, U.S.
Popularity:

Please login to contact Jason Bateman...
Biography
Jason Kent Bateman (born January 14, 1969)[1] is an American actor, director, and producer.[2] He began acting on television in the early 1980s on Little House on the Prairie,[3] Silver Spoons, and The Hogan Family. In the 2000s, he became known for his role of Michael Bluth using deadpan comedy in the sitcom Arrested Development, for which he won a Golden Globe and a Satellite Award.[4] He has also appeared in the films Teen Wolf Too (1987), The Break-Up (2006), Juno (2007), Hancock (2008), Up in the Air, Couples Retreat, Extract (all 2009), The Switch (2010), Horrible Bosses (2011), The Gift (2015), Office Christmas Party, Zootopia (both 2016) and Game Night (2018).
Bateman made his directorial debut with the black comedy Bad Words (2013), in which he also starred. He has since directed and starred in The Family Fang (2015) and the Netflix crime drama series Ozark (2017-present).
Bateman was born in Rye, New York,[1] and was 4 years old when his family moved to Salt Lake City, Utah, and later to California.[5] His mother, Victoria Elizabeth, was a flight attendant for Pan Am who was originally from Shrewsbury, the United Kingdom (UK).[6] His father, Kent Bateman, is an American actor, writer, and director of film and television, and the founder of a repertory stage in Hollywood.[7][5][8] His sister is
Justine Bateman
.[9] He also has three half-brothers.[5]
Bateman told Best Life magazine that he and his sister Justine supported his parents with the paychecks they earned from their television shows; he also revealed that he was managed by his father until Bateman was 20 and dissolved the business relationship.[9]
Read more...
Career
Television
Bateman in 1987
Bateman first appeared in a cereal commercial for Golden Grahams in 1980 and began his television career on Little House on the Prairie as James Cooper, an orphaned boy who, along with his sister, is adopted by the Ingalls family. From 1982 to 1984, he was a supporting character on the television show Silver Spoons as Ricky Schroder's "bad boy" best friend Derek Taylor. He appeared in the Knight Rider third-season episode "Lost Knight" in 1984, and a number of other small television roles. In 1984, in response to his popularity on Silver Spoons, the show's producers gave Bateman his own starring role as Matthew Burton on the NBC sitcom It's Your Move, from September 1984 to February 1985. In 1987, he appeared with Burt Reynolds on the men's team in the inaugural week of game show Win, Lose or Draw.
Bateman earned the status of teen idol in the mid-1980s for his television work, most notably as David Hogan on The Hogan Family (originally titled Valerie and later, Valerie's Family, after Valerie Harper left the series). He became the Directors Guild of America's youngest-ever director when, aged 18, he helmed three episodes of The Hogan Family. After the series ended its run, he gained international recognition in the motion picture sequel Teen Wolf Too, which was a box office failure. In 1994, he played opposite Katharine Hepburn and Anthony Quinn in the television film This Can't Be Love. During this period, he had roles on four series — Simon, Chicago Sons, George & Leo, and Some of My Best Friends—none of which lasted longer than one season. He also directed an episode of Two of a Kind in 1999. In 2002, he played the frisky sibling of Thomas Jane's character in the feature film The Sweetest Thing.
In 2003, Bateman was cast as Michael Bluth in the comedy series Arrested Development. Although critically acclaimed, the series never achieved high ratings[5] and ended on February 10, 2006. The show was revived in spring 2013. Bateman won several awards for his work on the series, including a Golden Globe for Best Actor in a Television Series Musical or Comedy. He was also nominated in 2005 for the Emmy Award[10] for Outstanding Actor in a Comedy Series. New episodes of Arrested Development have been released on Netflix with the original cast, including Bateman.[11] Bateman performed commentary on the 2004 Democratic National Convention for The Majority Report with Arrested Development co-star David Cross, and hosted NBC's Saturday Night Live on February 12, 2005.[12] In 2006, he appeared as a guest star on the Scrubs episode "My Big Bird" as Mr. Sutton, a garbage man with a flock of vicious ostriches as pets. In 2009, Bateman became a regular voice actor for the short-lived Fox comedy series Sit Down, Shut Up. He voiced Larry Littlejunk, the gym teacher and only staff member who can teach.[13]
In 2010, Bateman and Arrested Development co-star Will Arnett created "DumbDumb Productions," a production company focusing on digital content. Their first video was "Prom Date," the first in a series of "Dirty Shorts" for Orbit.[14] In 2012, Bateman returned to his role of Michael Bluth for the revival of Arrested Development along with the rest of the original cast. The now-Netflix sponsored series released Season 4 on its Instant Watch website on May 26, 2013. The series was expected to continue its run as well as a potential feature film. For the new fourth season, Bateman was once again nominated for Outstanding Actor in a Comedy Series. Netflix confirmed that the entire cast of the show will be returning for a fifth season, premiering 29 May 2018.[15]
In 2017, Bateman returned to television as both actor and director in the Netflix drama Ozark, in which he plays a financial advisor who must relocate his family to Missouri in order to launder money for a Mexican drug cartel. Bateman's performance as Marty Byrde has drawn positive comparisons to Bryan Cranston's portrayal of Walter White in AMC's Breaking Bad.[16]
Film
At the 2007 Toronto International Film Festival
In 2004, Bateman appeared in Dodgeball: A True Underdog Story as ESPN 8 ("The Ocho") commentator Pepper Brooks, and in Starsky & Hutch as Kevin, Vince Vaughn's business partner. He reunited with Vaughn in 2006's The Break-Up. In 2007, he played former lawyer Rupert "Rip" Reed alongside Ben Affleck in Smokin' Aces, and also starred in The Kingdom, Mr. Magorium's Wonder Emporium, and Juno. In 2008, he co-starred with Will Smith and Charlize Theron in the superhero film Hancock. Bateman's 2009 films included Extract, written and directed by Mike Judge,[17] and Couples Retreat, reuniting with Vaughn in a comedy chronicling four couples who partake in therapy sessions at a tropical island resort (Kristen Bell played his wife).[18] In 2010, he starred in The Switch, a romantic comedy, with Jennifer Aniston. In 2011, he played the role of Special Agent Zoil in the comedy Paul, and starred in Horrible Bosses and The Change-Up.
In March 2012, Mansome, Bateman's first executive producer credit with Will Arnett, was announced as a Spotlight selection for the Tribeca Film Festival.[19] The documentary, directed by Morgan Spurlock, is a comedic look at male identity as it is defined through men's grooming habits, featuring celebrity and expert commentary. He made a dramatic turn in 2012 with the thriller film Disconnect, and starred in the 2013 comedy film Identity Thief and the 2014 comedies This Is Where I Leave You and Horrible Bosses 2. He also narrated the 2014 documentary Pump.[20] In 2015, Bateman headlined Joel Edgerton's thriller film The Gift, opposite Rebecca Hall and Edgerton.[21]
In 2013, Bateman made his feature film directorial debut with Bad Words, in which he also starred. He also directed and starred in an adaptation of The Family Fang.[22] Bateman voiced Nick Wilde, the con artist fox in Zootopia.
Personal life
Bateman with wife
Amanda Anka
in August 2011
In 1987, Bateman won the celebrity portion of the Long Beach Grand Prix.[23]
Throughout the 1990s, he struggled with an addiction to alcohol and drugs; he stated in a 2009 interview that, "I'd worked so hard that by the time I was 20, I wanted to play hard. And I did that really well... it was like Risky Business for ten years".[24]
Bateman features in the video for the Mumford and Sons song "Hopeless Wanderer".[25]
Bateman married Amanda Anka, daughter of singer Paul Anka, on July 3, 2001. The couple have two daughters.[26]
In late 2005, he had surgery to remove a benign polyp from his throat.[27]
Bateman (along with co-stars David Cross and Tony Hale) were criticized for appearing to minimize and excuse the behavior of Jeffrey Tambor during a May 2018 Arrested Development cast interview for The New York Times, in which Jessica Walter stated that Tambor had verbally harassed her on the set.[28] Within days, all three men had issued apologies to Walter.[29][30] Bateman stated that he "overreached" in an attempt to figure out or pinpoint where Tambor's behavior was coming from.[31] In an interview with Time, he was quoted saying, "I always thought it's important for people to treat one another with respect at work, no matter what industry you're in. The whole experience has allowed me to do a lot of listening, and I continue that to this day".[32]
Bateman is an avid fan of the Los Angeles Dodgers baseball team.[33][34]
Bateman endorsed Senator Bernie Sanders in the 2016 presidential election.[35]
Filmography
Film
Year
Title
Role
Notes
1986
How Can I Tell If I'm Really In Love?
Himself
[36][37][38][39][40]
1987
Teen Wolf Too
Todd Howard
1988
Moving Target
Toby Kellogg
1991
Necessary Roughness
Jarvis Edison
1992
Breaking the Rules
Phil Stepler
1999
Love Stinks
Jesse Travis
2001
Sol Goode
Spider
2002
The Sweetest Thing
Roger Donahue
2004
Starsky and Hutch
Kevin Jutsum
Dodgeball: A True Underdog Story
Pepper Brooks
2006
The Break-Up
Mark Riggleman
Arthur and the Invisibles
Darkos (voice)
2007
The Ex
Chip Sanders
Smokin' Aces
Rupert "Rip" Reed
The Kingdom
Adam Leavitt
Juno
Mark Loring
Mr. Magorium's Wonder Emporium
Henry Weston
2008
The Promotion
Retreat leader
Forgetting Sarah Marshall
Animal Instincts detective
Cameo
Hancock
Ray Embrey
Tropic Thunder
Himself
Cameo
2009
State of Play
Dominic Foy
The Invention of Lying
Doctor
Cameo
Up in the Air
Craig Gregory
Extract
Joel Reynolds
Couples Retreat
Jason Smith
2010
The Switch
Wally Mars
2011
Paul
Agent Lorenzo Zoil
Horrible Bosses
Nick Hendricks
The Change-Up
Dave Lockwood / Mitch Planko
2012
Hit and Run
Officer Keith Yert
Mansome
Himself
Documentary
Disconnect
Rich Boyd
2013
Identity Thief
Sandy Patterson
Bad Words
Guy Trilby
Also director
2014
Pump
Narrator
The Longest Week
Conrad Valmont
This Is Where I Leave You
Judd Altman
Horrible Bosses 2
Nick Hendricks
2015
A Lego Brickumentary
Narrator (voice)
The Gift
Simon Callem
The Family Fang
Baxter Fang
Also director
2016
Zootopia
Nick Wilde (voice)
Central Intelligence
Trevor Olson
Cameo
Office Christmas Party
Josh Parker
2018
Game Night
Max Davis
Also producer
Television
Year
Title
Role
Notes
1981-1982
Little House on the Prairie
James Cooper Ingalls
21 episodes
1982-1984
Silver Spoons
Derek
21 episodes
1984
Knight Rider
Doug Wainwright
Episode: "Lost Knight"
It's Your Move
Matthew Burton
18 episodes
1985
Robert Kennedy & His Times
Joe Kennedy III
3 episodes
1986
Mr. Belvedere
Sean
Episode: "Rivals"
St. Elsewhere
Tim Moynihan
Episode: "You Beta Your Life"
The Wonderful World of Disney
Steve Tilby
Episode: "The Thanksgiving Promise"
1986-1991
The Hogan Family
David Hogan
110 episodes
1987
Bates Motel
Tony Scotti
Television film
1988
Moving Target
Toby Kellogg
Television film
Our House
Brian Gill
Episode: "The Fifth Beatle"
Crossing the Mob
Philly
Television film
1992
A Taste for Killing
Blaine Stockard III
Television film
1994
Confessions: Two Faces of Evil
Bill Motorshed
Television film
This Can't Be Love
Grant
Television film
Black Sheep
Jonathan Kelley
Pilot
1995
Burke's Law
Jason Ripley
Episode: "Who Killed the Movie Mogul?"
Hart to Hart
Stuart Morris
Episode: "Secrets of the Hart"
1995-1996
Simon
Carl Himple
21 episodes
1996
Ned & Stacey
Bobby Van Lowe
Episode: "Pals"
1997
Chicago Sons
Harry Kuichak
13 episodes
1997-1998
George and Leo
Ted Stoody
22 episodes
2000
Rude Awakening
Ryan
Episode: "Star 80 Proof"
2001
Some of My Best Friends
Warren Fairbanks
8 episodes
2002
The Jake Effect
Jake Galvin
7 episodes
2003
The Twilight Zone
Scott Crane
Episode: "Burned"
2003-2006
2013, 2018
Arrested Development
Michael Bluth
76 episodes
2005
The Simpsons
Himself (voice)
Episode: "Home Away From Homer"
King of the Hill
Dr. Leslie (voice)
Episode: "The Petriot Act"
Justice League Unlimited
Hermes (voice)
Episode: "The Balance"
Saturday Night Live
Himself (host)
Episode: "Jason Bateman/Kelly Clarkson"
The Fairly OddParents
Tommy (voice)
Episode: "Oh, Brother!"
2006
Scrubs
Mr. Sutton
Episode: "My Big Bird"
2009
Sit Down, Shut Up
Larry Littlejunk (voice)
13 episodes
2013
Yo Gabba Gabba!
Bateman
Episode: "Super Spies"
2014
Growing Up Fisher
Narrator (voice)
12 episodes
2015
The Muppets
Himself
Episode: "Pig's in a Blackout"
2017
Nobodies
Himself
Episode: "Mr. First Lady"
2017-present
Ozark
Marty Byrde
20 episodes; also director and executive producer
2018
Kidding
Executive Producer
Video games
| Year | Title | Voice role | Ref. |
| --- | --- | --- | --- |
| 2015 | Disney Infinity 3.0 | Nick Wilde | [41] |
Awards and nominations
Year
Association
Category
Work
Result
Ref.
1983
Young Artist Awards
Best Young Actor in a New Television Series
Silver Spoons
Nominated
[42]
1984
Best Young Actor in a Comedy Series
Nominated
1985
Best Young Actor in a Television Comedy Series
It's Your Move
Nominated
1988
Best Young Male Superstar in Television
Valerie
Nominated
2004
Television Critics Association
Individual Achievement in Comedy
Arrested Development
Nominated
2005
Emmy Awards
Outstanding Lead Actor in a Comedy Series
Nominated
Golden Globe Awards
Best Performance by an Actor in a Television Series - Musical or Comedy
Won
Satellite Awards
Outstanding Actor in a Series, Comedy or Musical
Won
Screen Actors Guild
Outstanding Performance by a Male Actor in a Comedy Series
Nominated
Outstanding Performance by an Ensemble in a Comedy Series
Nominated
Television Critics Association
Individual Achievement in Comedy
Nominated
2006
Screen Actors Guild
Outstanding Performance by an Ensemble in a Comedy Series
Won
2013
Teen Choice Awards
Choice Movie Actor: Comedy
Identity Thief
Nominated
Emmy Awards
Outstanding Lead Actor in a Comedy Series
Arrested Development
Nominated
Screen Actors Guild
Outstanding Performance by a Male Actor in a Comedy Series
Nominated
Golden Globe Awards
Best Performance by an Actor in a Television Series - Musical or Comedy
Nominated
2016
Annie Awards
Outstanding Achievement, Voice Acting in an Animated Feature Production[a]
Zootopia
Won
[43]
2017
People's Choice Awards
Favorite Animated Movie Voice
Nominated
[44]
Kids' Choice Awards
Favorite Frenemies
Won
[45]
Hollywood Walk of Fame
Motion Pictures
all film work
Inducted
[46]
2018
Emmy Awards
Outstanding Lead Actor in a Drama Series
Ozark
Nominated
[47]
Outstanding Directing for a Drama Series
Nominated
[48]
Golden Globe Awards
Best Performance by an Actor in a Television Series - Drama
Nominated
[49]
Screen Actors Guild
Outstanding Performance by a Male Actor in a Drama Series
Nominated
[50]
Notes
Charities
Jason Bateman supports the following charitable cause: Homeless.
[ Source: Wikipedia ]