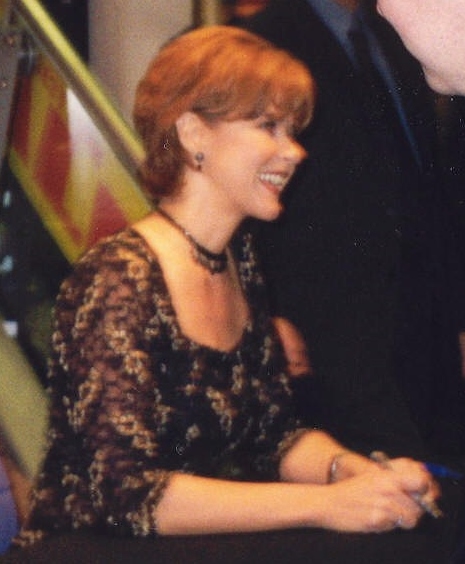 Linda Blair
Birth name:
Linda Denise Blair
Born:
January 22, 1959
Age:
64
Birthplace:
St. Louis, Missouri, U.S.
Popularity:

Please login to contact Linda Blair...
Biography
Linda Denise Blair (born January 22, 1959)[2] is an American actress and animal rights activist. Blair is best known for her role as the possessed child, Regan, in the film The Exorcist (1973), for which she was nominated for an Academy Award and won a Golden Globe. She reprised her role in Exorcist II: The Heretic (1977), for which she was nominated for a Saturn Award.
Blair would go on to star in numerous controversial dramatic television films, such as Born Innocent (1974) and Sarah T. - Portrait of a Teenage Alcoholic (1975) before establishing herself as a sex symbol in the musical Roller Boogie in 1979. The 1980s saw Blair starring in numerous exploitation and horror films, such as the slasher film Hell Night (1981), the prison drama Chained Heat (1983), and the Grindhouse cult thriller Savage Streets (1984).
Throughout the 1990s, Blair appeared in various independent films and B movies, as well as several television credits: From 2001 to 2003, she was the host of the Fox Family reality series Scariest Places on Earth, and in 2006 had a guest role on the series Supernatural. She also appeared as herself on the Animal Planet series Pit Boss from 2010 to 2012.
In addition to her acting credits, Blair has publicly supported various charitable causes, specifically animal rights. In 2004, she founded the Linda Blair WorldHeart Foundation, which serves to rehabilitate and adopt rescue animals.
The youngest of three children, Blair was born January 22, 1959 in St. Louis, Missouri,[3] to James Frederick and Elinore (née Leitch) Blair.[4] She has an older sister, Debbie, and an older brother, Jim.[5] When Blair was two years old, her father, a Navy test pilot-turned-executive recruiter, took a job in New York City, and the family relocated to Westport, Connecticut.[5][6] Her mother worked as a real estate agent in Westport.[7]
She formally began her career as a child model at age five,[8] appearing in Sears, J.C. Penney, and Macy's catalogues, and in over 70 commercials for Welch's grape jams and various other companies.[5][6] Blair secured a contract at age six for a series of print ads in The New York Times.[3] From the age of six onward, Blair began riding horses, becoming a trained equestrian.[9]
Read more...
Career
Early roles and The Exorcist
Blair attending the 46th Academy Awards, 1974.
Blair started acting with a regular role on the short-lived Hidden Faces (1968-69) daytime soap opera.[8] Her first theatrical film appearance was in The Way We Live Now (1970), followed by a bit part in the comedy The Sporting Club (1971).[9]
In 1972, Blair was selected from a field of 600 applicants for her most notable role as Regan, the possessed daughter of a famous actress, in William Friedkin's The Exorcist (1973). The role earned her a Golden Globe and People's Choice Award for Best Supporting Actress as well as an Academy Award nomination for Best Supporting Actress.[8] Film critic and historian Mark Clark notes that in her performance, "Blair matches Ellen Burstyn note-for-note."[10] Despite the film's critical successes, Blair received media scrutiny for her role in the film, which was deemed by some as "blasphemous," and Blair has said the film had significant impact on her life and career.[8] After the film's premiere in December 1973, some reporters speculated about Blair's mental state, suggesting the filming process had resulted in her having a mental breakdown, which Blair denied,[3] and she would later receive anonymous death threats.[3] To combat the rumors and media speculation surrounding her, Warner Bros. sent the then-14-year-old Blair on an international press tour in hopes of demonstrating that she was "just a normal teenager."[3]
After the Exorcist press tour concluded, Blair starred opposite Kim Hunter in the wildly controversial television film Born Innocent (1974),[11] in which she plays a runaway teenager who is sexually abused.[12] The film was criticized by the National Organization for Women, the New York Rape Coalition, and numerous gay and lesbian rights organizations for its depiction of female-on-female sexual abuse; the Lesbian Feminist Liberation dismissed the film, stating: "Men rape, women don't," and regarded the film as "propaganda against lesbians."[13] After filming Born Innocent, Blair also had a supporting part as a teenaged kidney transplant patient in the disaster film Airport 1975 (1974), which was critically panned, but a success at the box office.[14] A steady series of job offers led Blair to relocate to Los Angeles in 1975, where she lived with her older sister, Debbie.[3] Between 1975 and 1978, she would have lead roles in numerous television films: Sarah T. - Portrait of a Teenage Alcoholic (1975), as a teenager who becomes addicted to alcohol;[12] Sweet Hostage (1975) opposite Martin Sheen, in which she plays a kidnapping victim;[12] and Victory at Entebbe (1976), a war drama starring Anthony Hopkins and Elizabeth Taylor.[15]
In 1977, Blair reprised her role as Regan in the Exorcist sequel, Exorcist II: The Heretic (1977), garnering a Saturn Award nomination for Best Actress of 1978.[2] The film was a critical and commercial failure, however, and at the time was the most expensive film ever made by Warner Bros. studios.[16] After filming Exorcist II: The Heretic, Blair took a year off from acting and competed in national equestrian circuits under the pseudonym Martha McDonald.[5] In 1978, she made a return to acting in the Wes Craven-directed television horror film Stranger in Our House (re-titled Summer of Fear), based on the novel by Lois Duncan.[17] and also with the lead role in the Canadian production Wild Horse Hank, in which she utilized her equestrian skills to play a college student saving wild horses from ranchers.[18]
Exploitation films
Blair's career took a new turn in 1979 with her starring role in the musical drama Roller Boogie, which established her as a sex symbol.[19] The following year, she co-starred with Dirk Benedict in Ruckus, playing a young woman who helps a maligned Vietnam veteran evade antagonistic locals in a small town.[20] She also starred in a number of successful low-budget horror and exploitation films throughout much of the 1980s: She starred opposite Peter Barton in the slasher film Hell Night (1981), followed by roles in the women-in-prison film Chained Heat (1983), playing a teenager in a women's prison,[21] and the exploitation thriller Savage Streets (1984), in which she plays the lead of a female vigilante street gang who targets male rapists.[19] In a review of Savage Streets published by TV Guide, her performance was deemed "her best since The Exorcist (1973)... and that's not saying much."[22] Also in 1983, Blair posed nude in an issue of Playboy.[6]
In 1985, Blair starred again in another women-in-prison feature titled Red Heat, playing a prisoner of war in West Germany.[23] This was followed by a lead in the direct-to-video film Night Force (1985), in which Blair portrayed a woman who travels to Mexico to save her friend from terrorists.[24] This era of Blair's career between 1980 and 1985 was marked by some critical backlash, with Blair earning a total of five Razzie Award nominations and being awarded two Razzie Awards for Worst Actress.[25]
In the late 1980s, she worked in numerous low-budget horror films, including Grotesque (1988), opposite Tab Hunter,[26] and the Italian production Witchery (1988), opposite David Hasselhoff.[17] The following year, she starred in the romantic comedy Up Your Alley opposite Murray Langston,[27] and the Exorcist spoof Repossessed in 1990.[17] She would also appear in several Australian b-movies in the early 1990s, including Fatal Bond and Dead Sleep (both 1992).[28]
Retrospectives and later work
Blair at a 2013 film convention. I'm proud of it ... but it has nothing to do with what I am as an adult. I think I have been extremely polite about answering questions about
The Exorcist
almost every single day of my life.
— Blair on her role in The Exorcist, 2006[29]
In 1997, Blair reunited with director Wes Craven for a cameo role in Scream (1996),[17] and also starred in a Broadway revival of Grease, playing Rizzo.[17] The same year, she appeared in a documentary for Channel 4 in the United Kingdom entitled Didn't You Used to be Satan?, which served as a biography of her life to that point and how the film The Exorcist had dominated her career and life.[30] She also appeared in critic Mark Kermode's 1998 BBC documentary The Fear of God (which Kermode directed and hosted), included as a special feature on the DVD of The Exorcist.[31] Most of Kermode's linking scenes to camera were removed from the DVD version to shorten the running time. The version shown on BBC TV in 1998 was shown intact.
In 2000, she was cast as a regular in the BBC television show, L.A. 7, and between 2001 and 2003, hosted Fox Family's Scariest Places on Earth, a reality series profiling reportedly haunted locations throughout the world.[32]
In 2006, she guest starred on The CW television series Supernatural playing the part of Detective Diana Ballard as she aids Sam & Dean Winchester in the Episode: "The Usual Suspects" which aired November 9, 2006.[29] In 2008, she appeared at the 18th annual Malaga Fantasy and Horror Film Festival to accept a lifetime achievement award for her work in the horror genre. She would appeared the following year in the documentary Confessions of a Teenage Vigilante, discussing her role as Brenda in Savage Streets (1984). The documentary was included as a bonus feature on the 2009 DVD release of the film.
In 2010 she appeared as herself on the cable series Pit Boss and Jury Duty. She appeared in the 2011 Rick Springfield documentary Affair of the Heart,[33] and was a panelist in a 2011 episode of The Joy Behar Show. In late 2011, Blair appeared at the pre-taped Governors Awards for the 84th Academy Awards ceremony, honoring makeup artist Dick Smith, who had created the iconic makeup for Blair in The Exorcist.[34]
In 2013, Blair accepted a role in the comedy webseries Whoa! and has since appeared in the 2016 feature The Green Fairy, as well as the upcoming films Surge of Power: Revenge of the Sequel (2016) and Landfill (2018).
Philanthropy
Blair has been an avid animal lover since her childhood.[6] As an adult, she became an animal rights activist and humanitarian, working with PETA, Feed the Children, Variety, the Children's Charity, and other organizations,[2] as well as advocating for teen HIV/AIDS awareness.[9] Blair also devotes time to a non-profit organization she established in 2004, the Linda Blair WorldHeart Foundation, which works to rescue abused, neglected and mistreated animals.[35] She also follows a vegan diet, and was a co-author of the book Going Vegan! (2001).[36]
In 2005 in the aftermath of Hurricane Katrina, Blair traveled to Mississippi and saved 51 abandoned dogs.[29]
Personal life
At age fifteen, Blair dated Australian singer Rick Springfield, whom she met during a concert at the Whisky a Go Go.[3][5] She also dated Deep Purple bassist Glenn Hughes.[5] Between late 1979 and mid-1981, Blair dated Styx guitarist Tommy Shaw. In the early 1990s, Blair was in a relationship with actor Wings Hauser.[7]
In a 1982 interview accompanying a topless pictorial in Oui magazine, Blair revealed that she found Rick James "very sexy." James, who was shown the piece by a member of his retinue, returned the compliment through an intermediary.[37] They dated for two years and James wrote his hit song "Cold Blooded" about her. Speaking on their relationship in his book Glow: The Autobiography of Rick James, he says "Linda was incredible. A free spirit. A beautiful mind. A mind-blowing body. She liked getting high and getting down as much as I did. We posed topless for a photograph that showed up everywhere. We didn't care. We were doing our own thing our own way. It was a love affair that I hope would last. It didn't." James revealed that he found Blair had been pregnant by him and had an abortion without his knowledge.[38]
On December 20, 1977, Blair, then just eighteen years old, encountered trouble with federal law enforcement authorities as she was arrested with drug possession and conspiracy to sell drugs.[39] She pleaded guilty to a reduced charge of conspiracy to possess cocaine, in exchange for three years' probation. Blair was also required to make at least 12 major public appearances to tell young people about the dangers of drug abuse.[40]
Blair was a vegetarian for thirteen years before becoming a vegan in 2001.[6] In 2014, she revealed that she was treated for an umbilical hernia.[41] As of 2015[update], Blair resides in Coto de Caza, California.[42]
Filmography
Film
Year
Title
Role
Notes
Ref.
1970
The Way We Live Now
Sara Aldridge
[8]
1971
The Sporting Club
Barby
[9]
1973
The Exorcist
Regan MacNeil
Golden Globe Award for Best Supporting Actress - Motion Picture
Nominated—Academy Award for Best Supporting Actress
Nominated—Golden Globe Award for New Star of the Year - Actress
[43]
1974
Born Innocent
Chris Parker
Television film
[44]
1974
Airport 1975
Janice Abbott
[14]
1975
Sarah T. - Portrait of a Teenage Alcoholic
Sarah Travis
Television film
[44]
1975
Sweet Hostage
Doris Mae Withers
Television film
[12]
1976
Victory at Entebbe
Chana Vilnofsky
Television film
[15]
1977
Exorcist II: The Heretic
Regan MacNeil
Nominated—Saturn Award for Best Actress
[16]
1978
Stranger in Our House
Rachel Bryant
Television film; also known as: Summer of Fear
[17]
1979
Wild Horse Hank
Hank Bradford
[18]
1979
Roller Boogie
Terry Barkley
[19]
1980
Ruckus
Jenny Bellows
[20]
1981
Hell Night
Marti Gaines
Nominated—Golden Raspberry Award for Worst Actress
[45]
1983
Chained Heat
Carol Henderson
Nominated—Golden Raspberry Award for Worst Actress
[46]
1984
Night Patrol
Officer Sue Perman
Golden Raspberry Award for Worst Actress
[19]
1984
Savage Streets
Brenda
Golden Raspberry Award for Worst Actress
[47]
1984
Terror in the Aisles
Regan MacNeil
Archive footage
[48]
1985
Red Heat
Christine Carlson
[23]
1985
Savage Island
Daly
Golden Raspberry Award for Worst Actress
[49]
1987
SFX Retaliator
Doris
Also known as: The Heroin Deal
[48]
1987
Nightforce
Carla
[50]
1988
Moving Target
Sally Tyler
[48]
1988
Grotesque
Lisa
[26]
1988
Silent Assassins
Sara
[48]
1988
Witchery
Jane Brooks
[51]
1989
Up Your Alley
Vickie Adderly
[27]
1989
The Chilling
Mary Hampton
Also known as: Gamma 693
[48]
1989
Aunt Millie's Will
Unknown
Short film
[48]
1989
W.B., Blue and the Bean
Annette Ridgeway
Also known as: Bailout
[48]
1990
Zapped Again!
Miss Mitchell
[52]
1990
Repossessed
Nancy Aglet
[53]
1991
Bedroom Eyes II
Sophie Stevens
[54]
1992
Fatal Bond
Leonie Stevens
[55]
1992
Dead Sleep
Maggie Healey
[28]
1992
Calendar Girl, Cop, Killer?: The Bambi Bembenek Story
Jane Mder
Television film
[48]
1992
Perry Mason: The Case of the Heartbroken Bride
Hannah Hawkes
Television film
[48]
1993
Bad Blood
Evie Barners
[56]
1993
Phone
Unknown
Short film
[48]
1994
Skins
Maggie Joiner
[48]
1994
Double Blast
Claudia
Television film
[48]
1995
Sorceress
Amelia Reynolds
[57]
1996
Prey of the Jaguar
Cody Johnson
[58]
1996
Scream
Obnoxious Reporter
Uncredited
[17]
1997
Marina
Marina
Short film
[48]
2003
Monster Makers
Shelly Stoker
Television film
[48]
2005
Diva Dog: Pit Bull on Wheels
Unknown
Short film
[48]
2005
Hitters Anonymous
Brenda
[48]
2006
All Is Normal
Barbara
[48]
2006
The Powder Puff Principle
School Board President
Short film
[59]
2009
IMPS*
Jamie
Filmed in 1983
[60]
2012
An Affair of the Heart
Herself
Documentary
[33]
2016
Surge of Power: Revenge of the Sequel
Helen Harris
[61]
Television
| Year | Title | Role | Notes | Ref. |
| --- | --- | --- | --- | --- |
| 1968-1969 | Hidden Faces | Allyn Jaffe | Unknown episodes | [62] |
| 1982 | Fantasy Island | Sarah Jean Rollings | Episode:"King Arthur in Mr. Rourke's Court" | [63] |
| 1982 | The Love Boat | Muffy | Episode: "Isaac Gets Physical" | [64] |
| 1985 | Murder, She Wrote | Jane Pascal | Episode: "Murder Takes the Bus" | [64] |
| 1989 | Monsters | La Strega | Episode: "La Strega" | [64] |
| 1990 | MacGyver | Jenny Larson | Episode: "Jenny's Chance" | [64] |
| 1992 | Married... with Children | Ida Mae | Episode: "The Magnificent Seven" | [64] |
| 1996 | Renegade | Teddy Rae Thompson | Episode: "Self Defense" | [65] |
| 1997 | The RuPaul Show | Herself | 1 episode | |
| 1998 | Psi Factor: Chronicles of the Paranormal | Rebecca Royce | Episode: "All Hallow's Eve" | [64] |
| 1999 | Godzilla: The Series | Alexandra Springer | Episode: "S.C.A.L.E." | [66] |
| 2000 | L.A. 7 | Joni Witherspoon | 9 episodes | [64] |
| 2000-2003 | Hollywood Squares | Herself | 10 episodes | [64] |
| 2001-2006 | Scariest Places on Earth | Host | 41 episodes | [64] |
| 2006 | Supernatural | Detective Diana Ballard | Episode: "The Usual Suspects" | [64] |
| 2010-2012 | Pit Boss | Herself | 12 episodes | [64] |
| 2012 | Celebrity Ghost Stories | Herself | 1 episode | [64] |
| 2014 | RuPaul's Drag Race | Herself | Episode: "Scream Queens" | [64] |
Awards and nominations
| Year | Association | Category | Nominated work | Result |
| --- | --- | --- | --- | --- |
| 1973 | Academy Awards | Best Supporting Actress | The Exorcist | Nominated |
| 1974 | Golden Globe Awards | Best Supporting Actress - Motion Picture | The Exorcist | Won |
| 1974 | Golden Globe Awards | New Star of the Year - Actress | The Exorcist | Nominated |
| 1978 | Saturn Awards | Best Actress | Exorcist II: The Heretic | Nominated |
| 1982 | Golden Raspberry Awards | Worst Actress | Hell Night | Nominated |
| 1984 | Golden Raspberry Awards | Worst Actress | Chained Heat | Nominated |
| 1985 | Golden Raspberry Awards | Scream Queen | Herself | Won |
| 1986 | Golden Raspberry Awards | Worst Actress | Night Patrol, Savage Island, and Savage Streets | Won |
Charities
Linda Blair supports the following charitable causes: Animals, Human Rights.
[ Source: Wikipedia ]