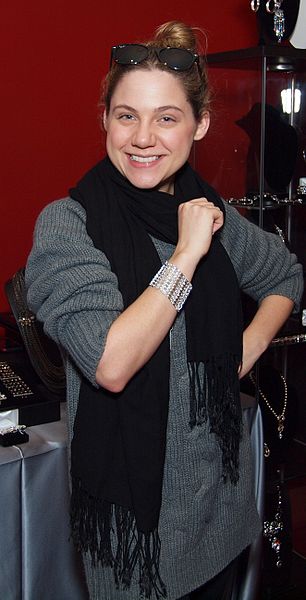 Lauren Collins
Born:
August 29, 1986
Age:
35
Birthplace:
Thornhill, Ontario, Canada
Popularity:

Please login to contact Lauren Collins...
Biography
Lauren Collins (born August 29, 1986) is a Canadian actress and writer. She is best known for portraying Paige Michalchuk on Degrassi: The Next Generation. She has also had supporting roles in the films Take the Lead (2006) and Charlie Bartlett (2007). In 2013, she appeared in multiple episodes of the sketch comedy Kroll Show, as well as a recurring guest role in the upcoming fourth season of the FX series The Strain (2017).
Collins was born in Thornhill, Ontario, the daughter of Sari (née Bresver) and Stan Collins.[1][2] Her father was born in London, England.[3] Collins was raised Jewish.[4] She has one brother, a copy editor, and her first cousin once removed is Spencer Rice, one of the stars of
Kenny vs Spenny
. She is a graduate of Thornlea Secondary School.[5]
Read more...
Career
Collins first began acting in 1998, with roles in various television series including Once a Thief, Noddy, and I Was a Sixth Grade Alien. From 2000 to 2001, she had a recurring role on In a Heartbeat before landing the role of Paige Michalchuk on Degrassi: The Next Generation in 2001.
She also portrayed Derek's ex-girlfriend Kendra on Life with Derek. She has also appeared in numerous theatrical productions, playing the title roles in Alice in Wonderland and the production of Annie, and starring in the made-for-television film Virtual Mom.
In 2006, Collins made her feature film debut in Take the Lead, appearing alongside Antonio Banderas. The following year she appeared in Charlie Bartlett (starring Anton Yelchin and Robert Downey, Jr.). In 2008, she co-starred in the direct-to-DVD feature Picture This, opposite Ashley Tisdale and fellow Degrassi alumnus Shenae Grimes.[6] After YouTube celebrity Shane Dawson expressed his interest in watching the Degrassi series, Collins starred in a parody video released March 6, 2010. She once again worked with Disney Channel and Tisdale on the 2011 High School Musical spin-off feature, Sharpay's Fabulous Adventure, playing the role of Tiffani.[citation needed]
From 2013 to 2014, Collins hosted MTV's 1 Girl 5 Gays replacing Aliya Jasmine Sovani, who had been hosting the show for 4 seasons.[7]
In 2014, she co-wrote and starred in the short film Zero Recognition, directed by Ben Lewis, which premiered at the Toronto International Film Festival.[8] Between 2013 and 2014, Collins appeared in four episodes of the sketch comedy series Kroll Show.[9]
Personal life
Collins and actor Jonathan Malen became engaged on August 29, 2017.[10]
Filmography
Film
| Year | Title | Role | Notes |
| --- | --- | --- | --- |
| 1998 | Valentine's Day | Young Alma | Also known as: Protector |
| 2006 | Take the Lead | Caitlin | |
| 2007 | Charlie Bartlett | Kelly | |
| 2008 | Picture This | Alexa | |
| 2011 | Servitude | Krissy | |
| 2014 | Zero Recognition[8] | Demi | Short film |
| 2015 | Farhope Tower | Judy | |
Television
| Year | Title | Role | Notes |
| --- | --- | --- | --- |
| 1998 | Real Kids, Real Adventures | Meggie | 1 episode |
| 1998 | Blood on Her Hands | Ruby Collins | Television film |
| 1998 | Once a Thief | Cleo at 13 | 1 episode |
| 1998 | Tempting Fate | Ruby | Television film |
| 1998 | Happy Christmas, Miss King | Libby Hubble | Television film |
| 1998-1999 | Noddy | Rox | 3 episodes |
| 1999 | Rocky Marciano | Mary Anne | Television film |
| 1999 | I Was a Sixth Grade Alien | Lindy May | 21 episodes |
| 1999 | Restless Spirits | Rhonda | Television film |
| 2000 | Virtual Mom | Lucy Foster | Television film |
| 2000 | Deliberate Intent | Erin Smolla | Television film |
| 2000 | Baby | Portia Pinter | Television film |
| 2000-2001 | In a Heartbeat | Brooke Lanier | 18 episodes |
| 2001 | What Girls Learn | Susie | Television film |
| 2001-2008 | Degrassi: The Next Generation | Paige Michalchuk | 143 episodes |
| 2003 | Blue Murder | Shannon Brady | 1 episode |
| 2003 | Mutant X | Megan Morrison | 1 episode |
| 2003 | Bury the Lead | Sara Chase | 1 episode |
| 2004 | Renegadepress.com | Amanda | 1 episode |
| 2005 | Totally Spies! | Terra/Gazella | 2 episodes |
| 2005 | Radio Free Roscoe | Blaire | 2 episodes |
| 2006 | Booky Makes Her Mark | Ada-May | Television film |
| 2006 | Angela's Eyes | Heather Keene | 1 episode |
| 2006-2009 | Life with Derek | Kendra | 10 episodes |
| 2007 | Grossology | Naomi | Voice role; 2 episodes |
| 2007-2009 | The Best Years | Alicia O'Sullivan | 8 episodes |
| 2009 | Willa's Wild Life | Sara | 1 episode |
| 2009 | Degrassi Goes Hollywood | Paige Michalchuk | Television film |
| 2011 | Sharpay's Fabulous Adventure | Tiffani | Disney Channel Original Movie |
| 2011 | Being Erica | Barbera Strange (young) | 2 episodes |
| 2013 | Long Story, Short | Lucy | 8 episodes |
| 2013 | Murdoch Mysteries: Nightmare on Queen Street | Rebecca | Miniseries |
| 2013-2014 | 1 Girl 5 Gays | Host | Talk show |
| 2013-2014 | Kroll Show | Collette / Mary Belle Edwards | 4 episodes |
| 2016 | Slasher | EMT | 1 episode |
| 2016 | Degrassi: Next Class | Paige Michalchuck | 1 episode |
| 2017 | Conviction | Lucy Bates | 1 episode |
| 2017 | The Strain | Sophie | 4 episodes |
| 2018 | Impulse | Meghan Lingerman | Recurring |
Music videos
List of music videos, showing director

| Title | Year | Director | Artist | Notes |
| --- | --- | --- | --- | --- |
| "I'm Upset" | 2018 | Karena Evans | Drake | Cameo appearance |
Awards and nominations
Awards and nominations

| Year | Award | Category | Title of work | Result |
| --- | --- | --- | --- | --- |
| 2002 | Young Artist Award | Best Ensemble in a TV Series (Comedy or Drama) | Degrassi: The Next Generation | Won |
| 2003 | Young Artist Award | Best Ensemble in a TV Series (Comedy or Drama) | Degrassi: The Next Generation | Nominated |
| 2004 | Gemini Award | Best Performance in a Children's or Youth Program or Series | Renegadepress.com | Nominated |
| 2006 | Young Artist Award | Best Ensemble in a TV Series (Comedy or Drama) | Degrassi: The Next Generation | Nominated |
| 2008 | Gemini Award | Best Performance in a Children's or Youth Program or Series | Degrassi: The Next Generation | Nominated |
[ Source: Wikipedia ]