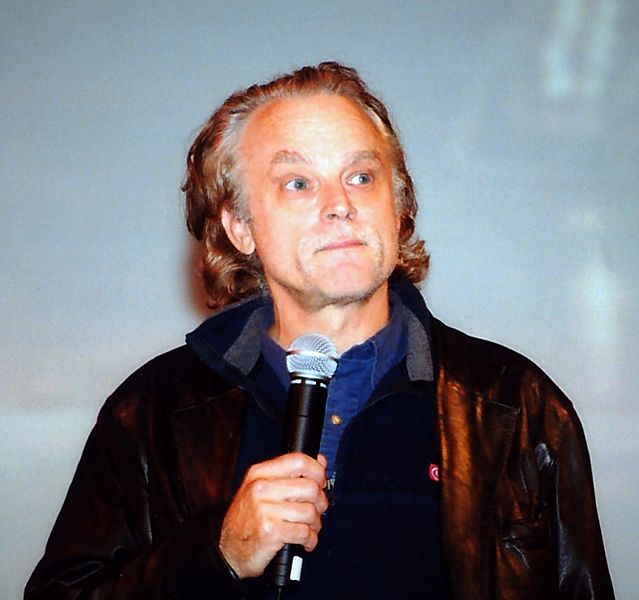 Brad Dourif
Birth name:
Bradford Claude Dourif
Born:
March 18, 1950
Age:
73
Birthplace:
Huntington, West Virginia, U.S.
Popularity:

Please login to contact Brad Dourif...
Biography
Bradford Claude Dourif (/ˈdɔːrɪf/; born March 18, 1950) is an American actor. He was nominated for an Oscar, as well as winning a Golden Globe and a BAFTA Award for his supporting role as Billy Bibbit in the critically acclaimed film One Flew Over the Cuckoo's Nest (1975).
Dourif's other notable film roles were in Dune (1984), Mississippi Burning (1988), The Lord of the Rings: The Two Towers (2002), and Child's Play franchise. He also appeared in many television series, notably Deadwood (2004-2006, 2019), for which he received a Primetime Emmy Award nomination.
Dourif was born in Huntington, West Virginia, on March 18, 1950, to Joan Mavis Felton (née Bradford), an actress, and Jean Henri Dourif, an art collector who owned and operated a dye factory.[1][2] His stepfather was golfer William C. Campbell.[3]
His paternal grandparents emigrated from France, and his paternal grandfather co-founded the Standard Ultramarine and Color Company in Huntington.[4] After Aiken, he attended Fountain Valley School in Colorado Springs, Colorado, graduating in 1968. Dourif appeared as an amateur at the Fountain Valley Film Festival in 1969, taking second place in the 8 mm film category with his 10-minute entry "Blind Date."[5] Dourif attended Marshall University for a time, before quitting college and moving to New York City to study acting on the advice of actress Conchata Ferrell.[6]
Read more...
Career
Stage
Starting in school productions, Dourif progressed to community theater, joining up with the Huntington Community Players while attending Marshall University. In New York City, he studied with Sanford Meisner, and worked with Marshall Mason and Lanford Wilson at the Circle Repertory Company. During the early 1970s, Dourif appeared in a number of plays, off-Broadway and at Woodstock, New York, including The Ghost Sonata, The Doctor in Spite of Himself, and When You Comin' Back, Red Ryder?, in which he was spotted by director Miloš Forman[6] who cast him in One Flew Over the Cuckoo's Nest (1975).
In 2013, after a three-decade absence from the stage, Dourif chose to star alongside Amanda Plummer in the Off-Broadway revival of Tennessee Williams' The Two-Character Play that played to critical acclaim at the New World Stages.[7] He explained, in a filmed interview released by the producers, why he broke his 29-year hiatus from acting in live theater: "I hated the stage, did not want to do it. And then somebody said, 'Will you do a play? It's with Amanda Plummer', and I said, 'Oh shit! No. Oh God, I'm gonna have to do this...'".[8] It opened on June 10, 2013 and closed on September 29, 2013.[9] The play was subject to a number of performance cancellations, one relating to Dourif's absence, due to a death in the family. Plummer refused to perform without Dourif, notwithstanding the presence of an understudy.[10]
Film
Dourif in 1991
Although One Flew Over the Cuckoo's Nest is frequently cited as Dourif's film debut, his first acting for screen was in a low-budget film called Split, which was never released. He followed this with a role in the film W.W. and the Dixie Dancekings (1975), but his bit part was omitted from the final cut of the film.[11] His portrayal of the vulnerable Billy Bibbit in Cuckoo's Nest ended up being his big break, earning him a Golden Globe Award (Best Actor Debut) and a British Academy Award (Supporting Actor) as well as a nomination for Academy Award for Best Supporting Actor.[6]
In 1981, Vincent Canby listed Dourif as one of twelve actors to watch, calling Dourif "one of the most intense, most interesting young film actors of his generation."[12] Skeptical of his instant stardom, Dourif returned to New York, where he continued in theater and taught acting and directing classes at Columbia University until 1988, when he moved to Hollywood.
Dourif has often played eccentric or disturbed characters[citation needed], starting with Cuckoo's Nest and continuing with Eyes of Laura Mars (1978), John Huston's Wise Blood (1979),"[13] Forman's Ragtime (1981), Marc Didden's Istanbul (1985) and David Lynch's Dune (1984) and Blue Velvet (1986).
Dourif has appeared in a number of horror films, notably as the voice of Chucky in the Chucky franchise. He portrayed the Gemini Killer in The Exorcist III (1990) and appeared in Death Machine (1994) and Alien Resurrection (1997). He later appeared as Sheriff Lee Brackett in Rob Zombie's Halloween (2007) and Halloween II (2009). In 2013, Dourif reprised his role as Chucky in the sixth installment of the Child's Play franchise, Curse of Chucky, and then again in the 2017 sequel, Cult of Chucky, both of which were straight-to-DVD releases. His daughter, Fiona Dourif, also starred with him in both films.
Other notable film roles include Gríma Wormtongue in the Lord of the Rings trilogy and supporting roles in Fatal Beauty (1987), Mississippi Burning (1988), Hidden Agenda (1990), London Kills Me (1991) and Sinner (2007).
Dourif was initially cast as the Scarecrow in Batman Forever (1995) while Tim Burton was attached to the project (Burton had also wanted to cast Dourif as The Joker in "Batman" (1989), but the studio refused[14]). However, the script was later heavily rewritten and the character was eventually removed. Joel Schumacher eventually took over the project and cast Tommy Lee Jones as Two-Face and Jim Carrey as the Riddler.
Dourif has worked with director Werner Herzog on many occasions, appearing in Scream of Stone (1991), The Wild Blue Yonder (2005), Bad Lieutenant: Port of Call New Orleans (2009), and My Son, My Son, What Have Ye Done? (2009).
Television
In 1984, Dourif played a suspected serial killer in the episode "Number Eight" of Tales of the Unexpected. In 1994, he appeared in The X-Files episode "Beyond the Sea" as the psychic serial killer Luther Lee Boggs. He also portrayed Lon Suder in a three episode story arc on Star Trek: Voyager and guest starred as a troubled monk haunted by visions in Babylon 5. Dourif later gained acclaim as Doc Cochran in Deadwood, receiving a 2004 Emmy Award nomination for "Outstanding Supporting Actor in a Drama Series."
In 2011, he guest starred in the third-season finale of Fringe[15] and in 2014 he made a brief cameo in the Agents of S.H.I.E.L.D. episode "The End of the Beginning."[16]
Music
In 2012, Dourif contributed spoken word vocals to three songs on the album Misery Together by the Norwegian duo Thinguma*jigSaw.[17] Dourif also appears in the music videos for "Stranger in Town" (1984) by Toto and "Drinking from the Bottle" (2012) by Calvin Harris.
Personal life
| | |
| --- | --- |
| | This section of a biography of a living person does not include any references or sources. Please help by adding reliable sources. Contentious material about living people that is unsourced or poorly sourced must be removed immediately. |
Dourif has been married twice. He has one daughter with his first wife Janet, and another daughter, actress Fiona Dourif, with his second wife Joni.
Filmography
Film
Year
Title
Role
Notes
1975
W.W. and the Dixie Dancekings
Unknown
Uncredited
1975
One Flew Over the Cuckoo's Nest
Billy Bibbit
BAFTA Award for Best Actor in a Supporting Role
Golden Globe Award for New Star of the Year - Actor
Nominated—Academy Award for Best Supporting Actor
1977
Group Portrait with a Lady
Boris Koltowski
1978
Eyes of Laura Mars
Tommy Ludlow
1979
Studs Lonigan
Danny O'Neill
1979
Wise Blood
Hazel Motes
1980
Heaven's Gate
Mr. Eggleston
1981
Ragtime
Younger Brother
1984
Dune
The Mentat Piter De Vries
1985
Istanbul
Martin Klamski
1986
Blue Velvet
Raymond
1986
Impure Thoughts
Kevin Harrington
1987
Fatal Beauty
Leo Nova
1988
Child's Play
Chucky/Charles Lee Ray
1988
Mississippi Burning
Deputy Clinton Pell
Nominated—Chicago Film Critics Association Award for Best Supporting Actor
1989
Sonny Boy
Weasel
1990
Child's Play 2
Chucky
Voice
1990
Spontaneous Combustion
Sam
1990
Horseplayer
Bud Cowan
1990
Graveyard Shift
Tucker Cleveland
1990
The Exorcist III
James Venamun
Nominated—Saturn Award for Best Supporting Actor
1990
Hidden Agenda
Paul Sullivan
1990
Chaindance
Johnny Reynolds
Nominated—Canadian Screen Award for Best Actor
1990
Grim Prairie Tales
Farley
1991
Murder Blues
John Barnes
1991
Child's Play 3
Chucky
Voice
1991
Jungle Fever
Leslie
1991
Body Parts
Remo Lacey
Fangoria Chainsaw Award for Best Supporting Actor
1991
Scream of Stone
Fingerless
1991
London Kills Me
Hemingway
1992
Final Judgement
Father Tyrone
1992
Critters 4
Al Bert
1993
Trauma
Dr. Lloyd
1993
Amos & Andrew
Officer Donnie Donaldson
1994
Color of Night
Clark
1994
Death Machine
Dante
1995
Murder in the First
Byron Stamphill
1995
Phoenix
Reiger
1996
Sworn to Justice
Teddy
1996
A Step Toward Tomorrow
Kirby
1997
Jamaica Beat
Tom Peterson
1997
Nightwatch
Duty Doctor
1997
Best Men
The Vet
1997
Alien Resurrection
Dr. Jonathan Gediman
1998
Brown's Requiem
Edwards
1998
Senseless
Dr. Wheedon
1998
Progeny
Dr. Bert Clavell
1998
Urban Legend
Michael McDonnell
Uncredited
1998
Bride of Chucky
Chucky
Voice
1999
The Diary of the Hurdy-Gurdy Man
Gabriel
1999
Cypress Edge
Colin McCammon
1999
Interceptors
David M. Webber
1999
Silicon Towers
Alton
2000
Shadow Hours
Roland Montague
2000
The Prophecy 3: The Ascent
Zealot
2001
The Ghost
Lt. Garland
2001
Soulkeeper
Mr. Pascal
2002
The Lord of the Rings: The Two Towers
Gríma Wormtongue
Online Film Critics Society Award for Best Ensemble
Phoenix Film Critics Society Award for Best Cast
Nominated—Screen Actors Guild Award for Outstanding Performance by a Cast in a Motion Picture
2003
The Box
Stan
2003
Vlad
Radescu
2003
The Lord of the Rings: The Return of the King
Gríma Wormtongue
Extended Edition only
2004
Seed of Chucky
Chucky
Voice
2004
The Devil's Due at Midnight
The Dark One
2004
The Hazing
Professor Kapps
2004
El Padrino
Cyrus
2005
Drop Dead Sexy
Herman
2005
The Wild Blue Yonder
The Alien
2005
Man of Faith
B. B. Gallen
2006
Pulse
Thin Bookish Guy
2007
Sinner
Caddie
2007
The List
Johan Gabini
2007
The Wizard of Gore
Dr. Chong
2007
Halloween
Sheriff Lee Brackett
2008
Touching Home
Clyde Winston
2008
Humboldt County
Jack
2009
Born of Earth
Mayor
2009
Lock and Roll Forever
Zee
2009
Bad Lieutenant: Port of Call New Orleans
Ned Schoenholtz
2009
Halloween II
Sheriff Lee Brackett
2009
My Son, My Son, What Have Ye Done?
Uncle Ted
2010
Chain Letter
Mr. Smirker
2010
Junkyard Dog
Sheriff Holk
2011
Fading of the Cries
Mathias
2011
Priest
Salesman
2011
Catch .44
Sheriff Connors
2011
Death and Cremation
Stan
2012
Last Kind Words
Wylon
2012
Black Box
Tom
2013
Santa Monica
Stan
Short film
2013
Gingerclown
Worm Creature
Voice
2013
Blood Shot
Bob
2013
Curse of Chucky
Chucky/Charles Lee Ray
2013
Malignant
The Man
2014
The Control Group[citation needed]
Dr. Broward
2015
Rosemont
Abe
2017
Cult of Chucky
Chucky
Voice
2018
Wildling
Daddy/Gabriel Hanson
Television
Year
Title
Role
Notes
1976
The Mound Builders
Chad Jasker
Television film
1977
The Gardener's Son
Robert McEvoy
Television film
1978
Sergeant Matlovich vs. the U.S. Air Force
Sgt. Leonard Matlovich
Television film
1980
Guyana Tragedy: The Story of Jim Jones
David Langtree
Television film
1982
I, Desire
Paul
Television film
1986
The Equalizer
Fenn
Episode: "Out of the Past"
1986
Spenser: For Hire
Maxie Lyons
Episode: "Rage"
1986
Rage of Angels
Seymour Bourne
Television film
1986
Vengeance: The Story of Tony Cimo
Lamar Sands
Television film
1987
Moonlighting
Father McDonovan
Episode: "All Creatures Great...and Not So Great"
1987
The Hitchhiker
Billy Baltimore Jr.
Episode: "The Legendary Billy B."
1987
Miami Vice
Joey Wyatt
Episode: "Theresa"
1989
Murder, She Wrote
Dr. Warren Overman
Episode: "Fire Burn, Cauldron Bubble"
1989
Desperado: The Outlaw Wars
Camillus Fly
Television film
1989
Terror on Highway 91
Keith Evans
Television film
1993
Wild Palms
Chickie Levitt
3 episodes
1993
Tales from the Crypt
Virgil
Episode: "People Who Live in Brass Hearses"
1994
The X-Files
Luther Lee Boggs
Episode: "Beyond the Sea"
1994
A Worn Path
Hunter
Television film
1995
Babylon 5
Charles Dexter/Brother Edward
Episode: "Passing Through Gethsemane"
1995
Escape from Terror: The Teresa Stamper Story
Sheriff Bill Douglass
Television film
1995
Escape to Witch Mountain
Luther/Bruno
Television film
1996
Star Trek: Voyager
Lon Suder
3 episodes
1996
Blackout
Thomas Payne
Television film
1996
If Looks Could Kill
M. Eugene "Gene" Hanson
Television film
1997
Millennium
Dennis Hoffman
Episode: "Force Majeure"
1999
The Norm Show
The Devil
Episode: "Norm and Shelley"
1999
The Magnificent Seven
Rupert Brauner
Episode: "Chinatown"
1999
The Hunger
Manno
Episode: "Sin Seer"
2001-2002
Ponderosa
Maurice Deveraux
8 episodes
2004-2006
Deadwood
Dr. Amos "Doc" Cochran
33 episodes
Nominated—Primetime Emmy Award for Outstanding Supporting Actor in a Drama Series
Nominated—Satellite Award for Best Supporting Actor - Series, Miniseries or Television Film
Nominated—Screen Actors Guild Award for Outstanding Performance by an Ensemble in a Drama Series
2008
Law & Order
Dr. David Lingard
Episode: "Called Home"
2010
Law & Order: Special Victims Unit
Dr. Iggy Drexel
Episode: "Torch"
2011
Fringe
Moreau
Episode: "The Day We Died"
2011
Psych
Bernie Bethel
Episode: "Shawn, Interrupted"
2011
Miami Magma
Jacob Capilla
Television film
2012
Wilfred
P.T.
Episode: "Questions"
2012
Criminal Minds
Adam Rain
Episode: "The Lesson"
2012
Swamp Volcano
Jacob Capilla
Television film
2012-2014
Once Upon a Time
Zoso
2 episodes
2013
End of the World
Dr. Walter Brown
Television film
2014
Agents of S.H.I.E.L.D.
Thomas Nash
Episode: "End of the Beginning"
2015
F Is for Family
Principal Jay (voice)
Episode: "Billy Murphy's Day Off"
2019
Deadwood
Dr. Amos "Doc" Cochran
Television film
Video games
| Year | Title | Role |
| --- | --- | --- |
| 2001 | Myst III: Exile | Saavedro |
| 2002 | Run Like Hell | Fred (voice) |
| 2005 | Gun | Reverend Josiah Reed (voice) |
| 2012 | Dishonored | Piero Joplin (voice) |
[ Source: Wikipedia ]